01.02.2020
2019 Startup Marketing Recap: 5 Things We Learned This Year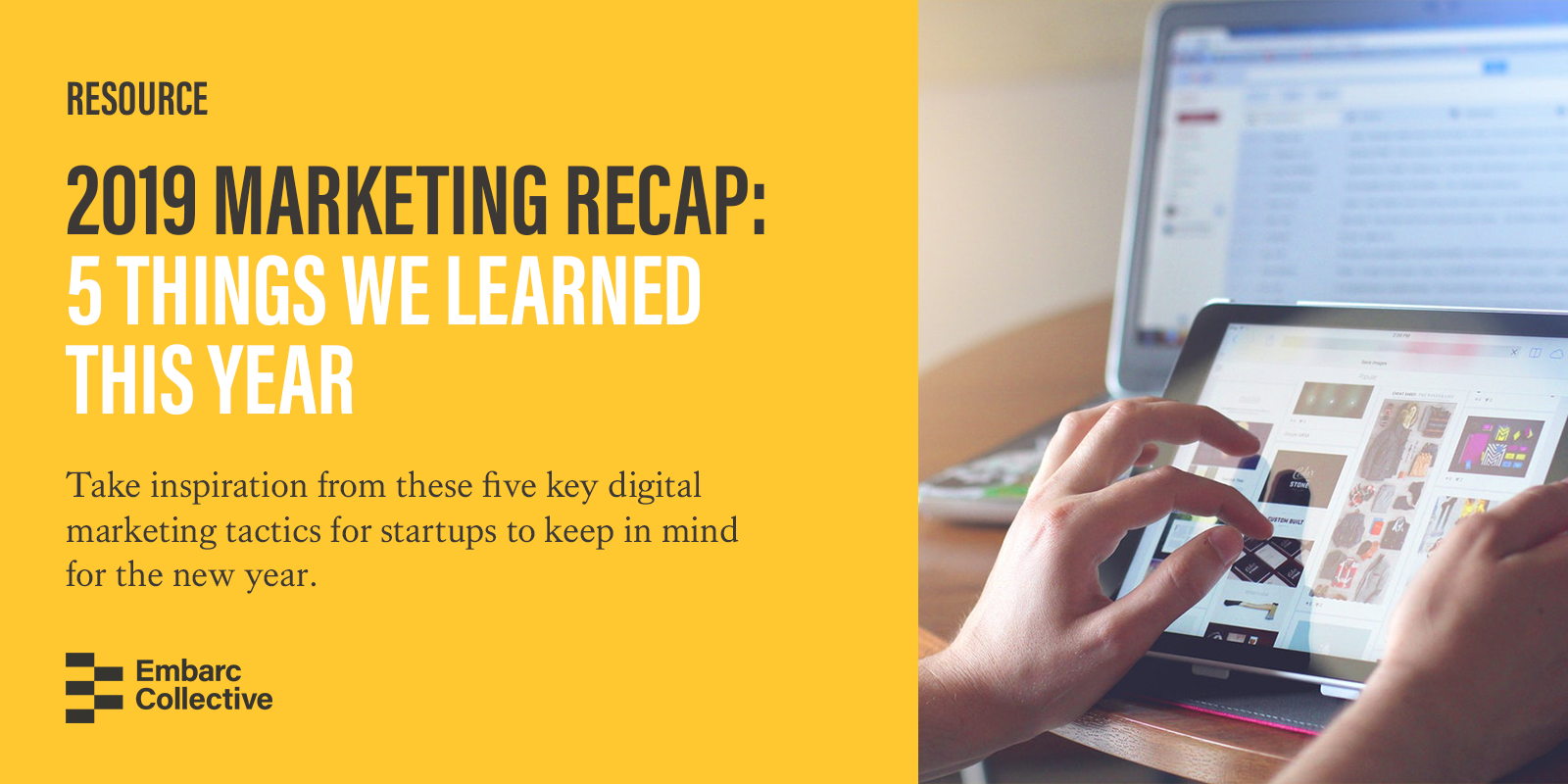 We've seen an awesome year of growth, innovation, and ingenuity from all of our startup partners in 2019. The 2010s have come to a close, and we're ready for a new decade of startup excitement in Tampa Bay and beyond! As we welcome the new year, here are a few things we learned about digital marketing last year that we think might impact your 2020 resolutions for growth.
Purposeful, Valuable Content Matters
Anyone who has been even in remote proximity to marketing functions has probably read the phrase "content is king" dozens of times in the last decade. Like a lot of content being pushed out, this phrase no longer carries any meaningful impact. In order to make your inbound marketing efforts truly count, you need to consider your specific audience needs and what unique insight you can offer, then develop content that's genuinely valuable and uniquely meaningful.
When you think about the content that's most useful for your startup and your audience's needs, think outside the blog. Whitepapers, infographics, checklists, podcasts, and video can all help you reach audiences who might want content that offers a deeper cut or is presented in a more visual or interactive format.
Voice Search Continues to Grow
As the holidays wind down and Google Home and Alexa devices remain on gift guides for the year, voice search continues to become more and more important. By 2020, there will be 900 million smart speakers in homes. What's more interesting? Voice search will account for half of all searches in the next year, so you can expect to see more "OK Google" in your search terms reports.
Start researching this technology and see how you can make it work for your startup's growth. One of the most important things to consider when optimizing for voice search is to think about long-tail keywords, which sound more like the phrases people use when they ask questions. "How," "why," "best," and "what is" phrases are starters to some queries you might consider.
Local SEO Working Alongside Voice and Mobile Searches
It's no secret that immediacy is important for consumers, but it's staggering just how important. In the last two years, Google has reported an increase in searches containing both "where to buy" and "near me" of more than 200%. Especially when you're trying to build your reputation and brand awareness as a startup, these localized searches can be extremely valuable.
Whether or not your business targets audiences geographically, your Google My Business profile, Yelp listing, and other directory and review sites all make an impact on your business reputation. While these are far from the most important outlets for inbound marketing, they do go a long way toward setting you up for a consistent digital marketing presence.
Mobile is More Important than Ever
Whether it's conducting a quick search, browsing social media, or visiting a website, users are on mobile devices just as often as they're on desktops—if not more often! Mobile experience is an absolute must for your startup brand on every channel. A responsive website displays correctly no matter the dimensions of the device on which it's viewed.
Not only does responsive web design help your user experience, but you'll likely see a boost your SEO searchability. The best way to make sure your site is correctly optimized is to hire a designer with experience in responsive web design. Check out these additional tips for making your site responsive.
Don't Underestimate Email
While it's not exactly the newest, trendiest tactic, email marketing continues to be one of the highest ROI digital marketing channels. In fact, email marketing consistently outperforms other channels like social media, paid search, and affiliate marketing with an ROI as high as $38 per $1 spent. It's ubiquitous, cost-effective, and easy to roll out, making it a perfect tactic for startups and small businesses.
The way to set your emails apart from the clutter and keep them out of spam filters? Personalization. CRMs and marketing automation tools have made it easier than ever to send your users personalized, individual content relevant to their needs. Rather than simply sending out blasts to your full database, segment your contacts by characteristics and add them to workflows that match their specific needs.
Cue the Sparklers, Pop the Champagne
It's been an awesome year for all things digital, and we're looking forward to a new decade of innovation and excitement in Tampa Bay and beyond. We hope you have a successful new year, and that 2020 brings you an exciting year of innovation, partnership, and positive change.
Our partners at Bayshore Solutions contributed this guest post.
Keep up with the latest in Tampa Bay startup news, local talent interviews and founder resources.
Delivered to your inbox every Thursday.