Monthly Archives: January 2019
01.29.2019
Tampa Bay Startup Capital in 2018
01.27.2019
Tampa Bay Startup Capital in 2018
This piece has been migrated from our former Embarc Collective reports website. URLs will not be active, nor will the report be interactive.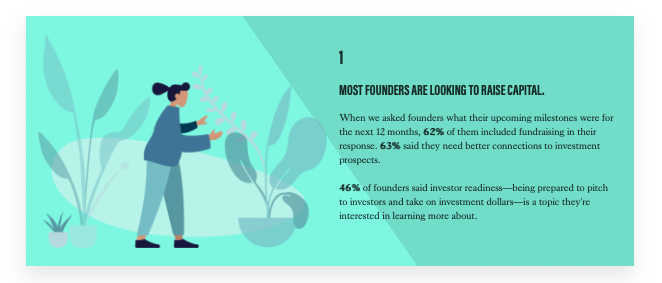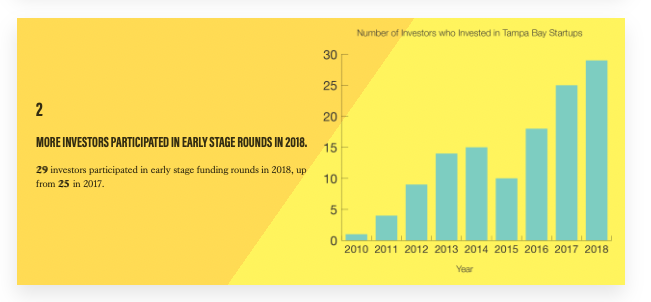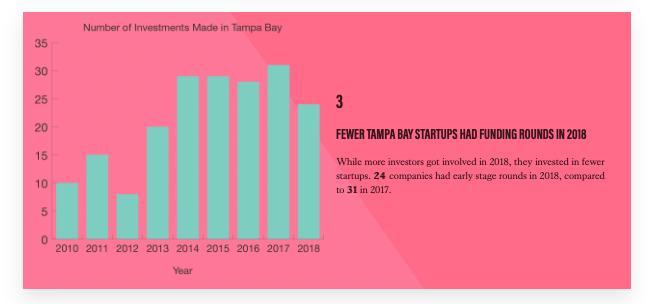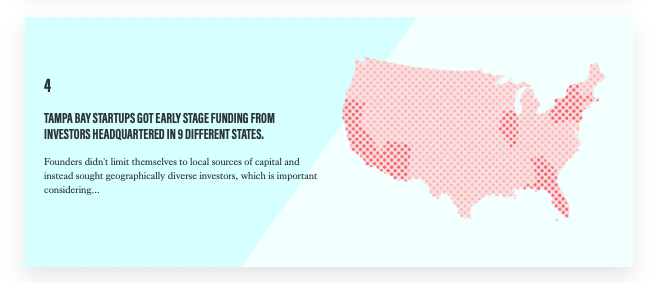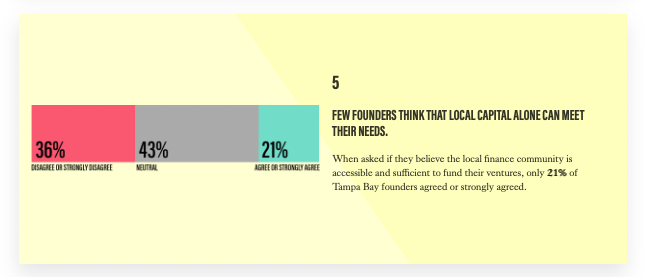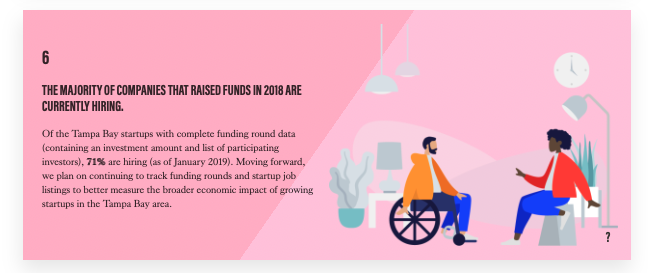 01.16.2019
Featured Founder: Heather Holland of Edgility
Welcome to our Featured Founder series, where you'll meet startup founders from Tampa-St. Pete who are scaling their ventures to solve some of the world's greatest challenges.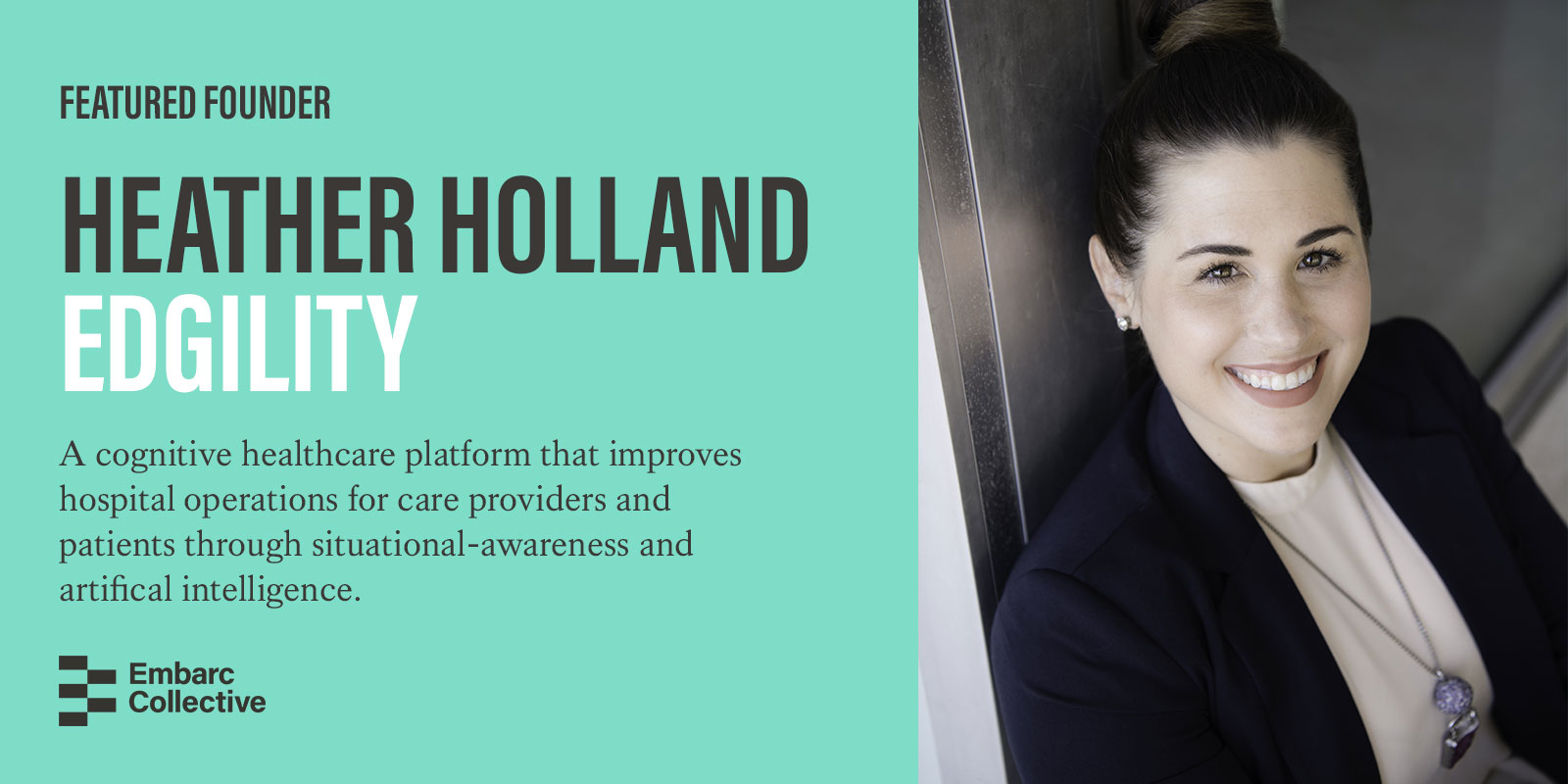 What were you doing previously and what inspired you to launch your company? Story:
I hold years of healthcare technology experience, including many years at Tampa General Hospital and was part of the Cyber-Security team at PwC. I am a Tampa native, a UT Alumni and have a MBA with a focus in entrepreneurship.
During my years of healthcare technology experience, recurring patterns of inefficient operation occurred. First, no healthcare operation had an overall awareness of the daily flow of patients and this was hampering improvements. And second, we identified the necessity for removing low value workflows from high value assets like physician and nurses if we wanted to increase capacity and improve outcomes.
As a result, in 2016 my husband and I co-founded Edgility.
What pain point is your company solving? What gets you excited to go to work every day?
Edgility's mission is to improve healthcare outcomes for patients, to increase the efficiency and effectiveness of providers and to improve administrator's ability to manage large and complex ecosystems.
We achieve this by removing "non-value" work streams and technologies from "high-value" assets like physicians and nurses."
At Edgility, we incorporate machine learning, process automation and artificial intelligence to create air-traffic control like situational awareness. We look for opportunities to remove inefficiencies and bottlenecks, to consolidate redundant workflows, or simply to improve adequate processes for greater efficiency."
These eliminations and enhancements allow providers to Experience the Joy of Practicing MedicineÓ , which is to deliver high-quality patient care and experience. We get excited knowing we can help both physicians and patients have a truly better experience.
Name the biggest challenge you faced in the process of launching the company. How did you overcome it?
Edgility's platform is designed to exploit data collected from existing technologies to create air-traffic-control-like situational awareness for care providers. This is a brand-new technology offering in the healthcare space that challenges conventional wisdom. We focus significant time on educating the market and defining the opportunities situational awareness provides.
Where do you see your company headed next?
We see Edgility becoming the category leader for situational awareness in healthcare and beyond.
Give us a tactical piece of advice that you'd share with another founder just starting out.
Take your idea and expose it to anyone and everyone. Once you've done that, do it again. You'll soon notice the more people exposed to your ideas, the better the idea becomes. Never forget, what you do may have a profound impact.
You will be subject to highs and lows. Accept that. That is now your job. Never stop investing in yourself, in your mental and physical well-being. For a mind that has been stretched by a new experience cannot return to its old dimension.
I've also added a new piece to Medium in honor of Women's History Month. Read it here: https://link.medium.com/uAV8m8QvM4
01.10.2019
Featured Founder: SaLisa Berrien of COI Energy Services
Welcome to our Featured Founder series, where you'll meet startup founders from Tampa-St. Pete who are scaling their ventures to solve some of the world's greatest challenges.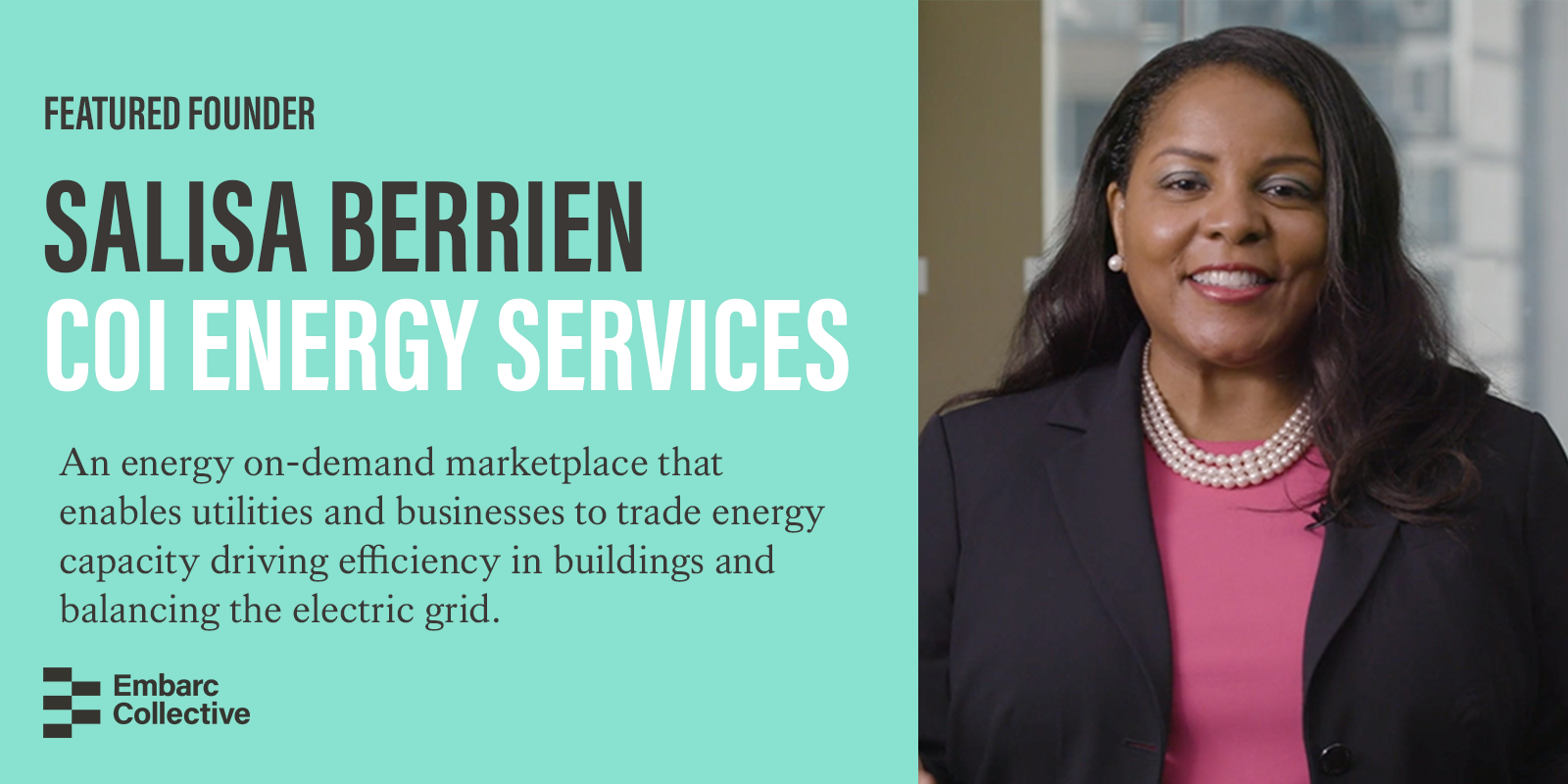 What were you doing previously and what inspired you to launch your company?
Dating back to my Sophomore year at the University of Pittsburgh when I was first introduced to the world of energy through a Co-op, I was fascinated by the industry. It was amazing how so many roles were responsible for keeping the "lights on." I worked in the Distribution Department assisting with the design of new power lines. I recall being antsy the whole summer because I didn't have much interaction with the outside world. It was strictly a design position. Most engineers would have loved that role because it was perfect for the typical introvert. I'm an introvert all day and all night. However, I needed a role that would break the monotony. As a result, I ended up not returning to the Co-op the following semester. After graduation, I received an offer from my hometown utility company working in their Marketing & Sales Department. I was a Marketing Engineer responsible for marketing electric technologies to industrial and commercial customers to get them to switch from fossil fuels. I instantly loved the position because every customer had a different problem for me to solve. On a daily basis, I was met with new challenges that broke the monotony. Fast forward, I have spent over 25 years providing energy solutions to industrial and commercial customers. From promoting electric and gas technologies to smart grid solutions selling negawatt hours (negative kilowatt hours), I was able to assist small to medium businesses up to your largest industrial customer save energy, reduce their carbon footprint, and make money. In my lifetime, I was able to witness the evolution of energy from an old stodgy field to a more innovative industry. In 2006, I landed my first job with a startup in the smart grid space and found everything about it exciting. From being fast paced to having to wear several hats, it gave me a renewed energy (no pun intended) and passion like never before. I really do not know how to put words to how it made me feel. Many of my family and friends could not understand my excitement. They were like it is "just energy." Not until the day the company went public and I was standing in the front row with the founders as they rang the bell that they realized it was more than "just energy." I got the startup bug and from then on knew that this is where I belonged. I went on to work at three other startups before I launched COI Energy Services in 2016. I was inspired to start the company because I saw a gap in what customers were asking for and what providers were delivering.
What pain point is your company solving?
We are helping electric utilities engage with their business customers of all sizes to better manage the electric grid. In the U.S. alone, we waste over $30 billion a year on energy. That waste can power the entire United Kingdom. Just imagine if we used only what we needed and sold back any excess capacity to the grid or to our peers...Electric utilities would reduce the cost to serve their customers, they would have an alternative to building or delaying the need for power plants, they would have a cleaner source of energy, buildings would be more energy efficient, and businesses would get paid for being more efficient. In a nutshell, we are providing access to quality, reliable, clean and low-cost flexible energy resources as an alternative to generator power. In order to achieve this, electric utilities must engage more with their customers. For over 100 years, electric utilities had ratepayers and not customers so there wasn't much of a need to engage. Now that customers have choices, they will no longer tolerate being treated like a ratepayer with no options. Hence, electric utilities must find innovative ways to engage their customers in order to solve the problems before them. Currently, the average energy user engages with their utility for eight minutes a year but engages on social media for 20 minutes a day. That's a huge gap! COI Energy helps close that gap to eight minutes a week by providing the best value any customer could ask for..."money in their pockets." Customers are motivated to engage because it will result in a positive impact to their bottom-line.
What gets you excited to go to work every day?
Knowing that the work we do is making a difference for our clients, the communities we serve, and the environment. We are not the coolest tech solution in the market, but we are truly making an impact that touches every aspect of life. I'm determined to make energy "sexy."
Name the biggest challenge you faced as you've launched COI Energy.
I know this is what most founders probably say, but it is true to the core for me. My biggest challenge was raising capital to hire the resources required to scale the business. We all know the statistics for securing funding. Now take my background, it puts me in the toughest category for being funded. It is something like less than 1% of founders with my background get funded.
How did you overcome it?
I bootstrapped the business for two and a half years in order to prove our value to the industry and my personal commitment to making the business successful. I bootstrapped to my first million dollar contract.
Where do you see your company headed next?
We have been in discussions with some potential strategic partners that will help us grow at a phenomenal pace. Having Morgan Stanley invest in the company has definitely opened doors for us. I'm not one to say we have a blockchain solution because there are so many companies calling themselves blockchain and they are not. We can run our platform without blockchain. However, I believe as we scale, it is something to consider.
Give us a tactical piece of advice that you'd share with another founder just starting out.
Understand your company's value and operate at that level of excellence. With your early hires, ensure they understand what sweat equity "is" and "is not." The equity you give up isn't charity. You're not looking for volunteers. You're looking for committed individuals that believe in your vision and willing to make sacrifices in order to help you achieve it. In the end, hopefully you build something valuable and reap the rewards together.
Learn more about COI Energy Services on Facebook, Twitter, and LinkedIn.
01.09.2019
The Secret Sauce to Maximizing Your Time at Conferences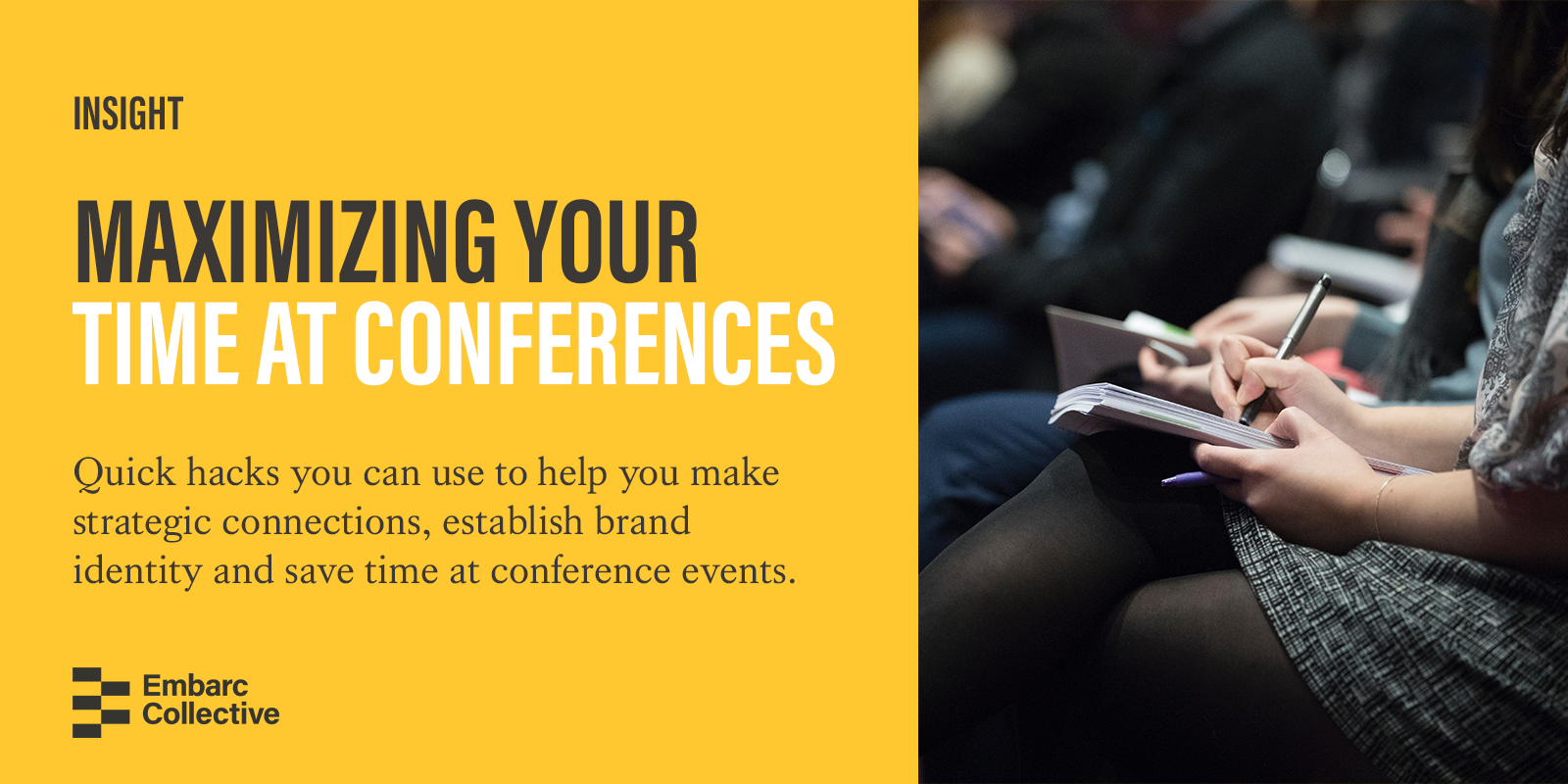 We've all been there: circling around the coffee station until you find someone to introduce yourself to, only to discover that they are in a completely different field and not strategic to you or your business at all. The new year is just on the horizon, and it's time to start figuring out how you'll make the most of it. Goal setting is vital for founders, their teams and the future of their venture. Goal setting has no special formula or hack, but there are a few things you can do to create goals you will actually accomplish. We've compiled some of the best resources from founders, reputable online sources and the Embarc Collective team to bring you The Ultimate Goal Setting Guide to Crush 2019.
The reality is that conferences are a big investment of time and money and you don't always reap the benefits.
But with a strategy in place and clear outcomes in mind, you can maximize the value of attending and make purposeful and meaningful connections.
As conference season approaches, I've been sharing a number of pages from my playbook with others. These 5 quick hacks that have helped me meet folks that are strategic to my goals, establish my personal brand credibility and save me a heck of a lot of time once I walk through those venue doors. So, before you head out to your next event, plan accordingly with the tactical steps listed below:
1. Share With Your Network
Conference networking can begin weeks before you actually attend the event.
Share that you are attending the conference using the official conference handle and hashtag on social channels like LinkedIn and Twitter to open a pathway for conversation among your extended digital network — I sent out this tweet in advance of 3686Fest in Nashville, TN. Sharing related content on social channels can also be used to establish credibility and signal to others that you are attending the event.
In practice: My former colleague Vipin Chamakkala (Principal at Work-Bench) wrote a Medium blog post on enterprise cloud trends in advance of AWS re:Invent 2018. The post capitalizes on an SEO opportunity (who doesn't want to arrive at a conference feeling knowledgeable on the latest trends?), demonstrates his expertise and passion, and serves as a conversation starter with other attendees.
2. Do Your Due Diligence
Research the room and come up with a plan.
Heading into a conference, your goal should be to meet a certain number of target connections that you've previously identified. You can build your target list by:
A) Scanning the speaker roster on the conference website. In some cases, the attendee list is also visible (common with event platforms like Sched or conferences with private Slack groups).
B) Search the conference handle and hashtag to see who else is attending. If you come across someone relevant, reply to their tweet/post or send a direct message.
C) If it's your first time visiting the city and you are connected to a local person from that market, send them an email to ask if there's anyone relevant for you to meet or if there are any private breakfasts or dinners hosted in tandem with the conference.
In practice: Once you've made your list of target connections, place them in a quick spreadsheet or table. I like to use the platform Notion to build a table for conference connections that tracks name, company, email, stage, industry, and any notes from our conversation once we connect in real-time.
3. Schedule 1:1 Meetings
Introductory meetings can be the most fruitful part of a conference.
While conference programming can be inspiring and informative, it's just as important to make lasting connections with the attendees. Scheduling face-to-face introductory meetings with strategic partners, investors, or founders ensures that you meet the people relevant to you. Once you find the email addresses of your target connection list, send each contact a personalized, thoughtful email and make the ask to meet. Opt for a 20-min meeting — just enough time to meet face to face in a breakout room or nearby coffee shop. To be mindful of their schedule, set the context with a clear objective of the meeting in your outreach.
In practice: If it can't be found on a company website, free tools like Hunter, Sales Navigator, and Clearbit Connect help you find an attendee or speaker's email address. Once you have found the person and want to connect, use this cold email framework developed by Sam Parr of The Hustle to make a good first impression. Even if you don't get to meet during the conference, you can use this framework to schedule a call following the event.
4. Build Your Brand
Conferences and events are brand-building opportunities that shouldn't be overlooked.
You have a major opportunity to leverage content by sharing gold nuggets from the panels and fireside chats you attend to increase your reach and following on social channels. I always sit in the front row to take a high-quality photo — combined with a conference hashtag, an insightful post can go viral. Tweets and posts can later be repurposed into a blog that summarizes themes of the conference — like Andrew Oddo (Director of Growth at Bowery Capital) shared following their 2018 Sales Summit.
In practice: Tweet a photo of a speaker with a powerful quote, tagging their handle as well as the event hashtag. The result of this small effort is two-fold: 1. It demonstrates to your network that you are an active community member interested in these topics and 2. Opens up a pathway for conversation between you and that speaker (because everyone loves a little self-promotion).
5. Follow-Up
Met someone you want to keep in touch with?
In a conference setting with hundreds or thousands of people, personalization is key to stand out from the blur of handshakes and business card exchanges. If you want to make a lasting connection with someone you met, send a follow-up email to seem prompt and stay top of mind to that person.
This technique can also be done with speaker outreach. Didn't get a chance to speak to a presenter that you wanted to meet? Find the tactical takeaway that you shared from their session, source their email on a platform shared above, and craft the perfect follow up linking to the tweet.
In practice: Within a 24-hour time period, send a LinkedIn connection request with a personalized note that references a talking point from your meeting to anyone that you want to remain connected. Use this guide to learn how to send a personalized invitation to connect.
01.02.2019
Featured Founder: Michael O'Rourke of Pocket Network
Welcome to our Featured Founder series, where you'll meet startup founders from Tampa-St. Pete who are scaling their ventures to solve some of the world's greatest challenges.
What were you doing previously and what inspired you to launch your company?
I was working as an iOS developer at a small software shop in Sarasota. They were amazing people to work for, but I was only there for 6 months before I left to start Pocket. Before that job, I had met my cofounders at a previous startup in Sarasota working as an iOS developer for about a year. Luis, Pabel and Valeria did not have a car at the time and because we lived in the same apartment complex, the four of us drove together 25 minutes to and 25 minutes back from work every day. Pocket was born in those (sometimes hour long) car rides.
Bitcoin and Ethereum kept coming up until eventually, it dominated conversation the entire time driving to and from work. We started to get really excited about the possibilities and began out planning a project called TelCoin - A way to tokenize your cell phone data so you wouldn't have to buy a new phone or SIM card when traveling. We envisioned a market where you would fly to Paris using our MVNO service, and locals would sell you data as needed through the blockchain. We dug for several months and realized that the industry was far too immature for this kind of a project. Scalability and infrastructure was not there!
This research eventually led us to Pocket. Around the same time, we started reading about countries like China, Brazil, Egypt, UAE and Iran (info here and here) banning Whatsapp and Signal due to their encrypted messaging. Signal even tried this clever trick called domain fronting, where they hosted their servers on Google's cloud, and every Signal message looked like a Google search. Eventually, it got shut down. This led us to understand the importance of a decentralized network of people running full nodes, serving other decentralized application data as core infrastructure. Along the way, we've realized other important implications of a successful protocol like Pocket as well.
What pain point is your company solving? What gets you excited to go to work every day?
Pocket makes it easier for blockchain developers to create decentralized applications by saving them many dozens or hundreds of hours not having to run a full node for a blockchain. While more sophisticated blockchains like bitcoin and Ethereum have made the transition into the cloud, most don't have that infrastructure advantage. Every new blockchain has to figure out their infrastructure from scratch, and Pocket is the solution for that. Right now, developers have to run their own physical nodes to create their decentralized applications to test and launch them. Pocket Network provides an incentive for people to run it for these developers.
Knowing that I'm going to learn something new every day. We are in the bleeding edge of this industry. When I or one of the team has a new insight from something they read or some conversation we've had, nothing gets me more excited. If you're addicted to learning, being in blockchain is the most rewarding industry to be in. To build in this space you need a full spectrum of technical and non-technical skills that previously were isolated to specific verticals, this space combines them all!
Name the biggest challenge you faced as you've launched Pocket. How did you overcome it?
Though we knew that the issue of decentralized infrastructure was a problem, it wasn't completely clear how we were going to solve it in June 2017. Explaining the idea to people in the blockchain space, much less selling it was a challenge. We've built several versions of our product, while reaching out to potential customers seeing what worked, and what didn't. A year and a half of research and iterations later we're getting real partnerships and traction using our product along with incredibly smart people working on the core protocol.
I would attribute the traction we're getting now to quick iterations and being honest with ourselves as a team with what is working and what isn't. Not letting our egos get in the way of what we thought was a good idea, and not being afraid to experiment down a path of research that led to a dead end.
Give us a tactical piece of advice that you'd share with another founder just starting out.
Persistence. No one will care or understand the magnitude of what you're building at first. Keep talking about it, keep pitching it to everyone, and be humble about what's not working or when you're wrong. Double down on what is working and you'll start to notice when potential customer's eyes light up.