10.23.2021
Featured Founder: David Capece of CROOW
Welcome to our Featured Founder series, where you'll meet startup founders from Tampa-St. Petersburg who are building and scaling their ventures to solve some of the world's greatest challenges. We interviewed David Capece of CROOW, which is a SaaS work collaboration platform that accelerates business by unifying teams and automating visibility.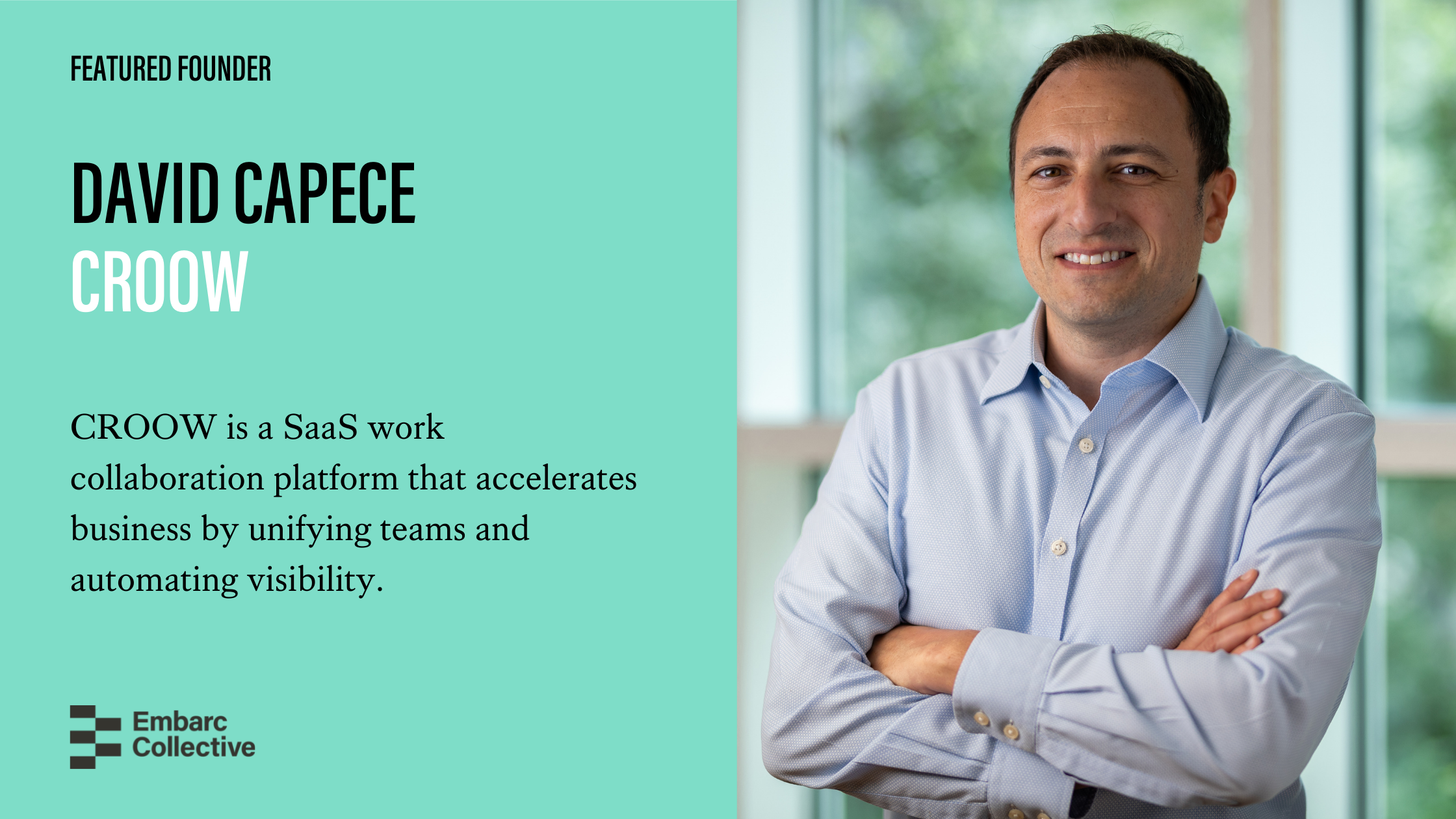 What were you doing previously and what inspired you to launch your company?
David Capece founded the software company CROOW with learnings and inspiration from his most recent role as CEO of the INC 5000 digital agency Sparxoo.  During the agency growth journey, David observed that the project management software market had many options, but none were built for the challenges of agencies and creative teams.  Earlier in his career, David led ESPN's transformation of its Fantasy Sports products, ushering in the "free teams" era and serving as a catalyst to grow from 200,000 users to 1 million and then 2 million+.  David recognized that the agency, digital, and creative marketplaces are at that inflection point, just as fantasy sports was in the early 2000s.
What pain point is your company solving? What gets you excited to go to work every day?
There are many project management and collaboration options in the market.  And yet, significant challenges remain in team collaboration.  A recent Salesforce study reveals that 86% of employees and executives cite lack of collaboration and ineffective communication for workplace failure.  Likewise, a recent Mailchimp study found that employees are wasting 21.8 hours per week on low-value tasks.  CROOW is the next generation of project management that lives at the intersection of collaboration and business intelligence, all with smart automation built-in.
Name the biggest challenge you faced in the process of launching the company. How did you overcome it?
As with most startups, going from idea to prototype to market launch is a big lift.  It inevitably takes more time (and investment) than expected.  With CROOW, the challenge was in getting market fit.  We prioritized a continuous loop of feedback from users and influencers and made adjustments and pivots along the way.  In facing adoption hurdles, we tinkered with demand gen sources, pricing, the sign-up process, and premium features to take CROOW to the next level.
Where do you see your company headed next?
We have a big mission to unify business leaders, project managers, and creatives into high-performing teams for easy, fun, and profitable work.  By our 2nd birthday, CROOW was named one of the 50 most innovative companies in Tampa Bay and won a Titan Gold as Startup IT Company of the Year.  Now in our 3rd year, we continue to lay the foundation for our goal to become a Unicorn.  We are elevating CROOW's best-in-breed platform to bring advanced collaboration, business intelligence, and automation designed for the creative class.  From our CROOW Project Management app, to our recently released CROOW Studio solution, to our soon-to-be-launched CROOW Marketplace, we are streamlining creative work for an optimal experience by all team members in the creative production workflow.  We have our sights set on sailing into the national spotlight.
Give us a tactical piece of advice that you'd share with another founder just starting out.
Let's start with a tactical piece of advice:  get to market as quickly as possible.  We achieved prototype at 3 months, alpha at 6 months, and beta at 10 months.  From there we rebuilt significantly for market launch in year 2.  Feedback is priceless, so get it early and often.
Beyond the tactical advice, take moments to step back and think.  As you are conceiving and building, always imagine the destination and key moments along the journey.  Are you creating something evolutionary or revolutionary?  How much of your own time and money are you willing to commit?  Will you fold if you don't get it exactly right initially?  Will you be standing at the finish line alone or with partners?  In a sense, by asking yourself these questions, you will be testing your own appetite for risk and conviction for your opportunity.  In the case of CROOW, I was buoyed by my strong convictions of the market opportunity, which helped me overcome challenging moments that might have had others fold.
Why Tampa Bay?
In 2009, during the Great Recession, my now husband and I were in New York and thinking about where we wanted to spend the next chapter of our lives.  We decided to make a top 10 list of where to move.  Our list was 9 deep and we decided to add a 10th to the list, with the criteria being a city in Florida that we had never been to.  Tampa and Jacksonville fit the bill, so we flipped a coin.  On the coin flip, Tampa entered our top 10 as #10.
Over the next few months, we visited several cities, including Tampa.  We narrowed down our list to 5, and Tampa snuck in at #5.  Then, we took a deeper look at the top 5 and narrowed in on our top 3:  1) San Diego, 2) Charlotte, and 3) Tampa.  At this point, we were looking for a city on the upswing that would be a perfect "Live. Work. Play." trifecta.  Ultimately, we concluded that Tampa Bay is the perfect blend of San Diego and Charlotte, and chose to move to Tampa Bay in 2010. More than a decade later, we feel so fortunate to have chosen Tampa Bay.  The region has surged and even emerged as a next-generation hub for technology.  I couldn't think of a better place for CROOW to accelerate growth.
***