08.30.2022
Featured Founder: Greg Sack of PINCH
Welcome to our Featured Founder series, where you'll meet startup founders from Tampa-St. Petersburg who are building and scaling their ventures to solve some of the world's greatest challenges. We interviewed Greg Sack of PINCH, On Demand Cleaning App that quickly connects the best local house cleaners with home owners, commercial businesses, real estate agents, and property managers without price negotiations.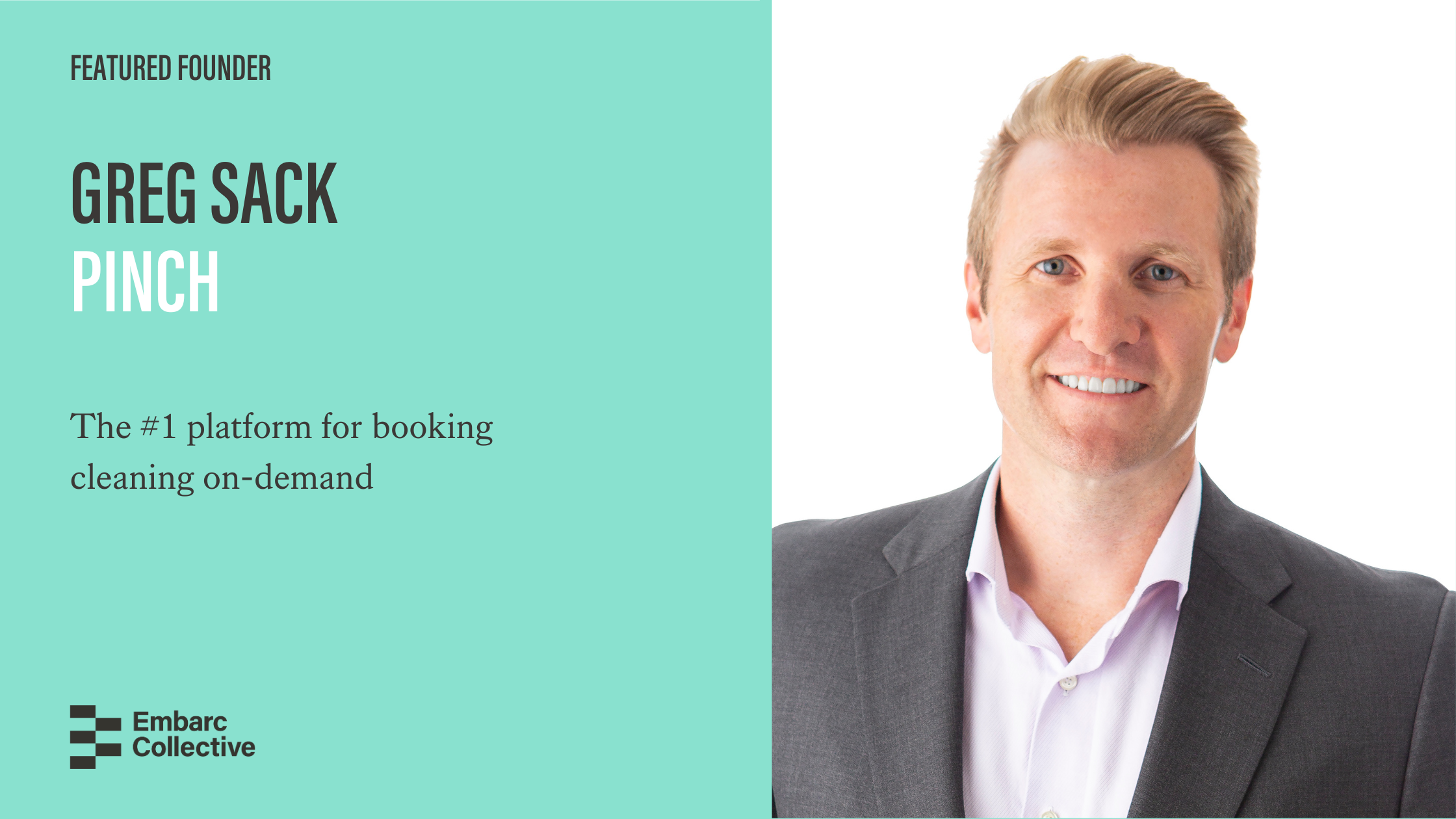 What were you doing previously and what inspired you to launch your company?
I was fortunate to have a life changing moment in 2014 when I successfully exited my business to FedEx.  After co-founding Bongo International, we became the first start up, non-asset based company, FedEx ever acquired.  After the transaction with FedEx, I started to invest in real estate here in Tampa.  We quickly looked at property management solutions and it was apparent that there were no options that suited our specific investment needs.  After a few bad experiences, my business partner and I decided to start our own. I learned that managing vendors was the most time consuming and frustrating part of our business.  Specifically, working with cleaning companies coincidentally was one of our greatest challenges.  We found ourselves struggling to find companies that could offer us flexibility in their schedules, yet provide us commercially viable pricing.  The cleaning industry as a whole is broken and is ripe for innovation.   One of my old business partners at Bongo serendipitously was asked to help and get started at Pinch.  PINCH's initial concept was started as an on demand lawn care service that quickly morphed and focused on cleaning only.  Through my former partners and my experience at Bongo, we quickly saw the market opportunity to use technology and traditional marketing approaches to tackle a market that is rife with large margins and in-efficient access to labor.
What pain point is your company solving? What gets you excited to go to work every day?
PINCH solves two problems. 1) Cleaner access to markets.  Cleaners find marketing themselves extremely expensive and inefficient.  Additionally, traditional single family home cleaners have no access to commercial markets unless they work for a commercial cleaning company.  2) Availability to labor continues to be an overall market problem.  PINCH gives users access to huge pools of cleaners, instantly.  This large pool naturally drives the cost of the cleaning down because it brings instant competition to the job.  Additionally, cleaners find the service to be a perk as well because they are provided with paying jobs and not just a lead.  All of this gets me excited.  I am a natural competitor and I love to win.  We are disrupting an industry.  The old process of calling a cleaner, getting a quote, negotiating, and finding ways to pay the cleaner(s) are gone.
Name the biggest challenge you faced in the process of launching the company. How did you overcome it?
At first, our biggest challenge was acquiring cleaners that would buy into the concept of working for an app.  We struggled with this at first, but we quickly realized the value that a solution like this brings to cleaners that are looking for new clients to market to.  There is no better way to prove your capabilities than to be given an opportunity to clean someone's house or office.  Do a great job and you get asked to come back.  Once we got our messaging right, the cleaners started to come into the app in droves.
Where do you see your company headed next?
We plan to really focus our efforts on expanding our services into the commercial space.  Commercial cleaning companies experience 200-400% turnover annually.  This creates a tremendous opportunity for us.  Not only can we offer commercial cleaning services at highly discounted rates, but we can also assist commercial cleaning services and maid services with labor to fulfill their own jobs.  The total cleaning market is roughly $450 billion dollars and the commercial component of that is ~$400 billion - a market that is completely shut out for the Gig work pool of cleaners.
Give us a tactical piece of advice that you'd share with another founder just starting out.
Start out with a clear vision and focus on things that are working.  Be ready to change directions when the data is pointing you that way.  From there, don't try to be everything to everyone.  We quickly realized that lawn care was much harder to manage, significantly lower AOV, and the service providers didn't communicate as well as the cleaners.  Therefore, we removed the service and decided to become super focused.  That same focus is what has gotten us into the commercial cleaning space, which we believe will be a huge game changer.
Why Tampa Bay?
I moved here in 2005 from NYC.  I love it here and truly call Tampa my home.  I have watched Tampa grow and change over the past 17 years and it has been exciting to watch.  In early 2022, Tampa was ranked 3rd on the top US cities people are looking to move to according to Redfin.  This creates opportunities for apps like ours.  New home owners will need cleaners.  We are here and ready to help each of them find one of the best cleaners in Tampa for their needs.
***