11.29.2022
Featured Founder: Scott Minniear of NeuX Technologies
Welcome to our Featured Founder series, where you'll meet startup founders from Tampa-St. Petersburg who are building and scaling their ventures to solve some of the world's greatest challenges. We interviewed Scott Minniear of NeuX Technologies, which develops life-changing technology that helps people feel, move, and live better.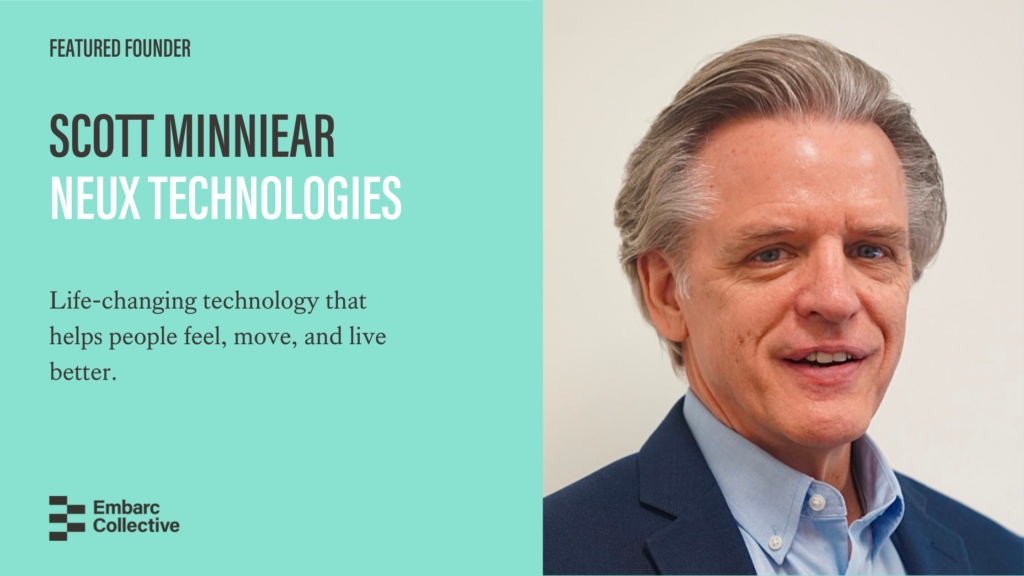 What were you doing previously and what inspired you to launch your company?
My previous endeavor was as a member of the senior management team charged with successfully selling two medical device companies in Salt Lake City, Utah.
Having suffered from both chronic pain and injuries that never healed properly, I was well aware that the main go-to solutions of pharmaceuticals and surgery focused primarily on treating the symptoms and not the cause of the problem. The right solution will positively affect the lives of millions of people.
What pain point is your company solving? What gets you excited to go to work every day?
Pain is the primary pain point we are solving. Whether it's pain from injuries and accidents when we are young or life taking a toll on our bodies as we age, pain keeps us from living life to its fullest. Our Interactive Neuromuscular Stimulation technology can greatly reduce and even eliminate pain, and it enables people to feel better, move better, and live better.
I get excited to come to work every day knowing how many people are benefiting from our technology. I hear testimonials daily of people no longer in pain and / or being able to do activities they had previously given up on doing. In addition, I am fortunate to be a member of an incredibly talented NeuX team that shares the mission of helping as many people as possible.
Name the biggest challenge you faced in the process of launching the company. How did you overcome it?
Medical device technology isn't as sexy as information technology, so finding investment prior to having a product on the market was challenging. Fortunately, what we lacked in funding we made up for it in perseverance.  With only an analog prototype, we were able to demonstrate the efficacy of our technology to the right people who became as convinced as we were that the product would be successful.
Where do you see your company headed next?
We have established strong beachheads in multiple markets, allowing us to grow with a broad base while assembling a robust management team capable of successfully tackling any obstacle. We are now focused on scaling our business and becoming the dominant leader in each of our markets.
Give us a tactical piece of advice that you'd share with another founder just starting out.
As a first-time founder, it is easy to be exuberant about your new venture. You will definitely need this to weather the lows, but don't let the excitement keep you from focusing on all of the obstacles and truly vetting the opportunity. Don't quit your day job until you have a realistic understanding of how long it will take to be successful and how much it will cost.
Why Tampa Bay?
The people, the lifestyle, and Embarc Collective. Tampa is a great place to live, the people are friendly, and they go out of their way to help. Embarc Collective provides access to everything a startup or early-stage scaling company needs to be successful.