02.17.2023
Featured Founder: Mauro Costa of Bulkitrade
Welcome to our Featured Founder series, where you'll meet startup founders from Tampa-St. Petersburg who are building and scaling their ventures to solve some of the world's greatest challenges. We interviewed Mauro Costa of Bulkitrade, a B2B marketplace that connects emerging food & beverage brands with international retailers, wholesalers and distributors by combining shopping, shipping and payment solutions with data from a single location.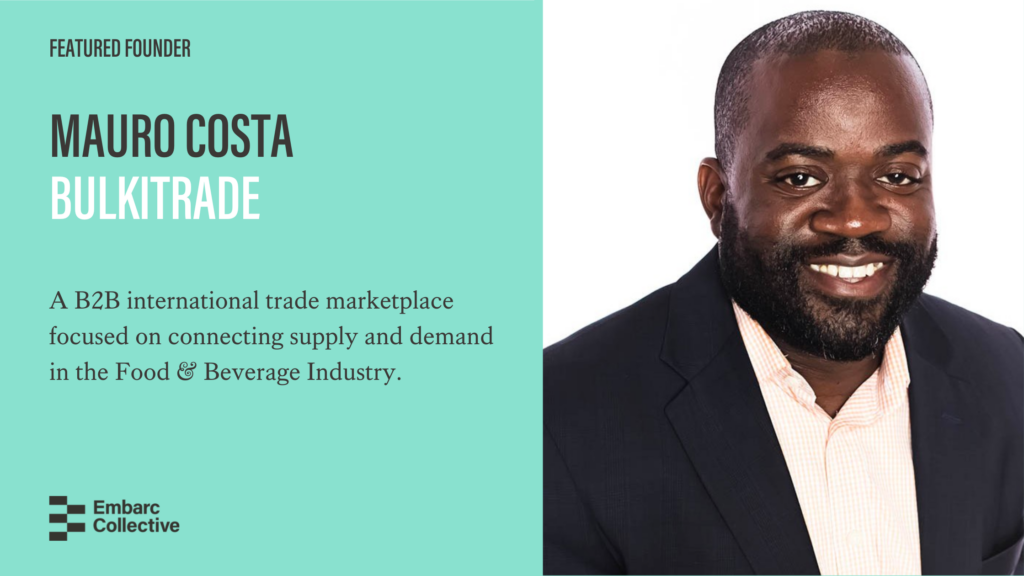 What were you doing previously and what inspired you to launch your company?
I've been working with imports and exports, or international distribution, since 2008.  I had plenty of contacts overseas that were asking me [for] my help sourcing products from the US. 
When I created my first company, I started out by shipping heavy equipment internationally after coming out of Wall Street. And then in 2014, when I was on a trip abroad, I came across this opportunity from a supermarket that was looking for products from the US for caviar. I was given an opportunity by this American brand to be the supplier for the product and work with their brand internationally. And that's how Bulkitrade started.
I began distributing products from companies like Coca-Cola, Pepsi, Unilever, you name it. I was buying their products from their distributors and reselling them in markets [where] I could squeeze a little bit of a margin. After doing this for about four years, I started to see that the real opportunity was not with these big companies, because they already had plenty of distribution around the world. Instead, it was a service that was totally suitable [for] and scalable with emerging brands.
Today, our goal is to help emerging food and beverage brands get into international distribution to supermarkets, retailers, wholesalers, and other distributors.
What pain point is your company solving? What gets you excited to go to work every day?
We're building a B2B marketplace that connects the supply of emerging food and beverage brands with [the] international demand of retailers, wholesalers, and distributors. We combine e-commerce, supply chain, fintech, and data analytics – all in a single location.
One side of our marketplace is emerging brands, which is the supply. We help US brands open up to new geographies. On the other side of the marketplace is international supermarkets that are sourcing products globally.
Emerging brands have the opportunity to channel distribution into international markets, but they're not necessarily familiar with that. They don't know what to do, what steps to take, or who to talk to, in order to get their product to comply with the local rules and regulations of that country, guarantee payment for that product, and ship the product to that destination. We're solving these issues for them.
We are excited to go to work every day because every year, on average, there are about 30,000 new products that come to market in North America alone. Globally, we're talking about another 150,000 new products that come to market. And I mean just in the food and beverage space. Whether they're from a town somewhere in Wisconsin, or the city of Brampton in Canada, [or] the city of Cape Town in South Africa – it doesn't matter where the geography is. What matters is the potential economic impact that we believe our platform can bring.
Our vision is to bring economic development to every corner of the world by enabling businesses to access the international market. 
Name the biggest challenge you faced in the process of launching the company. How did you overcome it?
The reality is that in the stage we are at in our company – the pre-seed stage – every single day is a challenge. Finding a way to build the tech in-house, with very limited resources, was probably the biggest challenge because I am a non-technical founder. After some persistence and a lot of conversations – a lot of searching time – I was able to put together a very small team with just two junior developers: one front end, and one back end. We worked for about five months to craft a technology based on my years of experience working with our target audience, and definitely from my learnings.
Now we're putting the product in front of users and starting to get feedback. 
Where do you see your company headed next?
I have just recently brought in a CTO, which was a big win for the company. Now we're putting our technology in front of a small set of users that we have identified on the demand side. Our focus is on collecting and getting feedback to improve the technology and perfect what we've built thus far.
We are also looking forward to raising our pre-seed round and inviting potential investors to join us in this opportunity. 
Give us a tactical piece of advice that you'd share with another founder just starting out.
One thing that has made a huge difference for me was the strategic decision that I made to stay connected and engaged with a community of like-minded people.
Joining Embarc actually made a huge difference for me. Before that, I had been trying to figure out the concept on my own. When I joined Embarc, I got exposed to a lot of different knowledge, different visions, and different points of view, which certainly helped me become a better founder and a better student of the opportunity that I myself am looking to implement.
Why Tampa Bay?
My family and I have been living in the area for years. But it's not just about that. It's the fact that Tampa is all over the news and has been booming as a tech hub. Not only statewide but even nationwide. 
Whether we're talking about the major universities, an international airport, the port, our cultural scene, or sports events–It certainly is a community that is prone to attract people from different parts of the country. They are interested in finding out and learning – actually learning – about what Tampa has to offer. 
Tampa Bay definitely is the place where we see [ourselves] growing the company for the foreseeable future.