04.17.2023
Featured Founder: Dr. Gino Collura of Streaming Advocate
Welcome to our Featured Founder series, where you'll meet startup founders from Tampa-St. Petersburg who are building and scaling their ventures to solve some of the world's greatest challenges. We interviewed Gino Collura of Streaming Advocate, licensed healthcare professionals that virtually accompany you to medical appointments & ask the questions you may not know to ask while following up with clear and concise visit summaries.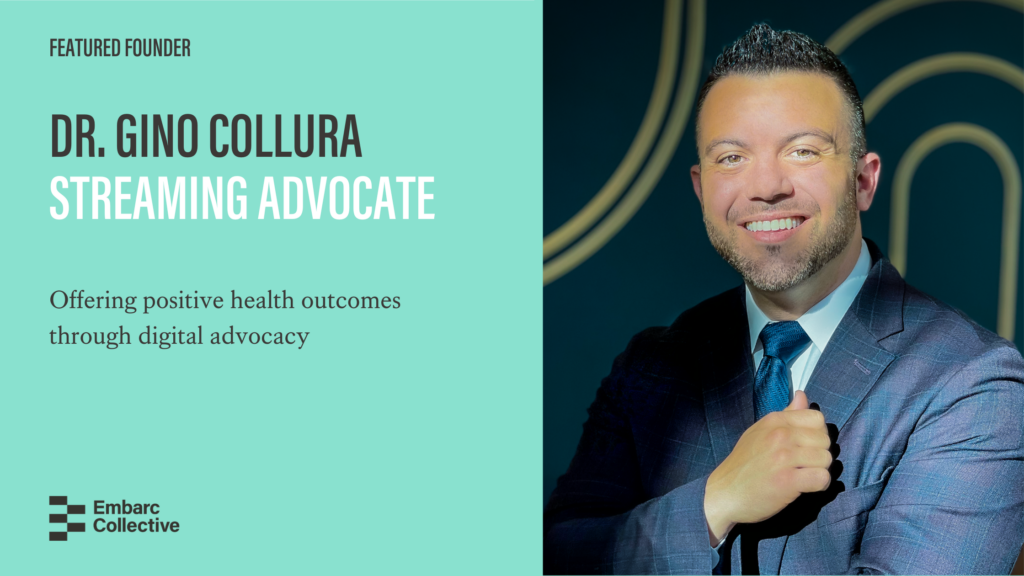 What were you doing previously and what inspired you to launch your company?
Previously, I had the privilege of being the President of Ultraviolet Living; a private-duty nursing company that served ultra-high net-worth families across the country. Our time working with these families exposed areas of care that are in grave need; patient advocacy and provider efficiency. Many of our patients (as well as their family members) would run into consistent challenges with understanding the care plan set forth by their physician, the appropriate questions to ask their physician as well as having clearly documented directions for care post-visit. This sparked the idea of Streaming Advocate. We knew that our patients were not the only ones dealing with this challenge so we did market research and found out that it is a widespread gap that exists in our current healthcare system. That spawned the idea of creating an app that is accessible to all and can help shorten the timeline with positive health outcomes, patient confidence, and provider efficiency.
What pain point is your company solving? What gets you excited to go to work every day?
Streaming Advocate is addressing the issue of patients feeling overwhelmed and confused in doctor's appointments while ensuring efficiency of time for healthcare providers. All of our licensed healthcare advocates know what questions to ask providers to ensure patients as well as their families have complete clarity with their doctor's orders. This is a really exciting part of what we do. Being digitally present in appointments allows us to ensure thorough communication between patients/providers while saving physicians time in answering questions and taking notes on the patient's behalf. The opportunity to serve both patients and providers while influencing positive outcomes for all is a privileged opportunity that fuels us to push our mission forward.
Name the biggest challenge you faced in the process of launching the company. How did you overcome it?
The largest challenge I faced was balancing the initial technology and financial needs of Streaming Advocate while successfully operating Ultraviolet Living at the same time. Juggling both proved to be an arduous task but a very necessary one. Streaming Advocate would not be here if were not for the lessons learned in our time providing private duty nursing across the country. Additionally, having the right people that I trusted and relied on made all the difference. My executive leadership team did a wonderful job at maintaining a tight pulse on the daily operations of Ultraviolet Living while I was working on developing Streaming Advocate.
Where do you see your company headed next?
We are changing the way in which individuals across the country experience care. Our goal is to positively impact and scale empathy for patients, families, clinics, hospitals, and providers. Our next chapter will be filled with multi-lingual service, institutional advocacy at-scale, and international reach.
Give us a tactical piece of advice that you'd share with another founder just starting out.
Be exceedingly selective with who you bring into your camp. Being a founder means you are putting in EVERYTHING you got. All it takes is one wrong hire or partner to damper everything you have worked so hard for (especially in the early stages). Get to know each person at a base level outside of their professional accolades. It is VITAL that all of you share similar core values.
Why Tampa Bay?
I am privileged to be a fourth generation Tampeño. Building something that is firmly rooted in my hometown while extending our reach to the entire globe is very special. The support, love, and generosity that continuously displays itself within the local start-up community is a continued testament to the incredible character of our city.