01.09.2019
The Secret Sauce to Maximizing Your Time at Conferences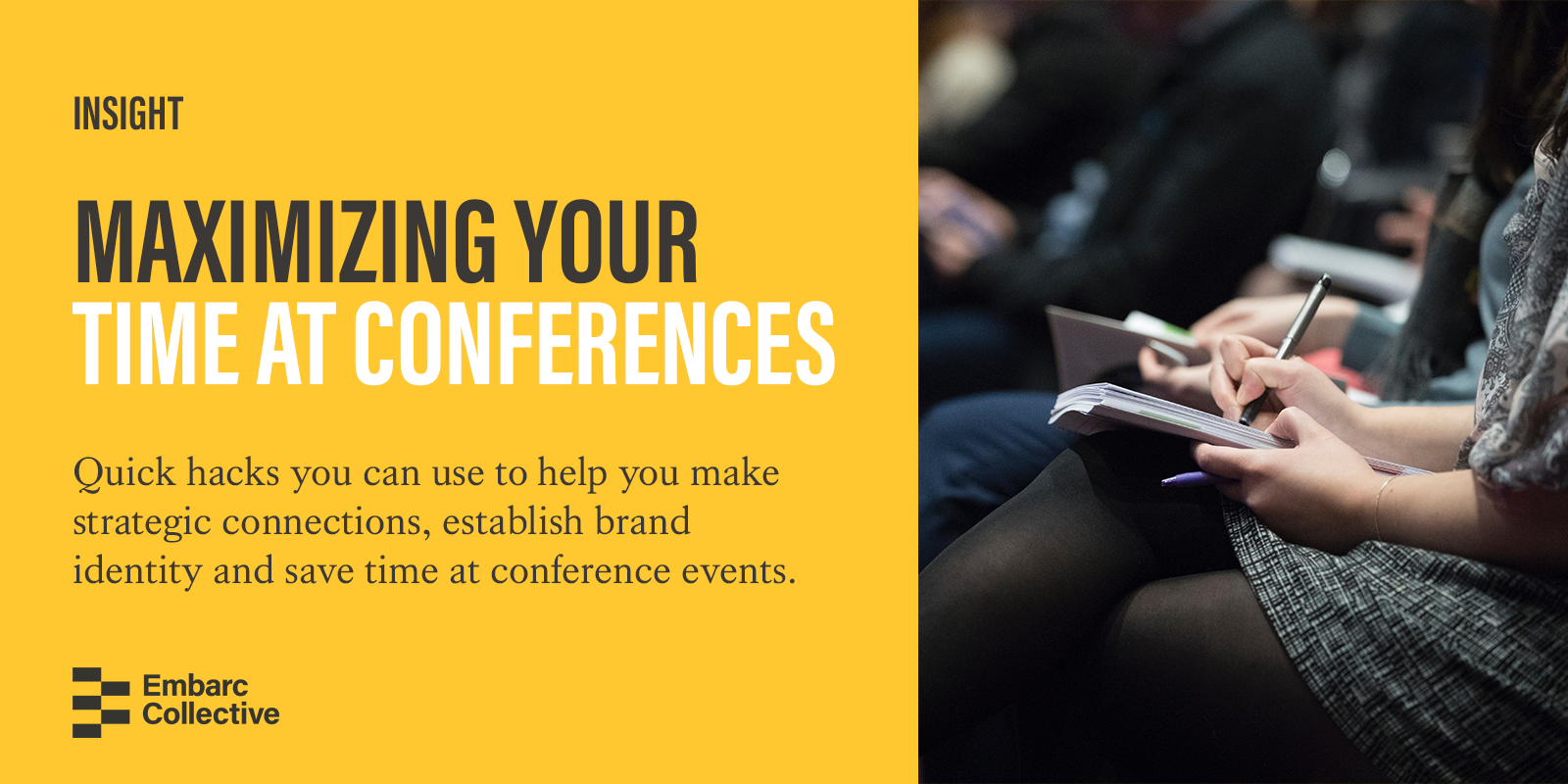 We've all been there: circling around the coffee station until you find someone to introduce yourself to, only to discover that they are in a completely different field and not strategic to you or your business at all. The new year is just on the horizon, and it's time to start figuring out how you'll make the most of it. Goal setting is vital for founders, their teams and the future of their venture. Goal setting has no special formula or hack, but there are a few things you can do to create goals you will actually accomplish. We've compiled some of the best resources from founders, reputable online sources and the Embarc Collective team to bring you The Ultimate Goal Setting Guide to Crush 2019.
The reality is that conferences are a big investment of time and money and you don't always reap the benefits.
But with a strategy in place and clear outcomes in mind, you can maximize the value of attending and make purposeful and meaningful connections.
As conference season approaches, I've been sharing a number of pages from my playbook with others. These 5 quick hacks that have helped me meet folks that are strategic to my goals, establish my personal brand credibility and save me a heck of a lot of time once I walk through those venue doors. So, before you head out to your next event, plan accordingly with the tactical steps listed below:
1. Share With Your Network
Conference networking can begin weeks before you actually attend the event.
Share that you are attending the conference using the official conference handle and hashtag on social channels like LinkedIn and Twitter to open a pathway for conversation among your extended digital network — I sent out this tweet in advance of 3686Fest in Nashville, TN. Sharing related content on social channels can also be used to establish credibility and signal to others that you are attending the event.
In practice: My former colleague Vipin Chamakkala (Principal at Work-Bench) wrote a Medium blog post on enterprise cloud trends in advance of AWS re:Invent 2018. The post capitalizes on an SEO opportunity (who doesn't want to arrive at a conference feeling knowledgeable on the latest trends?), demonstrates his expertise and passion, and serves as a conversation starter with other attendees.
2. Do Your Due Diligence
Research the room and come up with a plan.
Heading into a conference, your goal should be to meet a certain number of target connections that you've previously identified. You can build your target list by:
A) Scanning the speaker roster on the conference website. In some cases, the attendee list is also visible (common with event platforms like Sched or conferences with private Slack groups).
B) Search the conference handle and hashtag to see who else is attending. If you come across someone relevant, reply to their tweet/post or send a direct message.
C) If it's your first time visiting the city and you are connected to a local person from that market, send them an email to ask if there's anyone relevant for you to meet or if there are any private breakfasts or dinners hosted in tandem with the conference.
In practice: Once you've made your list of target connections, place them in a quick spreadsheet or table. I like to use the platform Notion to build a table for conference connections that tracks name, company, email, stage, industry, and any notes from our conversation once we connect in real-time.
3. Schedule 1:1 Meetings
Introductory meetings can be the most fruitful part of a conference.
While conference programming can be inspiring and informative, it's just as important to make lasting connections with the attendees. Scheduling face-to-face introductory meetings with strategic partners, investors, or founders ensures that you meet the people relevant to you. Once you find the email addresses of your target connection list, send each contact a personalized, thoughtful email and make the ask to meet. Opt for a 20-min meeting — just enough time to meet face to face in a breakout room or nearby coffee shop. To be mindful of their schedule, set the context with a clear objective of the meeting in your outreach.
In practice: If it can't be found on a company website, free tools like Hunter, Sales Navigator, and Clearbit Connect help you find an attendee or speaker's email address. Once you have found the person and want to connect, use this cold email framework developed by Sam Parr of The Hustle to make a good first impression. Even if you don't get to meet during the conference, you can use this framework to schedule a call following the event.
4. Build Your Brand
Conferences and events are brand-building opportunities that shouldn't be overlooked.
You have a major opportunity to leverage content by sharing gold nuggets from the panels and fireside chats you attend to increase your reach and following on social channels. I always sit in the front row to take a high-quality photo — combined with a conference hashtag, an insightful post can go viral. Tweets and posts can later be repurposed into a blog that summarizes themes of the conference — like Andrew Oddo (Director of Growth at Bowery Capital) shared following their 2018 Sales Summit.
In practice: Tweet a photo of a speaker with a powerful quote, tagging their handle as well as the event hashtag. The result of this small effort is two-fold: 1. It demonstrates to your network that you are an active community member interested in these topics and 2. Opens up a pathway for conversation between you and that speaker (because everyone loves a little self-promotion).
5. Follow-Up
Met someone you want to keep in touch with?
In a conference setting with hundreds or thousands of people, personalization is key to stand out from the blur of handshakes and business card exchanges. If you want to make a lasting connection with someone you met, send a follow-up email to seem prompt and stay top of mind to that person.
This technique can also be done with speaker outreach. Didn't get a chance to speak to a presenter that you wanted to meet? Find the tactical takeaway that you shared from their session, source their email on a platform shared above, and craft the perfect follow up linking to the tweet.
In practice: Within a 24-hour time period, send a LinkedIn connection request with a personalized note that references a talking point from your meeting to anyone that you want to remain connected. Use this guide to learn how to send a personalized invitation to connect.