12.05.2019
Designing an ADA Compliant Website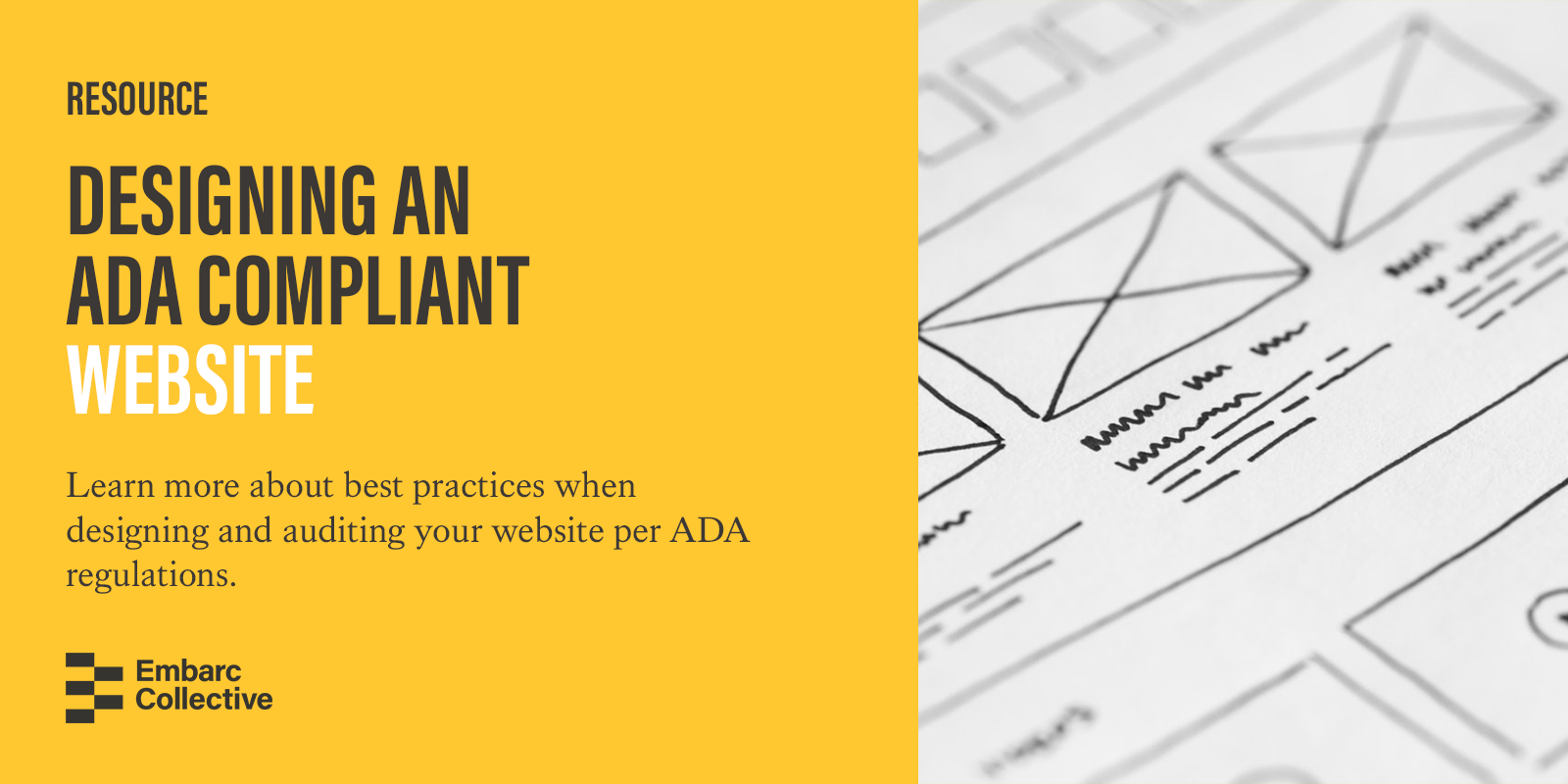 "The power of the Web is in its universality. Access by everyone regardless of disability is an essential aspect." — Tim Berners-Lee, W3C Director and inventor of the World Wide Web
In 2018 alone, there were 2,285 website ADA compliance lawsuits filed in the US, including many against high-profile names like Home Depot, Beyoncé, Nike, Harvard University, Blue Apron, and Domino's Pizza. Despite these bigger names garnering national media attention, the vast majority of defendants in ADA lawsuits are small- to medium-sized businesses that aren't able to invest dedicated resources in web development and legal protection. Penalties, fines, and settlements are extremely expensive in these cases, and can wipe out small businesses completely.
The Americans with Disabilities Act (ADA) is a federal civil rights regulation that was passed in 1990 making it illegal to discriminate against individuals with disabilities. ADA regulation is simultaneously straightforward and vague: businesses are required to provide disabled individuals with equal access to their goods, services, and physical locations.
The ADA outlines specific rules for constructing facilities that are accessible to users with a wide range of disabilities. When it comes to websites, however, the ADA does not set specific requirements or guidelines for making a site accessible. This gets many companies into legal trouble, as their site may not be noncompliant, yet they have no way of knowing.
With hazy regulations and a high risk of litigation, how can you make sure that your business is offering an accessible experience and protected from legal action? Even more important than litigation, is your website accessible by all of your customers including those with disabilities?
Who is required to comply with the ADA?
ADA compliance is mandatory for all "places of public accommodation," defined as privately-owned, leased or operated facilities serving the public. This includes restaurants, hotels, retail merchants, private practice medical offices, private schools, daycare centers, gyms, movie theaters, and so on.
For startups, your technology products and website also serve as digital spaces that should be accessible to anyone.
Essentially, any business that serves consumers is required to comply with ADA regulations.
What accommodations are necessary for website ADA compliance?
The ADA covers a variety of disabilities and impairments, including visual, auditory, motor, and cognitive issues. In general, best practices for ADA compliance can be broken into three areas:
Focus accommodations are ones that help users navigate your site with a keyboard rather than a mouse, which is critical in cases of motor and cognitive impairments.
Semantics accommodations are ones that allow your site to be compatible with assistive technologies for visual and auditory disabilities.
Styling accommodations are visual design choices that make your interface as flexible and usable as possible, and primarily help visually-impaired individuals and those with cognitive disabilities.
Google provides guidelines for webmasters to ensure accessibility, including specific callouts for available HTML features that can help accessibility. While these guidelines aren't strict legal regulations, following them will help you ensure that your site is at a lower risk.
Benefits of Designing with Accessible Principles in Mind
Per the Bureau of Internet Accessibility, "Creating an accessible website does more than make your site more usable — it also makes your site more likely to be found by improving search engine optimization (SEO). The goal of SEO is to drive more traffic to your content by improving your website's ranking in search engines such as Google. While the exact details of how pages are ranked in Google are never fully-revealed, there are some SEO best practices that nearly all digital marketers can agree on."
The goal of web accessibility and SEO are aligned. Making your website accessible to anyone regardless of ability also allows search engines to better index and rank your content.
Websites that are designed per accessible design principles tend to have cleaner code. "Writing cleaner code has a variety of benefits for your website, including better user interfaces, fewer bugs, and faster loading times (which will also improve your SEO ranking as a result). In this light, accessibility should be seen as an investment in your code base and the future of your business." — Bureau of Internet Accessibility, 04/2019.
Auditing your website accessibility
In order to ensure that your website is accessible to all users, including those with disabilities, you need to conduct an audit with specific factors in mind. Here are some questions to guide your audit and ensure your brand is built with inclusive design at the forefront.
Is your site easily navigable with a keyboard?
Individuals with motor impairments often choose to navigate with a keyboard rather than a mouse. During development, make sure that your site is navigable with arrows, tabs, and keyboard shortcuts.
Can your site be read by a screen reader?
Individuals with visual impairments use technology to read the text on their screen and understand the user journey. This is one of the most common ADA complaints filed against websites. Make sure your site is readable by including semantic markups and effective alt-text for all images.
Is all interactivity obvious?
Providing users with indications to scroll, click, or hover can help with ADA compliance. These indicators are called affordances, and they ensure that a user knows which elements are interactive as opposed to static.
Are you using headings effectively?
Screen reader users navigate by using headings. Making sure that your heading hierarchy is clear, tagged correctly, and implemented consistently across your site will help screen reader users move quickly and easily through your site. Properly tagging your headings doesn't only help with accessibility—heading tags are also a key SEO element.
Are text and images high-contrast?
If your text doesn't stand out well from the background or images on your site, it can be difficult to read for visually impaired users. Visual impairments can include partial blindness, color blindness, or poor vision, and your site needs to be legible by every individual.
Are you providing transcripts, captions, and text alternatives for non-text content?
Hearing-impaired users still deserve to enjoy your video and audio content. Make sure that all videos and audio content (such as webinars or podcasts) include closed captioning and/or transcripts for people with hearing impairments. Be sure to include image alt-text and captions for your visually-impaired users, too!
Does your site include sufficient white space?
In addition to making your site easier for users with visual impairments or cognitive disabilities benefit from clear navigation, simple page flow, and abundant white space to improve focus.
For startups, it's important to lead with accessible design principles when developing your first website. Aside for the legal representation, startups aiming to solve worldwide challenges should also think about serving diverse consumers. Creating a website or platform that is accessible by all of your consumers, regardless of ability, can help you establish a brand committed to diversity and inclusion.
For more on accessible design:
Our partners at Bayshore Solutions contributed this guest post.
Keep up with the latest in Tampa Bay startup news, local talent interviews and founder resources.
Delivered to your inbox every Thursday.