11.08.2022
Featured Founder: Anca Burke of OnlineBar
Welcome to our Featured Founder series, where you'll meet startup founders from Tampa-St. Petersburg who are building and scaling their ventures to solve some of the world's greatest challenges. We interviewed Anca Burke of OnlineBar, which is driving traffic to bars/restaurants by pre-selling flash deals and limited specials, and rewarding you for going out.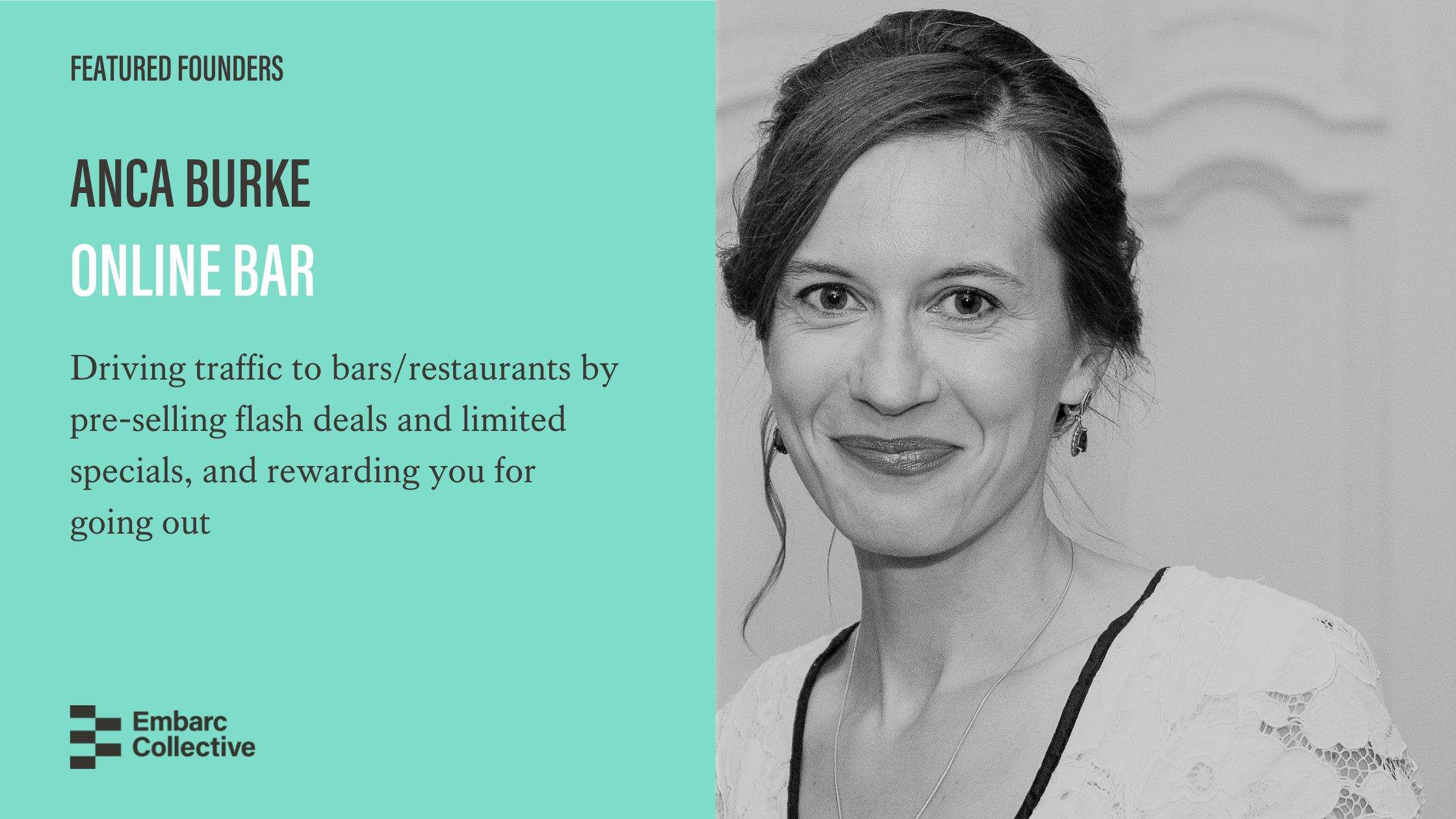 What were you doing previously and what inspired you to launch your company?
I was leading strategy and growth for a mobility and AI startup, and also spent time running my real estate investment business in Chicago.
I advised several tech startups, one of which was focused on bringing innovative payments to hospitality. When 2020 hit, on-premise bar and restaurant business was pretty much shut down. Nobody was going to invest in highly intensive capital solutions for payments. And when the industry opened, it was clear the consumer shift to digital and delivery wasn't going away.
What pain point is your company solving? What gets you excited to go to work every day?
We help bars and brick and mortar (bodegas, liquors stores, gas stations, corner shops) to stay in business by driving the foot traffic that is so essential to their financial model. We do this by digitizing, marketing, and selling last-minute specials, flash deals, and promotions for the beverage category. We enable these businesses to move idle inventory, limited volume, and expiring products as well as connect new products/brands to consumers through limited promos.
For consumers, we make it easy to discover, explore and save money on last-minute on-site drink specials and promotions happening in their neighborhood. And while doing so, we provide them the platform to support local and small entrepreneurs, get social and walk a block or two to redeem their products.
Our vision is cities with thriving local businesses, good foot traffic, and safe blocks, where people engage socially, instead of isolating themselves at home.
Name the biggest challenge you faced in the process of launching the company. How did you overcome it?
Being a two-sided marketplace, we struggled with figuring out if we're supposed to grow two markets at the same time, and if not, which one should be first. Were we more like Groupon, or more like Drizly for on-premise? While we sat on some conflicting advice from mentors and coaches, we didn't give up looking for advisors who had deeper expertise in food and beverage marketplaces. And soon thereafter it became clear that scaling the number of businesses on our platform is critical to bringing the interest of consumers.
Where do you see your company headed next?
Our immediate goal is to launch in Tampa Bay through partnerships with beverage brands/suppliers and start onboarding businesses to OnlineBar through these strategic relationships. We will replicate this model in other major metro areas, first in Florida, and across the nation, in states with fewer restrictions on the sales of alcoholic drinks.
Give us a tactical piece of advice that you'd share with another founder just starting out.
Test your ideas/product concept with your target customers on an ongoing basis, and in doing so get early sales commitments. If your prospective customers aren't willing to commit to a future buy understand why before you spend too much money building your product.
Why Tampa Bay?
I discovered Tampa after attending the Synapse Innovation Summit this past February. I found a supportive entrepreneurial ecosystem that goes above and beyond and a local culture that is a better fit for our platform launch.
***