04.08.2022
Featured Founder: Anthony Nagendraraj and Marissa Huggins from Spontivly Inc.
Welcome to our Featured Founder series, where you'll meet startup founders from Tampa-St. Petersburg who are building and scaling their ventures to solve some of the world's greatest challenges. We interviewed Anthony Nagendraraj and Marissa Huggins from Spontivly Inc., which is a community management system that enables every company to gain valuable insights on their community.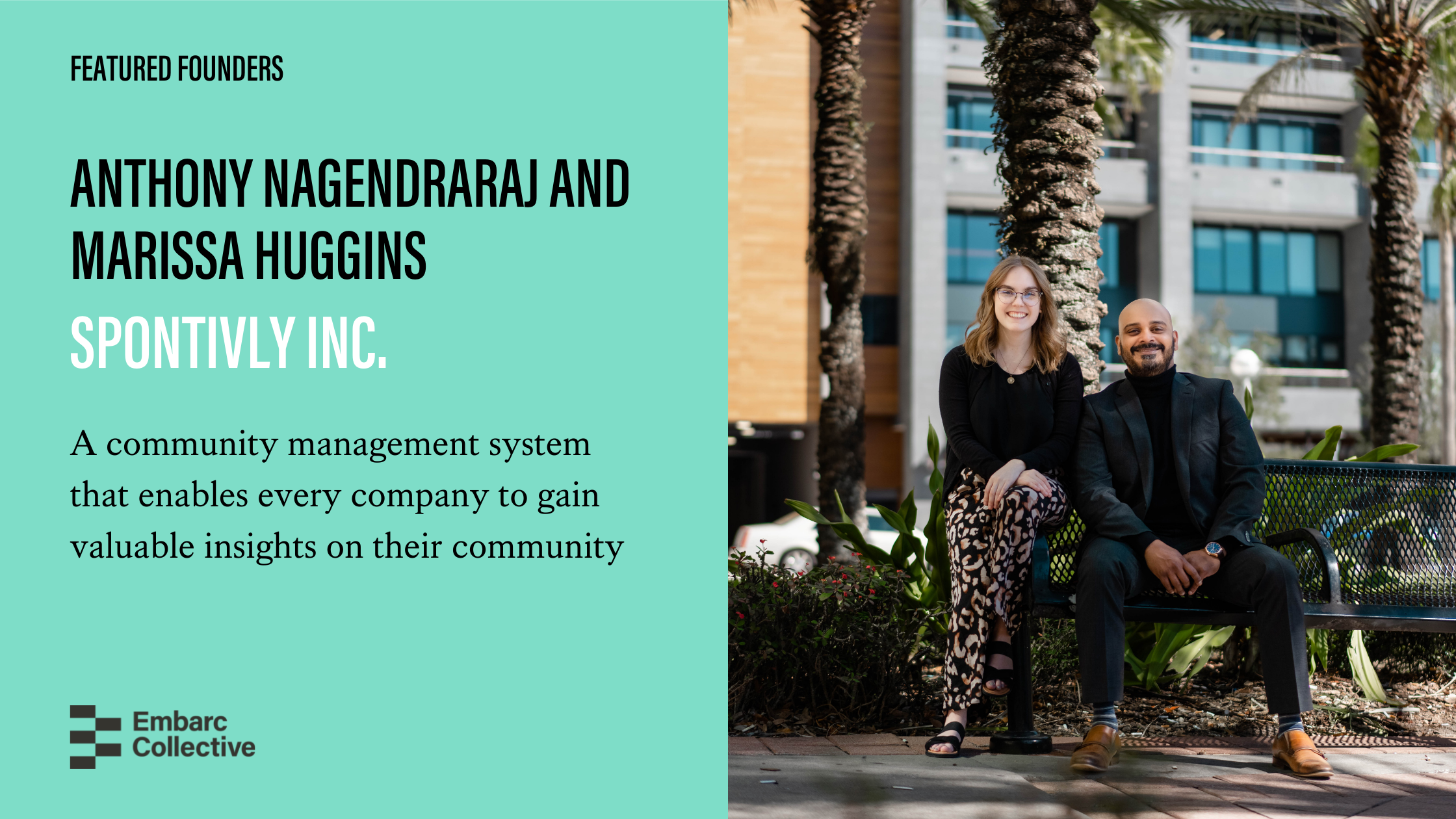 What were you doing previously and what inspired you to launch your company?
I come from a sales background, prior to this I was working with IBM. Early on in my career, I noticed that it's become increasingly difficult to make meaningful connections with those around us, people seem to be lacking a sense of belonging, a sense of community. That's where the inspiration for the business came from, we are driven by our passion for building community and bringing people together.
What pain point is your company solving? What gets you excited to go to work every day?
The pain point that we solve is that Community Managers have no insights or analytics into their community because their tools are scattered across many different platforms.
What gets us excited to come to work every day is seeing the impact our analytics have on the communities we work with. Seeing Community Managers test out new ideas and strategies, drive engagement, and track their success keeps us motivated 🙏
Name the biggest challenge you faced in the process of launching the company. How did you overcome it?
Community is such a new concept, I saw this emerging trend over three years ago but it wasn't as popular as it is now, so people would often struggle to understand what community means and how to build one. We overcame this challenge by honing in on our communications, not just in our pitches but everywhere - from internal team meetings to external sales calls. We believe that every company should have access to community-building tools, resources, and knowledge. Part of that means educating people on how a community is defined and how to build one.
Where do you see your company headed next?
We see ourselves fulfilling the vision - providing insights and analytics to every company, across every community use case, for every tool that they use. This means providing guides, how-to's, blog content, and general strategy around community building. Keep your eyes peeled for our upcoming content.
Give us a tactical piece of advice that you'd share with another founder just starting out.
Never stop speaking to your customers. When you're first starting out, your community is all you have.
Why Tampa Bay?
Tampa Bay wasn't even on our radar when we first started looking to relocate, but the supportive community is really what drew us in. Tampa's focus on growth in tech and support for early-stage founders is incredibly unique, once we set foot here - we decided to stay.
***