08.21.2022
Featured Founder: Connor Lewis of Class Cash
Welcome to our Featured Founder series, where you'll meet startup founders from Tampa-St. Petersburg who are building and scaling their ventures to solve some of the world's greatest challenges. We interviewed Connor Lewis of Class Cash, a micro-influencer platform that seamlessly integrates brands into the everyday lives of college students.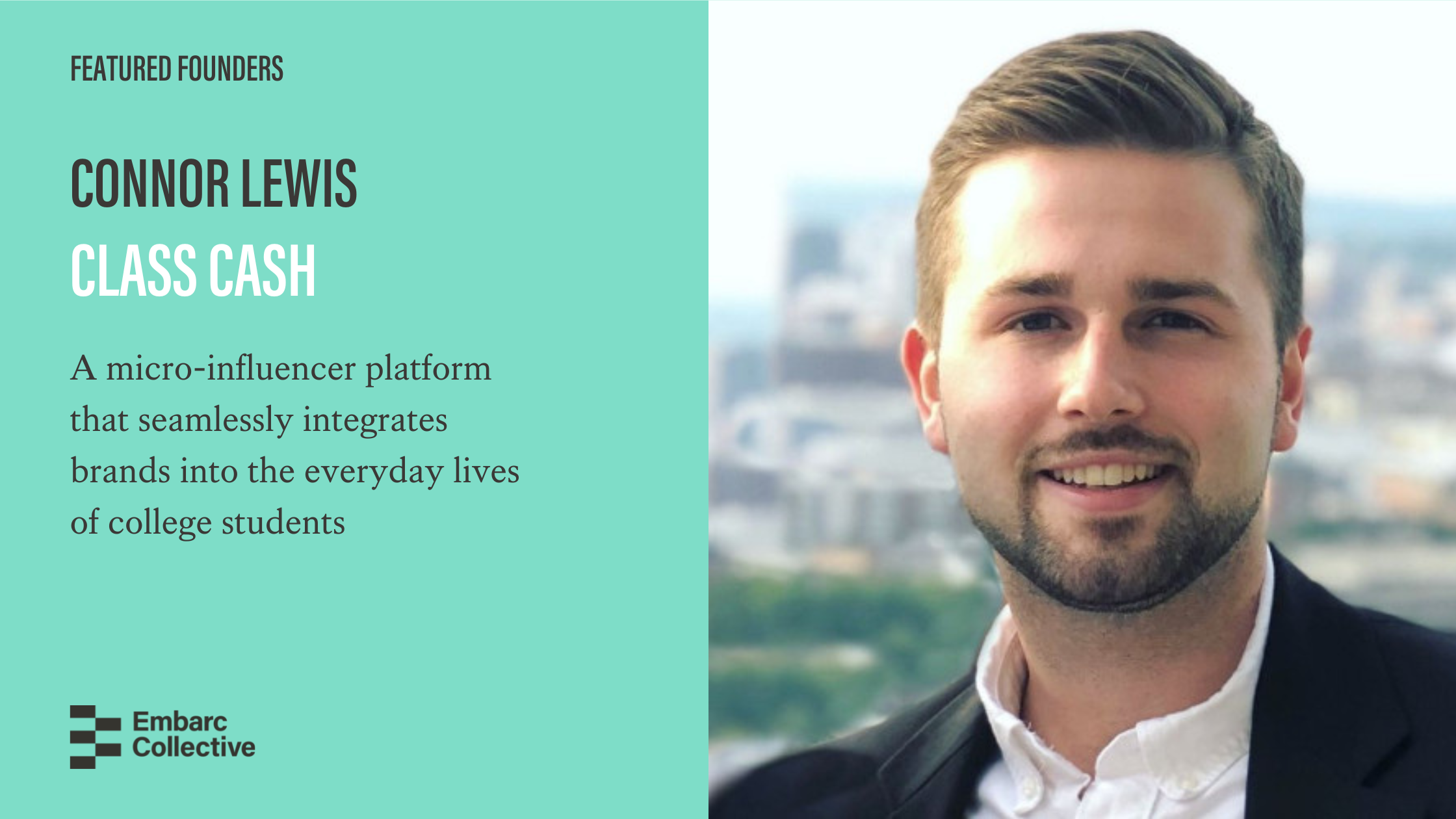 What were you doing previously and what inspired you to launch your company?
Before starting my company, I was working full-time at CDW as an Account Manager selling technology solutions and services to businesses in Florida. In the fall of 2019, we launched a beta test at Auburn University and thousands of students from over 180 universities around the US joined our waitlist. The viral growth on our waitlist and the student testimonial interviews inspired me to transition into Class Cash full-time. (check out our student testimonials)
What pain point is your company solving? What gets you excited to go to work every day?
College students need money and brands need new/creative ways to build lasting one-to-one relationships with the next generation of consumers. I'm excited to build a solution that helps college students make money and focus on their education at the same time. In addition, I'm excited to help brands positively impact students' daily lives, build brand loyalty, and gain exposure in hard-to-reach places on college campuses at scale.
Name the biggest challenge you faced in the process of launching the company. How did you overcome it?
The biggest challenge we have faced when launching Class Cash is scaling a double-sided marketplace. We need to convince students to use the app and convince brands to pay for the service, which can be a bit complex. Our solution is to focus on the needs of each side and run tests until we find a happy medium that works for everyone. We started with a beta test that focused on user experience for college students. After figuring that out, we started focusing on advertisers' needs and will launch a pilot this year.
Where do you see your company headed next?
Our next step is to execute a successful pilot with four local businesses at Auburn University. The goal is to prove that Class Cash can create a positive ROI for advertisers. After a successful pilot, we'll start approaching larger advertisers and investors. The end goal is to scale across as many college campuses as possible.
Give us a tactical piece of advice that you'd share with another founder just starting out.
If you're building a tech company, bring the development in-house by partnering with engineering co-founders. Their input and services are essential to success. When times get hard, remember that faith the size of a mustard seed can move a mountain.
Why Tampa Bay?
Tampa is exploding in growth and offers a wide array of resources including mentors, investors, and customers. The community is embracing technology and Tampa is just a great place to live. Access to beaches and great weather never hurts!
***