01.17.2023
Featured Founder: Dr. Carla Dorsey of The Dorsey Group
Welcome to our Featured Founder series, where you'll meet startup founders from Tampa-St. Petersburg who are building and scaling their ventures to solve some of the world's greatest challenges. We interviewed Dr. Carla Dorsey of The Dorsey Group, a business performance improvement firm specializing in operational optimization.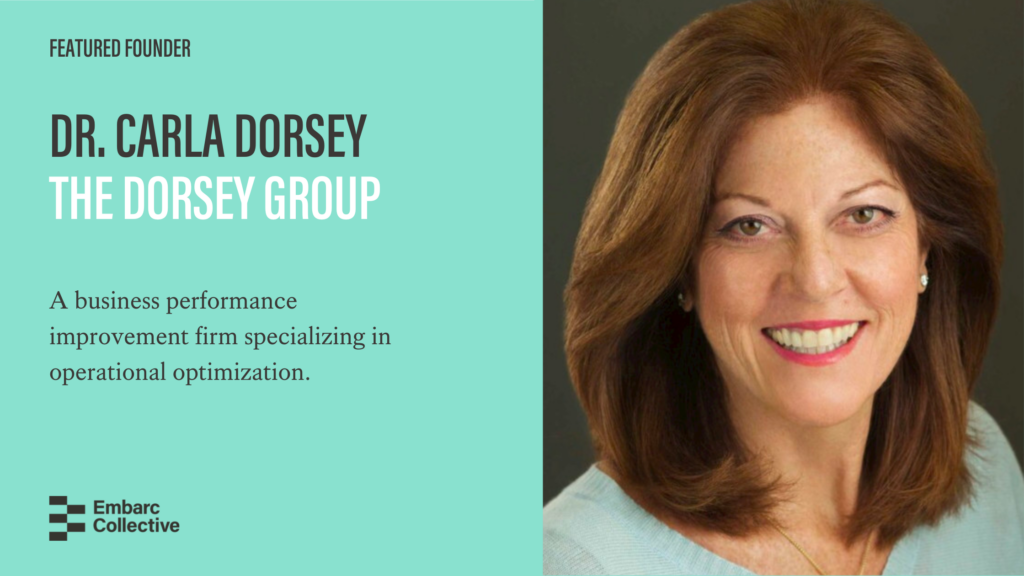 What were you doing previously and what inspired you to launch your company?
Over 30 years ago Tim Dorsey, my husband, started The Dorsey Group, an operational performance improvement consulting company. I joined the company 20 years ago after spending the first part of my career in public accounting, and as a CFO for several small businesses.  
In 2020 we developed the D-MAPP™ software. It was a culmination of years of experience in performance improvement along with the research I worked on while earning my Doctor of Business Administration from USF Tampa (completed in 2019). My research focused on how small businesses could improve their chance of success. To do this, I "highjacked" a tool we used in our consulting practice and tested it on 7 small businesses.  We found that the tool changed both how the companies viewed their organizations and their decision-making towards improving their operations.
What pain point is your company solving? What gets you excited to go to work every day?
Our mission is to provide a solution for businesses that want to improve their performance – whether they want to improve their processes, their people, their profits, or all three.  
The D-MAPP digitizes several of the most powerful performance improvement tools and provides analytics to both diagnose and set a plan to fix underperformance.  We wanted to provide a solution that was easy to use, cost effective, and remote – and to generate instant, sustainable results.
We are very excited about the D-MAPP and its future development. Users are getting excellent results and savings and their feedback is positive. We hope the D-MAPP helps many companies both survive and thrive.
Name the biggest challenge you faced in the process of launching the company. How did you overcome it?
We are still in the process of learning how to properly position and market the D-MAPP. Selling software is far more different than selling consulting services. We had to slow down, put together a talented team (including Embarc coaches) and strategically approach determining target markets, product-market fit, the customer journey and the product journey. 
Where do you see your company headed next?
As we continue to work on target markets, customer and product journeys, we will need to add staff and put the infrastructure in place to handle an increase in users. Then, we need to keep those users loyal.
Give us a tactical piece of advice that you'd share with another founder just starting out.
Marketing and product research have a much larger role than product development. You can develop an outstanding product, but without fully addressing customer pain points / needs and designing a user-centric journey for your product (from awareness to conversion to loyalty), you won't get the traction you need.
Why Tampa Bay?
I earned my Doctor of Business Administration at USF Tampa. During that time, I met so many outstanding people and noticed a true sense of community and support for entrepreneurship.  We felt a spark in Tampa, and want to be a part of it.