01.03.2023
Featured Founder: Jake Dyal of Certus
Welcome to our Featured Founder series, where you'll meet startup founders from Tampa-St. Petersburg who are building and scaling their ventures to solve some of the world's greatest challenges. We interviewed Jake Dyal of Certus Group, which enables rapid decisions through knowledge systems.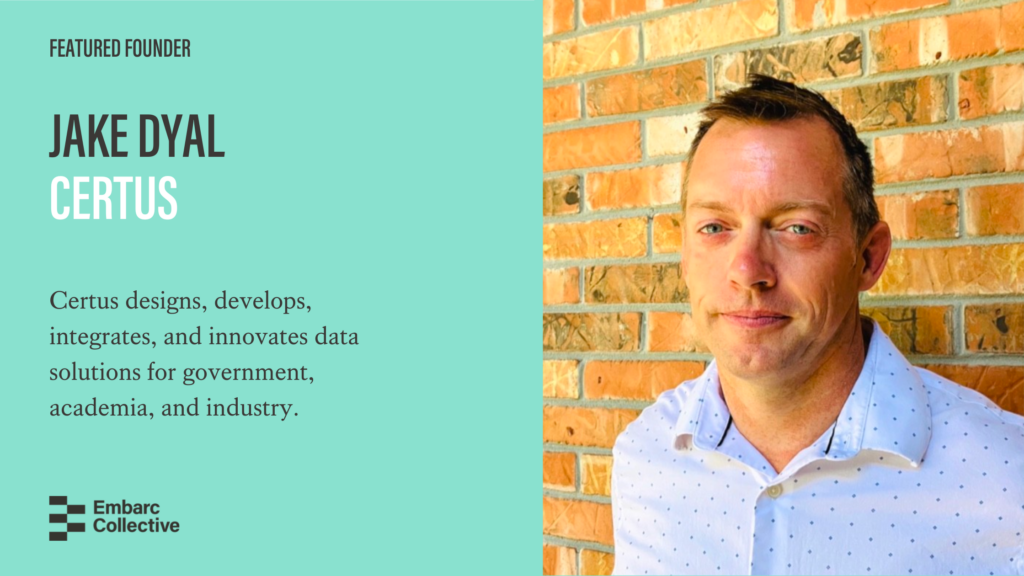 What were you doing previously and what inspired you to launch your company?
I previously was a government civilian project manager at a research facility that works on advanced analytic solutions for the US Air Force. My partners and I (who I met there) really came together on a project focused on global money laundering, where we were given the opportunity to process over 40 terabytes of cryptocurrency, banking, and shipping data into a cohesive picture of sanctioned individuals and organizations.
This project eventually became a $10M government program. However, we knew we were onto something bigger that could benefit many different people and industries! Integrating multiple, disparate data sets – centered around a desired impact and effect – was the real value of what we came up with.
We then decided to create Certus Group to help others bring data together and organize it around their goals, providing context to enable rapid, more informed decisions focused on customer's desired outcomes.
What pain point is your company solving? What gets you excited to go to work every day?
I'm passionate about helping people solve their large-scale business problems and using their data and expertise to do it!
Everyone gets that they need data to make decisions, but how do you find the right data? What about the context of the decision that only you, who knows your problem and industry domain, can provide that data?
At Certus Group, we enable rapid, more informed decisions using your domain expertise. We bring it back to the questions you're trying to answer and problems you're trying to solve. And we bake your context into the data structure so that even if one of your data sources changes, you don't have to re-architect your entire analytic process to continue enabling decision-making for your business.
Name the biggest challenge you faced in the process of launching the company. How did you overcome it?
Coming up with the opportunity that gave us the capital to quit our jobs and focus on what we're passionate about was the biggest hurdle. Belief in what we're doing is what got us through. We had a good network and a good track record, but our passion for enabling people to solve their large-scale data problems is what our first customers saw in us and what got us that first opportunity.
Where do you see your company headed next?
We're excited because we're growing our team and bringing on new customers who align with our vision. We want to empower people with the understanding that their expertise in their industry is an asset when dealing with data. Let us help you solve one problem with your data, which should then empower you to solve many other problems without us (and hopefully one day you'll tell us about them!).
Give us a tactical piece of advice that you'd share with another founder just starting out.
Partner with others coming up. Help people out, and they, in turn, will help you. Build a community and an ecosystem that sustains you. Don't be afraid to give.
Why Tampa Bay?
I'm from Tampa, but when I turned 18, I left because there really wasn't a future for me here in what I wanted to do.
Twelve years later, I came back, and the town had changed. Now, Tampa's tech scene is growing to the point where we've got some big names and some attention. It's the perfect time to be doing what we're doing here, and I'm glad to be on the short list of natives doing it!