06.27.2022
Featured Founder: Joe Steilberg & Parker Klein from Twos Technologies
Welcome to our Featured Founder series, where you'll meet startup founders from Tampa-St. Petersburg who are building and scaling their ventures to solve some of the world's greatest challenges. We interviewed Joe Steilberg and Parker Klein from Twos Technologies, which helps you simply remember things.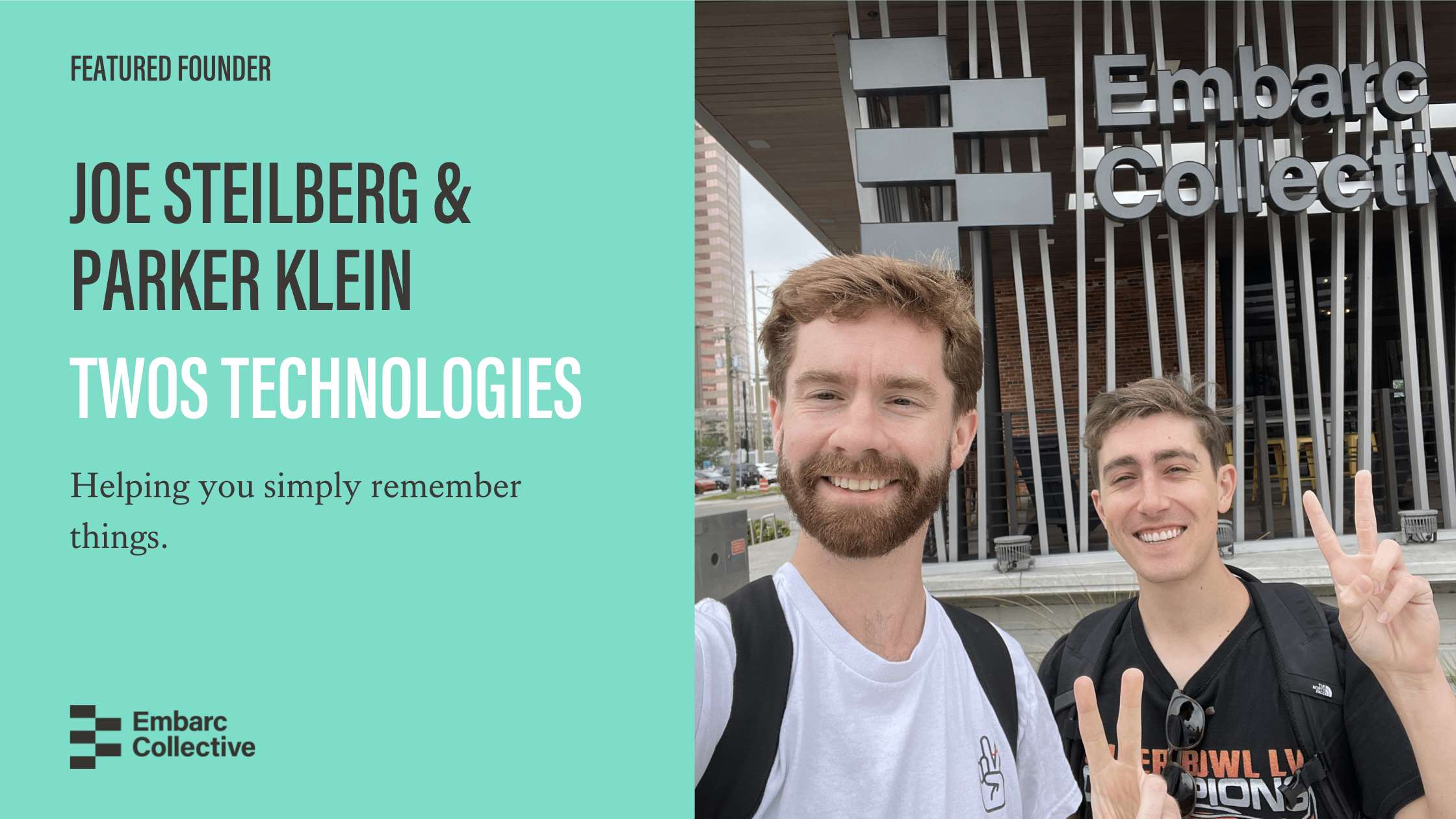 What were you doing previously and what inspired you to launch your company?
Parker: Before Twos, I was working at Google as an iOS developer on Chat and Gmail. I've been using and improving Twos since college because people still need a quick, organized, and accessible place to write and remember things.
Joe: Before Twos, I was working in private equity. In order to be more productive, I would write things down in notebooks, sticky notes, and even the backs of envelopes. That was when Parker introduced me to Twos, and I immediately benefitted from the speed, ease, and accessibility it gave me to my things. That was when I realized it was something that could help millions of people and deserved our full attention.
What pain point is your company solving? What gets you excited to go to work every day?
Joe: In today's digital age, our attention spans are shorter than ever. This means people are constantly forgetting names, to-dos, or even precious memories - which all have negative consequences. People need a quick, easy, and accessible tool to write, remember, and share anything. Being part of a company that can help so many people has been very fulfilling.
Name the biggest challenge you faced in the process of launching the company. How did you overcome it?
Joe: So far, it has been fundraising. We know it takes consistent effort to find the right partner, but being ignored can be frustrating. We thrive off of real conversations with VCs so we can learn and improve our approach. We are constantly changing our strategy to get in touch with the right people who can help with our vision to become the largest network of private and public information.
Where do you see your company headed next?
Parker: Our vision for Twos is to become a half-private/half-public platform of information. Our next steps are to continue growing our user base to further validate the hole in the market and then begin growing our team with a designer and another engineer to help build the first elements of the public side of the platform. Twos will always be the quickest place for people to write and remember things, but we see a brighter future where people can connect, share, and learn with other people as well.
Give us a tactical piece of advice that you'd share with another founder just starting out.
Joe: Partner with someone you trust who has complementary skills to your own. Having a partner has been crucial for staying focused, supporting one another, and being held accountable.
Why Tampa Bay?
Joe: We came to Tampa by chance. What we found was a blossoming tech community of like-minded individuals. If it weren't for Embarc Collective (not a paid spokesperson), the impressive community of entrepreneurs, and all the amenities the city has to offer - Tampa has been a dream come true.
***