07.29.2022
Featured Founder: Joe Wilson from PRx
Welcome to our Featured Founder series, where you'll meet startup founders from Tampa-St. Petersburg who are building and scaling their ventures to solve some of the world's greatest challenges. We interviewed Joe Wilson of PRx, which is a construction management software that digitizes intuition to accelerate analytics and inject project teams with decades of experience instantly.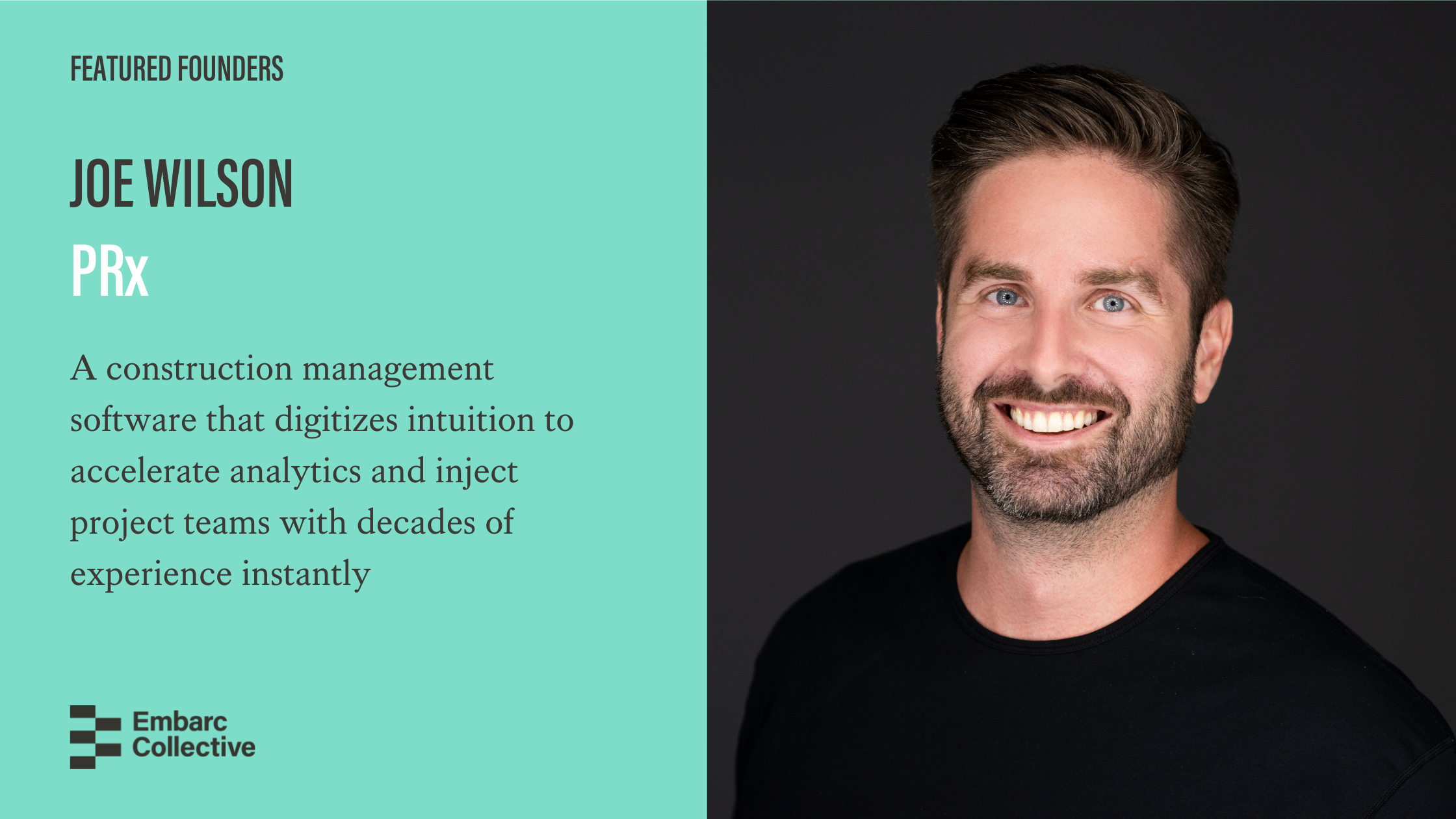 What were you doing previously and what inspired you to launch your company?
Growing up, my dad would regularly iterate to my 4 siblings and me: There's always a better way. Be a problem solver. Work smarter, not harder. He didn't know it then, but those words ignited a passion in me and set me on my problem-solving journey years later.
After studying Financial Economics in undergrad, I began my career with an ENR top 25 General Contractor, with stints in Estimating, field training under a Superintendent, and finally as a Project Manager. I pivoted to CRE development 4-years later, and after another 3-years transitioned to an owner's representative as a Senior Project Manager. In my 15 years in the construction industry, I've guided processes, managed teams, and led projects over a $300 Million portfolio.
This varied perspective gave me a firsthand account of many of the industry's successes and failures. I have seen many mistakes and have made many of those mistakes myself. Fortunately, I grew up with a fascination for how tech was rapidly changing the world around me, and I sought new ways to prevent those mistakes from recurring for future projects.
In the 3-years leading up to my launch of PRx, I researched alternative software solutions that helped managers forecast project risks so they could avoid those same mistakes we all made. When I couldn't find anything that met the teams' needs, I built what I could in Excel. Any person with a shred of tech know-how would laugh me out of the room when they saw the model that I built (and some have), but… it worked!
My last project was a $40 Million expansion to an occupied senior living community that broke ground in September 2019… right before COVID. Like most projects at that time, ours was rocked by supply chain issues, material shortages, and pricing spikes, not to mention all the new constraints around staffing a project in a high-risk environment. During our bi-weekly meetings, we'd hear that the project was doing "OK, all things considering," and receive a 60-page report full of data to "back it up." For months, after hours, I studied the PDF reports from our meetings, and manually entered the data into my Excel model. Surprised that it was working and at what it displayed, I saw data trends and behavioral patterns that made the trajectory clear as day: unless significantly altered, our project was going to be well over budget and behind schedule.
Long story short, I showed my findings to the executive leadership, and with a herculean effort by the whole team, we finished that project on time and $1 Million under budget! My rinky-dink Excel model spotted risky trends, accurately forecasted the trajectory of the project, and enabled the leadership to correct course effectively before it was too late.
What inspired me to launch PRx? It began with my dad's words: There is always a better way. Be a problem solver. Work smarter, not harder.
What pain point is your company solving? What gets you excited to go to work every day?
Historically in the construction industry, it takes a lot of experience to be able to accurately forecast project risk and intuitively know how to handle it – a learning curve that costs millions of dollars per employee.
Over the last 40 years, more than 75% of projects are over budget and behind schedule. When the dust settles, the industry spends more than $175 Billion annually on delays and overages... Largely avoidable with the proper experience.
Considering this opportunity, we are educating project teams with automated risk intelligence and prescribing strategies to optimize human capital and drive project success.
In October 2021, I launched PRx in the hopes that we can be problem solvers who participate in the evolution of the industry's processes, accelerating the growth of the next generation of managers, and helping the industry work smarter towards greater productivity and profitability.
Name the biggest challenge you faced in the process of launching the company. How did you overcome it?
A fellow entrepreneur and friend once said, "making things remarkably simple is remarkably complex." This particularly resonates with an old-fashioned industry that has been remarkably averse to new technology over the last 4 decades.
The most significant hurdle has been and will continue to be (into the foreseeable future) changing the outdated mentality and approach to project management. However, we are seeing an experience void expanded by the learning curve, an aging workforce, and skilled labor shortages that are creating a vacuum for simple solutions to these complex issues.
There is an element of this shifting organically, as technological solutions are more widely accepted by the younger generation of executives. But we have also found success by reaching the intersection of common ground with our customers. Once we reach that intersection, our simple solution becomes an obvious next step.
Where do you see your company headed next?
To the moon! Just kidding… but not really. I believe that we have an opportunity to be the quintessential instrument for risk intelligence in the construction industry.
Our path to a successful acquisition begins with targeted contractors to pilot our product and champion the message to a broader market in their network.
The construction industry is highly competitive, and the companies within it are always seeking to gain that edge on their counterparts. A handful of case studies and testimonials will be a powerful accelerant to broader adoption in the contractor community.
In the near term, we are focused on a successful pilot to drive that early adoption with the goal of raising our next funding round in Q2 2023 to pour more accelerant on our trajectory.
Give us a tactical piece of advice that you'd share with another founder just starting out.
In the life of every founder, there are plenty of good days and there are plenty of bad days. There are plenty of days when you succeed and plenty of days when you fail.
Don't let your highs get too high, and don't let your lows get too low. Be humble, faithful, and diligent with the task in front of you. Regularly remind yourself of your reasons you are pursuing this venture in the first place. For me, it is my family. My kids. Their future. That they can look up to a good example of love, hard work, and discipline, and learn to apply that in their lives. What is it for you?
Try. Fail. Learn. Grow. Repeat. Remember that there is always a better way. Be a problem solver. Work smarter, not harder.
Why Tampa Bay?
I was very fortunate to stumble backward into Tampa before realizing that Tampa is fast becoming a national hub for tech and startups.
For me to pursue this startup adventure, my wife and I understood that I would not be able to take a salary for myself for some time, which meant that she would bear that financial burden for the foreseeable future. To make ends meet, we needed to relocate our family from the Washington, DC area to a more affordable situation. With two sons under 2 years old, we needed a strong support system around us while relying on her salary alone. Fortunately, my wife was raised in Tampa from a young age and her family has been a staple in the Tampa community for generations. As I'm writing this, I'm realizing that relocating to Tampa was probably her plan all along… She was playing the long game!
Since our arrival in Tampa last year, the support system we've found in our extended family and our growing network at Embarc have enabled me to pursue this dream, and I couldn't be more grateful for the life we're building here.
***