01.24.2023
Featured Founder: Katey Mulfinger of Raxar Technology Corporation
Welcome to our Featured Founder series, where you'll meet startup founders from Tampa-St. Petersburg who are building and scaling their ventures to solve some of the world's greatest challenges. We interviewed Katey Mulfinger of Raxar Technology Corporation, a startup delivering an all-in-one SaaS work automation platform focused on the mobile operations worker who does not sit at a desk.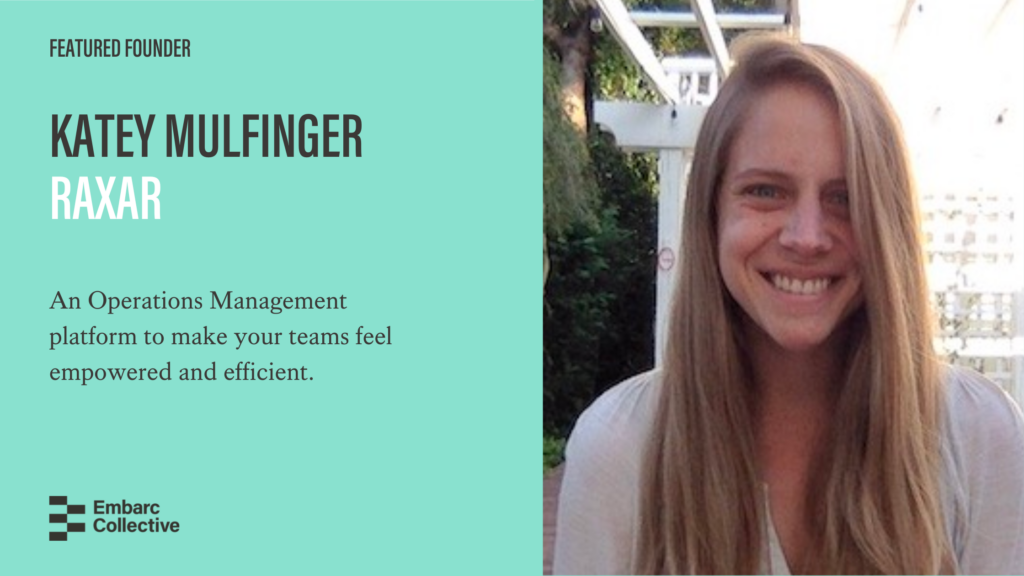 What were you doing previously and what inspired you to launch your company?
I am a bit unique in this context, as I am not the founder of Raxar – I am the CEO, as of March of last year. My previous work was with small social enterprise startups featuring an innovative model or solution that efficiently and effectively solves a societal need, from education (PresenceLearning) to medical devices (LegWorks, MGDinnovations).
Raxar's goal to empower a workforce to not only complete but excel at management of assets and work orders convinced me to make the move, and I've loved every minute of it (no matter how hectic the day might get!).
What pain point is your company solving? What gets you excited to go to work every day?
Raxar allows a deskless workforce to easily collect information on the go while helping management facilitate real-time monitoring of asset health, work completion, and analysis of collected data for strategic planning. By serving both populations simultaneously, we enable streamlining of previously onerous tasks involving paper checklists and disparate systems.
I am a data nerd and efficiency is my favorite thing, so that – combined with helping clients not only succeed but thrive – gets me pumped for work every day.
Name the biggest challenge you faced in the process of launching the company. How did you overcome it?
Our biggest challenge has been staying focused on our primary verticals for sales and marketing. We have identified airports and venues as our concentration and built out solutions particular to their needs, but with a product that can work for so many industries, it is very easy to get distracted and chase the next big thing. (But absolutely contact me at kmulfinger@raxar.com if you are interested in using the platform!)
Plus, as a remote-based team, we have struggled a bit with effective internal communication and project management. The team has cycled through many approaches over the past eight years, and we have gone back and forth between in-person and remote, but we landed on remote-only prior to the start of the pandemic.
Finding the right combination of tools and systems has been challenging, and the team is tired of trying the next new idea, training on a new system, and integrating new platforms into their daily tasks. We have landed on a combination of CRM and integrated project management that will allow us to effectively communicate and stay on the same page without dropping any of the many balls we are juggling.
Where do you see your company headed next?
We are in the process of revamping our sales and marketing collateral – everything from our website to our decks to the contents of our emails. It is a significant undertaking, but one that is important as we continue to learn and iterate upon our communications with prospective and current clients. 
Give us a tactical piece of advice that you'd share with another founder just starting out.
Team is key! Enthusiastic, smart, and energetic humans who see problems first and foremost as solvable are the foundation of a startup. It's not just being able to do the job – it's the desire to attain new heights together in a collaborative and supportive environment. (If you know anyone who fits that description and is hungry to join a growing startup, please send them my way at kmulfinger@raxar.com!)
Why Tampa Bay?
I am a true Tampanian born and raised, but I lived in Northern California for 13 years prior to returning to the Sunshine State to join the team. Tampa has undergone so many exciting changes over the time I was absent, and the burgeoning startup scene made keeping Raxar in Tampa an easy decision. Add in the lack of snow, opportunities for outdoor activities, and increasing cultural and gustatorial options, and I can't see why you wouldn't choose Tampa.