07.01.2022
Featured Founder: Kevin Murray of Rare Drop
Welcome to our Featured Founder series, where you'll meet startup founders from Tampa-St. Petersburg who are building and scaling their ventures to solve some of the world's greatest challenges. We interviewed Kevin Murray from Rare Drop, which is creating digital & in-person experiences to inspire positive impactful change for its partners through events, creative services, marketing, tech, and more.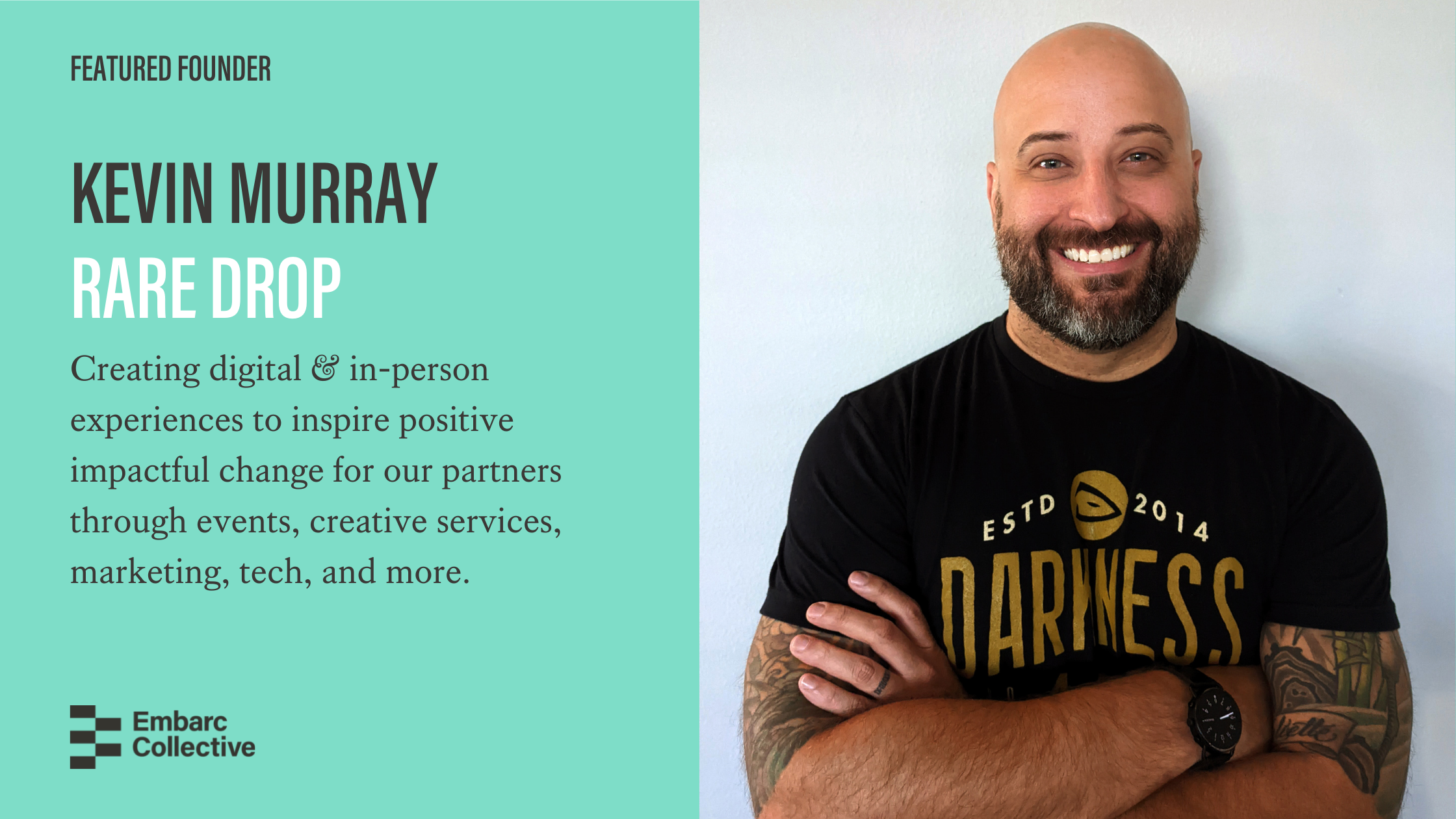 What were you doing previously and what inspired you to launch your company?
I spent most of my life working in event planning and catering in NYC. I started when I was a teenager working in the stock room for a company that did catering and events at the American Museum of Natural History. By 2015, I was a Director of Operations & Finance at one of the top companies in NYC; but I was pretty miserable and had no time for my family. My wife ended up getting her dream job here in Tampa, so we decided to take a chance and relocate so she could pursue her career. I had already been creating content on Twitch in my spare time and decided to dive into full-time content creation once we moved. I ended up partnering with two friends I made here in Tampa who were also content creators to create the first GCX (Gaming Community Expo) in 2016. It was a huge success and we ended up raising $564k for St. Jude Children's Research Hospital during our online charity marathon. When St. Jude met with us after the event, they wanted to enter into a partnership with us to support further fundraising efforts. To do this, we needed to start Rare Drop. After our 2017 event, I realized how much more we could be doing with Rare Drop and we began the building blocks for what the company looks like and is involved in today.
What pain point is your company solving? What gets you excited to go to work every day?
Rare Drop is involved in a lot of different things, but our main focus right now is twofold. On one side, we're looking to help non-profits enter the gaming and digital media spaces in order to build fundraising events and opportunities organically through building communities and creating relationships. To date, we've helped a number of non-profits raise over $26 million through the power of content creation and digital media. On the other side, we're looking to teach non-endemic brands and companies how to use the gaming space effectively through similar methods we use with non-profit organizations. We offer services such as online/physical event production, marketing, media, consulting, creative services, production, and more to get our clients to where they need to go. The idea that we have a business that is helping make the world a better place for future generations really inspires me to use the knowledge we cultivated over the years to continue to do good. I also get to work with clients like the Tampa Bay Lightning and build out their esports program, Bolts Gaming. I don't think anybody would complain about getting the chance to coordinate gaming initiatives and tournaments with the 3x Stanley Cup Champions.
Name the biggest challenge you faced in the process of launching the company. How did you overcome it?
We have been self-funded and mostly debt-free since the day we officially opened our doors. This led to some serious hurdles and slower expansion over the years, but we've built ourselves from a team of 2 to 12 by making intelligent decisions and being careful about how we spend. It also forced me, and some of the members of our team, to step outside of our comfort zones and learn skills that we didn't previously possess. For example, our Associate Producer started out as a part-time content creator on Twitch. We hired him straight out of college and 3 years later he's producing some of the best online shows in our space and helping get us noticed.
Where do you see your company headed next?
Our next big adventure is getting into the creative side of storytelling within media. We currently have about 6 projects we're looking to get off the ground in that realm that ranges from animated/live-action content to game development/creation. It's a lofty goal but with companies like Diamond View operating out of Tampa and the general growth of the city, we're betting on a creative boom to hit here and we want to be part of the catalyst for that to happen.
Give us a tactical piece of advice that you'd share with another founder just starting out.
There will be ebbs and flows. There will be good times, bad times, and everything in between. Your passion for what you do shouldn't be dictated by the peaks and valleys your business and team will go through. Your passion can help keep your perspective in check during rough periods.
Why Tampa Bay?
While I originally moved because my wife got her dream job, I fell in love with this city and have worked very hard to make Tampa a hub for gaming, digital media and entertainment. It's incredible to see the community around Embarc Collective and how many like-minded people want to make Tampa one of the best places in the world to live, work, and play.
***