01.09.2020
Featured Founder: Mark Engelen of RxLive
Welcome to our Featured Founder series, where you'll meet startup founders from Tampa-St. Petersburg who are building and scaling their ventures to solve some of the world's greatest challenges. We interviewed Mark Engelen, Founder of RxLive, a telehealth platform and service that integrates clinical pharmacists into physician practices and other healthcare settings.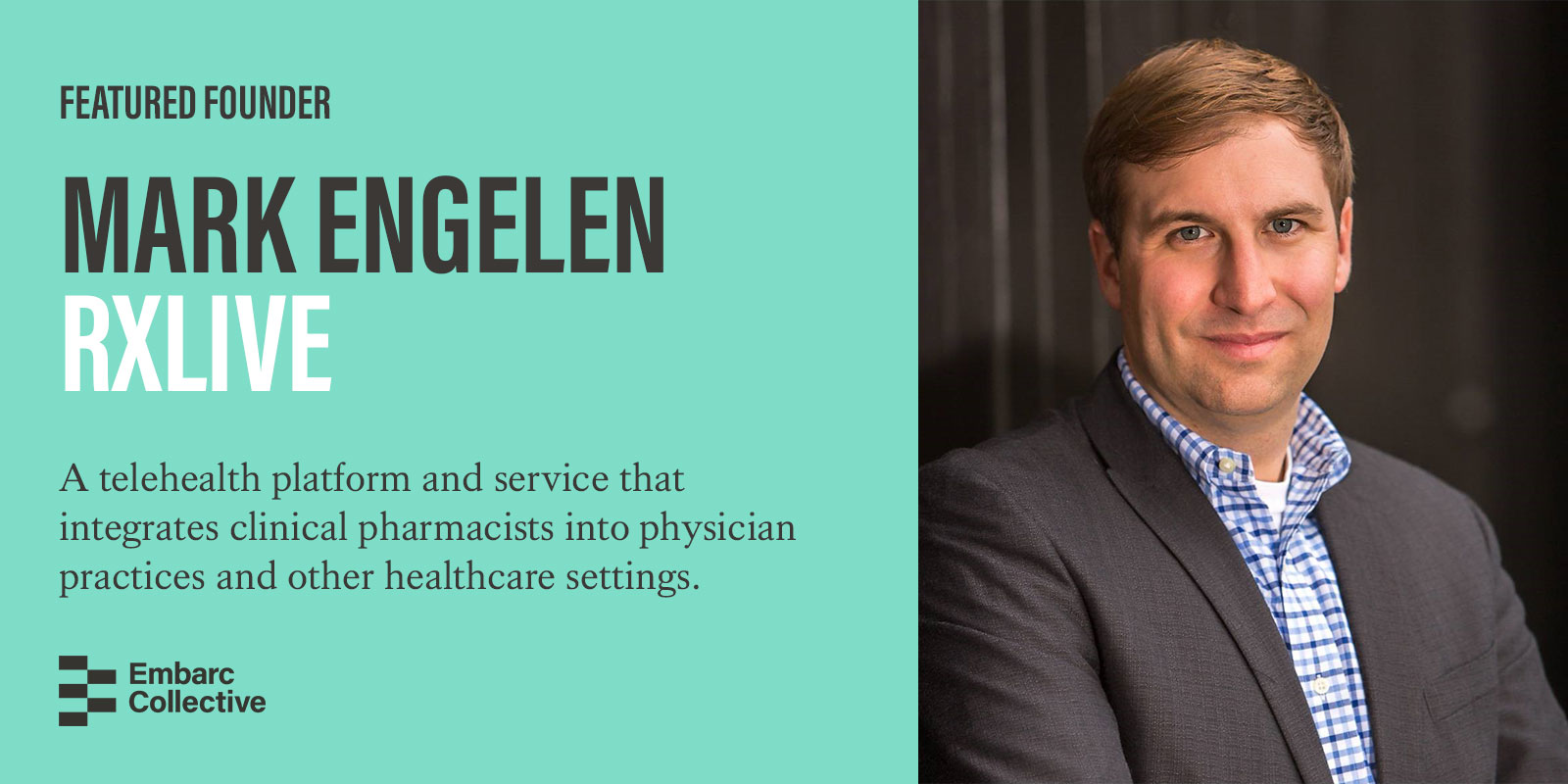 What were you doing previously and what inspired you to launch your company?
Kristen (my co-founder and better half) is a clinical pharmacist, and she and I have spent our entire careers in the business of healthcare technology and pharmacy.  We founded RxLive because we knew today's pharmacy models underserve patients and pharmacists alike. Patients aren't getting the time and attention they need to help manage their complex medication regimens and for many pharmacists, the meaningful patient interaction that fuels their passion has been lost.  We built a technology platform and a service model that pairs pharmacists in their spare/down time with patients who need their help.  Coupled with a ground-breaking new business model and regulatory strategy, we are completely reframing the role of the pharmacist in traditional primary care practices.
What pain point is your company solving? What gets you excited to go to work every day?
RxLive isn't for the traditional Embarc member audience—rather it's for people who take lots of medications, with complicated health problems.  Drugs now account for 20%+ of all healthcare expenses, and over $300B in healthcare expenditures are wasted each year due to medication mismanagement.  This cost is ultimately borne by the government, employers and patients themselves.  Medication mismanagement also leads to poor clinical outcomes, hospitalizations, and emergency room visits.  Helping employers and physicians solve these challenges coupled with the 1-on-1 connections we make with patients is incredibly fulfilling - as is the ability to build a business with my supremely talented and amazing spouse.
Name the biggest challenge you faced in the process of launching the company. How did you overcome it?
We face the same challenges with the 3 c's like everyone else (capital, customer acquisition, and capacity).  However, the biggest challenge is also the most exciting for us in that we are building a brand-new business model in addition to a technology and service.  Educating every member of the value chain from patients to providers to insurance carriers on how our model benefits them to create a new category is tireless but rewarding work.
Where do you see your company headed next?
Our vision is to integrate clinical pharmacists into everyplace in the healthcare system where they can create value.  Naturally we are exploring many different ways of doing that outside our physician practice core.  However, what I most want people to know about us is our ability to change patient behavior.  The next generation in pharmacy is not only the "clinical algorithm" of the right drug for the patient but more importantly the ability to successfully change patient and physician behavior.  We think leveraging our "human cloud" of amazingly talented pharmacists—complemented, not substituted—by our emerging data science work is the key.
Give us a tactical piece of advice that you'd share with another founder just starting out.
Building a business is a team and family sport.  Whether you are jumping in with your spouse like I am (or not) you and your partner/family need to have a solid, pragmatic, multi-year financial plan in place to fund the "dream" that you are all on board with.  Don't go too early.  Sometimes consulting or working in a domain is the perfect way to learn a space - see if your problem really needs solving and build up a war chest to fund the battle that will invariably take much longer than you expect.  Stay grounded and don't neglect the most important people in your life.  At the end of the day, your partner and your family will be there for you no matter the outcome...where others may not.
Learn more about RxLive on Twitter and LinkedIn.
Keep up with the latest in Tampa Bay startup news, local talent interviews and founder resources.
Delivered to your inbox every Thursday.