10.25.2022
Featured Founder: Matthew Basile of Naya Software
Welcome to our Featured Founder series, where you'll meet startup founders from Tampa-St. Petersburg who are building and scaling their ventures to solve some of the world's greatest challenges. We interviewed Matthew Basile of Naya Software, which is a contract management platform that enables parties to leverage data to automate all aspects of commercial real estate transactions and other legal matters.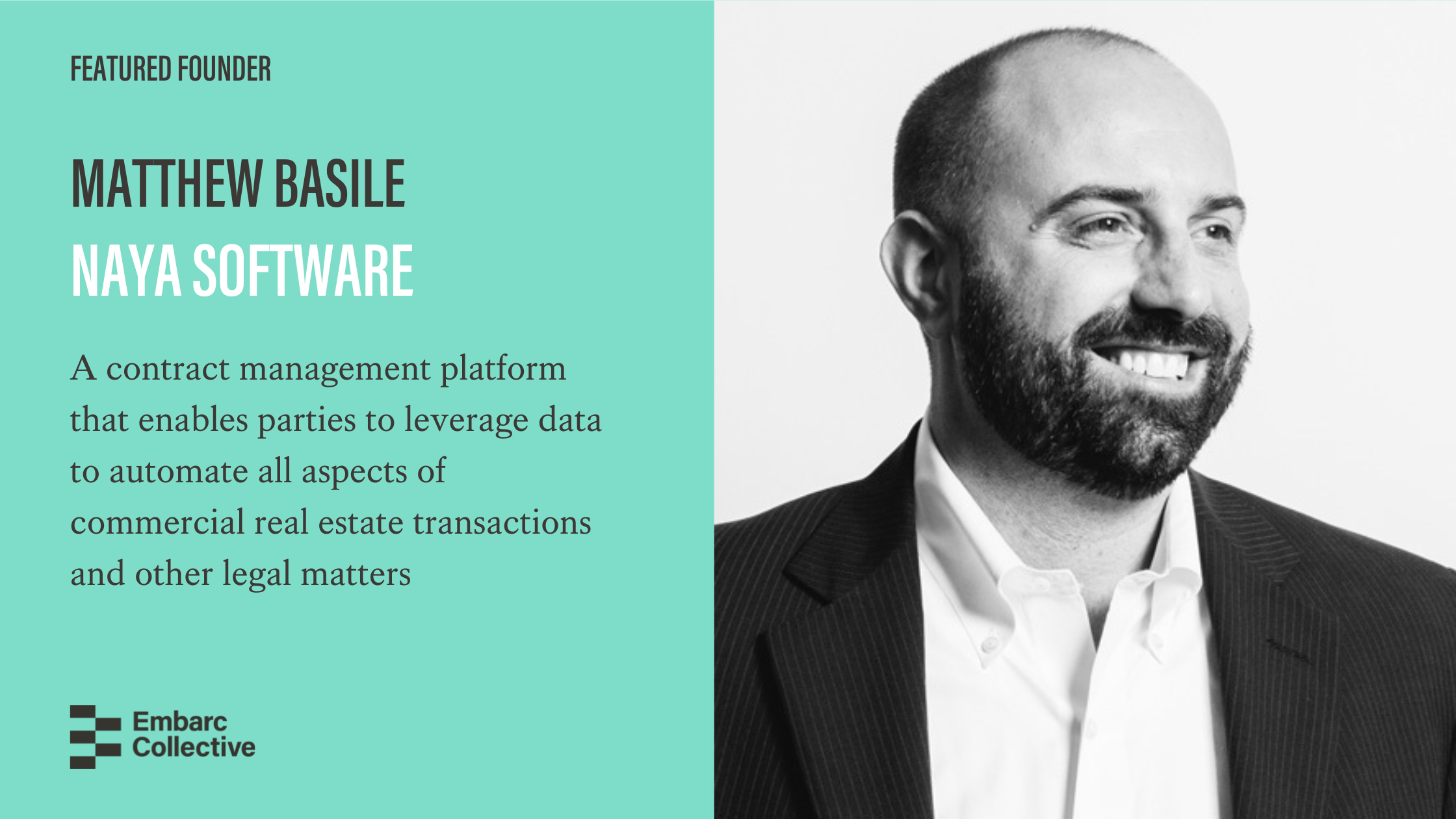 What were you doing previously and what inspired you to launch your company?
I was working on commercial real estate transactions as a junior lawyer at Kelley Drye & Warren in New York City when I had the idea to create Naya. Although there were plenty of aspects of closing a deal that was complicated and required careful legal analysis, I was always frustrated by how much time was spent on administrative or repetitive tasks that were especially painful and stressful under tight deadlines.
I worked as a software developer and technology consultant for almost 7 years before I graduated from law school, so I had a good idea about what software was capable of automating. I knew there had to be a better way. After trying several solutions available in the marketplace that either didn't work or didn't solve all of the problems I was facing, I decided to pull together a team and create a product from the ground up to automate as much as possible.
What pain point is your company solving? What gets you excited to go to work every day?
We are committed to improving efficiency in all aspects of commercial finance transactions for commercial lenders and their outside counsel on one cohesive and easy to use platform. Our initial focus was to help lawyers with the most time-consuming and repetitive tasks in a deal, such as drafting documents, updating status lists, and coordinating the execution and assembly of closing documents. When banks and lenders saw how we were transforming legal processes for law firms, they asked if they could leverage the platform too since they had some of the same pain points, so we evolved into a shared platform between lawyers and clients.
We have built an awesome solution and it is exciting to see it getting rolled out to legal teams and to see how it changes the way they work. The idea of removing many of the mundane aspects of papering a commercial finance transaction so that no other lawyer or paralegal ever has to suffer through the tasks that I spent thousands of hours of my life performing puts a smile on my face every time I see our platform in action. It is great to see the lightbulb go off when someone realizes they can do something tedious and stressful in five minutes instead of five hours.
Name the biggest challenge you faced in the process of launching the company. How did you overcome it?
On a personal level, I have four small kids (8, 6, 4, and 1 – all boys) so there is always a lot of action in our house and I have had to find a good work-life balance. This was especially challenging in the early days of Naya when I had a full plate of legal work in addition to the demands of running a startup. I had to put in a lot of late nights and didn't sleep much.
On the business side, one thing I didn't realize when launching Naya was how slow many lawyers are to adopt new technology. When you have a great solution that you know will save time and money, you always assume folks will be very quick to start using it. Lawyers can be especially change-resistant because they are often overworked and do not have time to learn something new. The culture of the billable hour also does not help to drive technology adoption, however, we are starting to see a lot of innovative lawyers that are excited about improving the way services are delivered. We have focused on these champions and relied on them to help push our solution out to the legal teams within a firm that is slower to adopt change.
Where do you see your company headed next?
We started out focused on automating commercial real estate loan transactions because that was my background and a comfortable space for us as a team, but as the product has matured we are now able to focus on other verticals like corporate finance, bankruptcy, SBA loans, immigration law and any other type of legal transaction that can benefit from our platform. We also think that agency lending (Freddie Mac / Fannie Mae loans) is a great use case, so we are focused on making that happen in the coming months.
As law firms hopefully become less focused on the billable hour and more focused on becoming more efficient and consistent, there will be many new and exciting problems to point our solution at that can create new revenue streams for firms and their clients.
Give us a tactical piece of advice that you'd share with another founder just starting out.
When I was in my early twenties traveling cross country I was hiking up a steep section of the tallest mountain in Yellowstone National Park and I asked a hiker who was coming down the mountain "Is it worth it?" and he quickly responded to me "It's always worth it." That stuck with me and I think about that mantra every single day whenever I am putting in work on something and questioning whether all the hard work will pay off or if I should motivate to do something I am on the fence about doing. It is always worth it.
Stay positive and patient in the day-to-day grind of launching a startup. Knock down what you have in front of you and do a great job in executing the small things and the rest will work itself out. You always want things to happen right away and quickly, but not everything moves at the pace you want and often things take a long time to build the right way.
Most importantly, work with people you like and enjoy the process of building something great, and remember how lucky you are to be creating a solution that hopefully will solve some problem in a meaningful way.
Why Tampa Bay?
We moved to Tampa in 2016 from New York City and I worked remotely closing real estate deals. At the time, working remotely was not the norm, so I am grateful that Kelley Drye was innovative enough to let me try it way before everyone knew it could work.
My wife grew up in Tampa, so we had family here when we moved and now the rest of my family has joined us so we have a great support system to help with the logistics of having a big family with young kids. I still miss some things about NYC like not having to drive, pizza, and bacon egg and cheese sandwiches but it is awesome to be outside year-round and take advantage of great weather and spend time playing golf, boating, and hanging at all the great beaches.
It is exciting to be a part of the growing technology and business community in Tampa Bay. I am happy to have found the Embarc community and can't wait to see the next thing someone will decide to build.
***