12.05.2019
Featured Founder: Michael Joly of solu
Welcome to our Featured Founder series, where you'll meet startup founders from Tampa-St. Petersburg who are building and scaling their ventures to solve some of the world's greatest challenges. We interviewed Michael Joly, Founder & CEO of solu, consumer audio products that bring peace and healing to stressed and anxious minds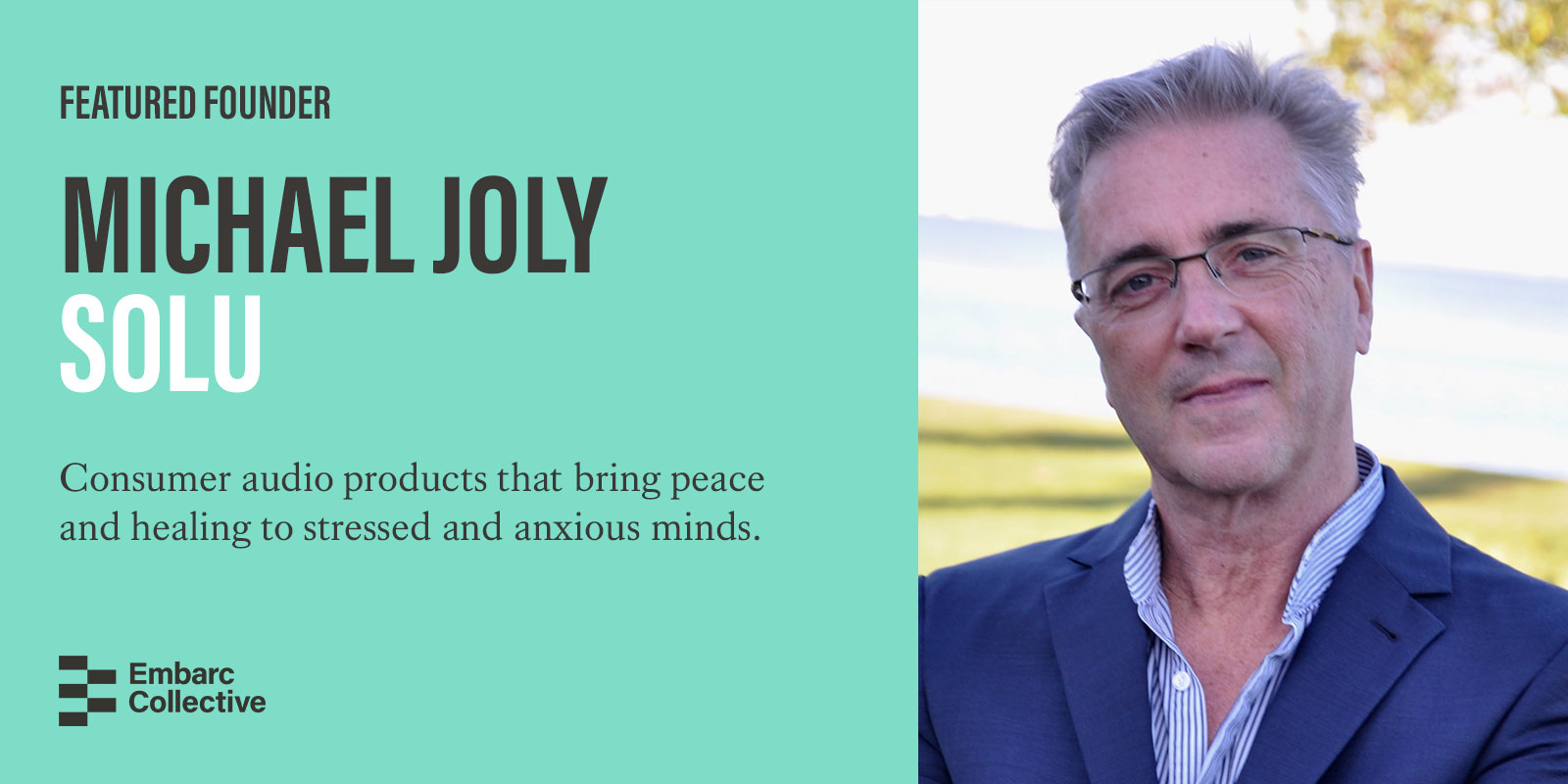 What were you doing previously, and what inspired you to launch your company?
Before starting
solu
I owned and operated Michael Joly Engineering, a studio microphone design and modification business. I pioneered the concept of upgrading inexpensive Chinese and Russian mics to deliver the same quality as found in classic German mics –– for 1/10 the cost of those classic mics. Before that I did sponsorship sales in the FM radio business and before that I designed professional audio products and systems. Oh, I also built custom electric guitars and played in punk bands in San Francisco in the mid to late '70's. 
I was inspired to launch
solu
 as a result of months of many late night conversations with my life partner Alene Sibley. These conversations led us to co-develop (channel really) the product that is now known as 
n.o.w.
Tone Therapy System. n.o.w. is a 3 minute meditation aid in the form of two palm-sized speakers that play special tones to help listeners improve focus, reduce stress and anxiety, and change their lives for the better as a result. 
What pain point is your company solving? What gets you excited to go to work every day?
We've solved the difficulty of 
sustaining
a meditation practice. And meditation is a big market, growing more rapidly than yoga, and destined to be even bigger and more pervasive than yoga.
We help people experience the benefits of meditation more quickly, more easily and more effectively than any product or service available. We do this without using voice-guided instruction or combersome wearables. Instead, we use our proprietary New Origin Waveform (n.o.w) aural neuromodulation signaling that effortlessly guides listeners (solo, couples or groups) to a relaxed, open-monitoring meditative state. Experienced meditators say it's like getting the benefits of a 30 minute meditation in just 3 minutes. 
I'm excited to work on
solu 
everyday because our customers tell us we make their lives better. 
People tell us they are calmer, more peaceful, more productive, less reactive and less anxiety-ridden at work. We're helping service veterans experience less PTSD, we're helping school children settle in quickly to a day of learning, we're helping people reduce debilitating anxiety about driving in rush hour traffic. We've even helped people in hospice remain at peace as they transition from this life. 
And… I'm excited about bringing together some long standing interests of mine –– audio product design engineering, the metaphysics of consciousness and new business development. It's the best job of my career so far!
Name the biggest challenge you faced in the process of launching the company. How did you overcome it?
Our second, third and fourth production runs all had a different manufacturing problem related to vendor supply chain issues (not with our design or our contract manufacturer's execution of our design). 
While these problems took us months to troubleshoot and correct we were able to fix them before customer perception of our product or our company was affected negatively–– our customer reviews have held steady at 80% 5 star. 
We overcame these problems by working closely with our contract manufacturer –– a wonderful, female-founded and led company in Shenzhen, China. I've been traveling to China to sell (first) and then buy, since 1988 and knew the importance of building solid relationships first, before the inevitable challenges would arise. Having a solid relationship with my contract manufacturer helped us both weather these short term challenges and stay committed to our long term vision of mutual success. 
Where do you see your company headed next?
With two years of 7% CMGR in revenue since launch we've proven early product market fit and significantly de-risked the company. Three months ago we moved our three person team from Massachusetts to Tampa to join Embarc Collective and be a part of the dynamic startup scene found in Tampa.
With the help of the Embarc Collective team and other local resources we're looking to scale n.o.w. Tone Therapy System to hundreds of thousands, then millions of users to help them lead more peaceful, productive and joyous lives. To drive those scaling efforts...
… we've got some compelling content marketing up our sleeves… as soon as we can get into the studio at Embarc Collective we'll resume production of our podcast "Hey Mickey!" (a light and lively "working man's" look at consciousness awakening), we'll develop some short form videos featuring a trio of muppet-like puppets and we'll launch Alene's comic strip called "Bee-ing!" (sort of a humorous "Be Hear Now" featuring two lovable honey bees called GoBee and BeBee). All of our content marketing is designed to drive awareness of, and conversation about, the benefits of intentionally choosing a path of consciousness awakening and experiencing the joy that results.
AND … we're developing two products for the sleep hygiene market –– one of them featuring our own team member / voice talent Ruane Sibley (top secret, can't say more at this point).
Give us a tactical piece of advice that you'd share with another founder just starting.
"Stop thinking, and end your problems" –– Lao Tzu
Learn more about solu at https://www.nowbysolu.com. 
Keep up with the latest in Tampa Bay startup news, local talent interviews and founder resources.
Delivered to your inbox every Thursday.