01.09.2023
Featured Founder: Mike Maseda of Circadios
Welcome to our Featured Founder series, where you'll meet startup founders from Tampa-St. Petersburg who are building and scaling their ventures to solve some of the world's greatest challenges. We interviewed Mike Maseda of Circadios, a digital health solution that treats all mild to severe sleep disorders. It uses its online platform to provide diagnosis, conduct in-home sleep studies, and create customized care plans.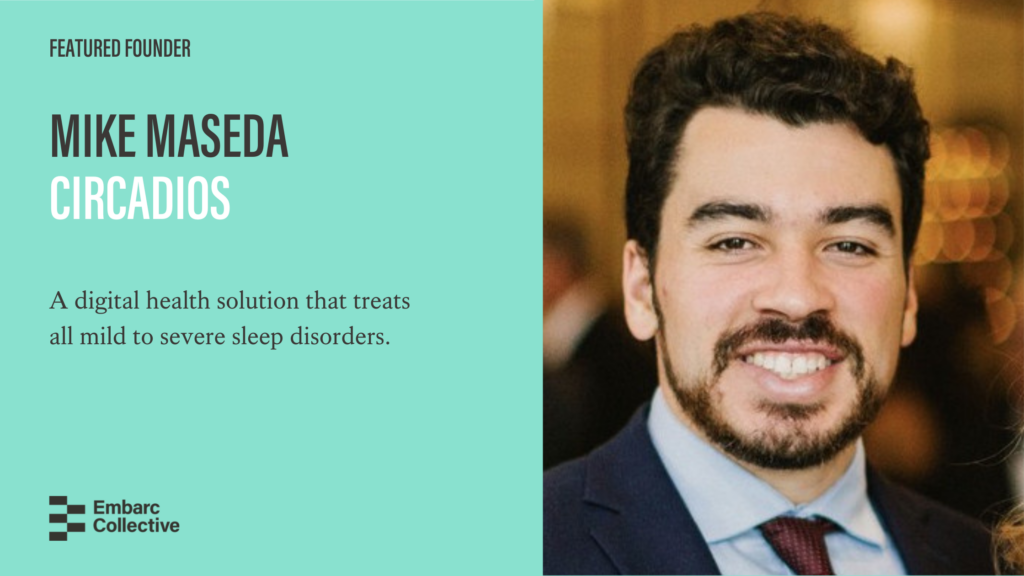 What were you doing previously and what inspired you to launch your company?
Previously, I was Chief of Staff at Reside Health, a medical group based out of New York that builds clinics in office spaces, including the World Trade Center. Working in healthcare during the pandemic helped me see how the patient experience within primary care and additional specialties can dramatically be improved. Looking deeper into insomnia and sleep apnea, I learned how the current healthcare system is ill-equipped to manage patient needs.
What pain point is your company solving? What gets you excited to go to work every day?
Our mission is to help the one in five Americans that suffer with sleep issues. Most go undiagnosed, and getting an appointment to see the right specialist and receive the right diagnosis can take over four months! We're creating a patient-centric solution that allows you to get care quickly from the convenience of your home.
Name the biggest challenge you faced in the process of launching the company. How did you overcome it?
Starting a company as the only full-time employee can be a lonely and challenging journey. I'm lucky to be supported by additional cofounders, an advisor, and the Embarc team that can field ideas and make sure we're focused on the right things.
Where do you see your company headed next?
We are launching this month with our direct-to-consumer beta and are exploring pilots with healthcare organizations. Once those are complete, we plan to scale our solution to serve enterprise clients throughout Florida and the rest of the nation.
Give us a tactical piece of advice that you'd share with another founder just starting out.
There will be many highs and lows throughout the process of launching and scaling a company. The core skill of innovators is error recovery, not failure avoidance.
Why Tampa Bay?
My wife matched for her orthopedic surgery residency at the University of South Florida. We moved down from New York City in June, and both of our parents live in Florida.