10.09.2021
Featured Founder: Neil Jirele of AppyHour
Welcome to our Featured Founder series, where you'll meet startup founders from Tampa-St. Petersburg who are building and scaling their ventures to solve some of the world's greatest challenges. We interviewed Neil Jirele of AppyHour, which offers data-driven mobile marketing, sales enablement, and business intelligence for the three-tier system.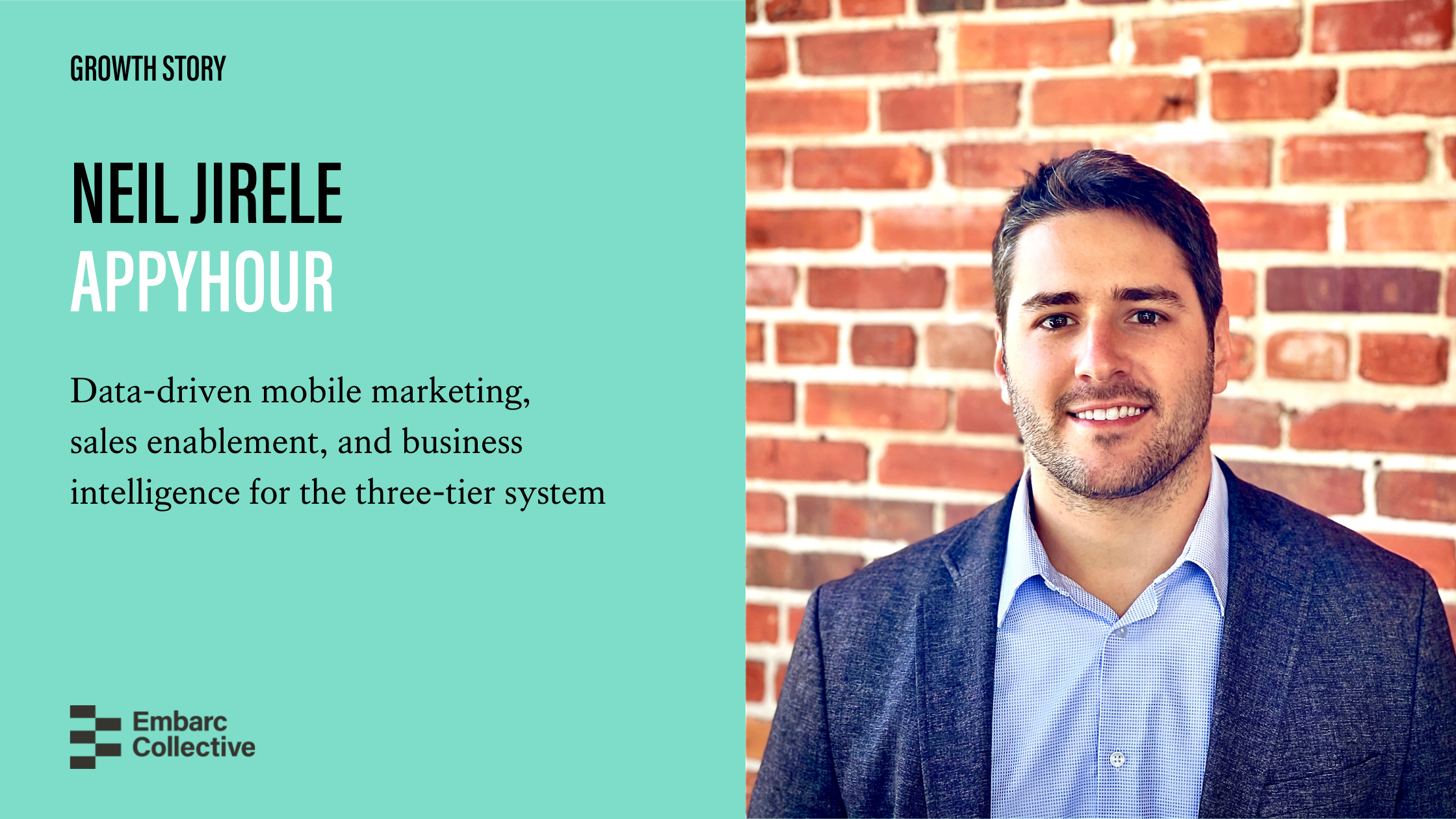 What were you doing previously and what inspired you to launch your company?
I've always been a tech geek with a passion for digital experiences. I built my first computer when I was 12 and taught myself how to design, build and share video game content using Unreal Engine. I wanted to go to school for video game design but took the advice of my family and studied business instead. So during college, I continued to pursue my tech interests on the side.
Then through the Tippie College of Business, I earned a scholarship to do an internship abroad in Madrid, Spain over the summer of my sophomore year where I worked at a startup accelerator as a financial analyst. After my first week on the job, I invited my co-workers out for beers where I offered to buy the first couple rounds. When I got the check back I nearly fainted – I was paying 8 euros per beer which at the time was more than $12 USD! I thought to myself, "There has to be a way for me to find live food and drink specials happening near me so I can extend my euros and still enjoy the city without going broke." On my walk back to my apartment I was ambushed by bar and restaurant employees trying to get me into their establishments which happened to have amazing offers. I thought, "There has to be a better way for these establishment operators to get these great offers in front of consumers like me at the point of decision making." After scouring the internet for a solution, I was frustrated to find that there wasn't anything that solved the problem. So, I came up with a solution -  AppyHour.
After a successful MVP/alpha launch of our B2C model in Iowa City, I graduated and got a job in I.T. at a top 5 national liquor distributor. It was there that I recognized a massive shortcoming of technology innovation and data insights within the three-tier system and realized there was a much larger opportunity to be had with AppyHour. That's when I went full-time on the business and started developing our end-to-end model that enables suppliers to grow brand awareness with target consumers, drive traffic to their on-premise bars and restaurant clientele, and capture robust customer, consumer, and product insight that enable brands to make more informed marketing and sales decisions.
What pain point is your company solving? What gets you excited to go to work every day?
For consumers, AppyHour is simply the easiest and most convenient way to find live food, drink, and event specials happening at local establishments nearby.
For establishment operators, AppyHour is the easiest way to schedule and create specials, promotions, and events and reach the right consumers, with the right offers at the right time.
For suppliers, AppyHour is a mobile marketing, sales enablement, and data analytics platform that empowers brand owners with scalable marketing and brand activation tools that stimulate product sales at client accounts and captures robust and actionable customer, consumer, and product insights.
The thing that gets me excited every day is watching others use the product and the incredible feedback we get from our users and clients. One of the most common things I hear is, "I've thought of this before," or, "I've been looking for something like this!" That's what keeps me motivated.
Name the biggest challenge you faced in the process of launching the company. How did you overcome it?
After the idea came to me, I spent the first 6+ months re-learning how to code for web and mobile. Realizing a lot of the tech has changed I decided that I was going to need a technical co-founder to make the vision come to life. Fortunately, my friend from college, Jake Dye, was studying computer engineering and believed in the vision. I brought him on as co-founder, and we caught a lucky break when we met our first mentor and technical advisor who had recently exited from a Silicon Valley startup. With Jake as co-founder and our new mentor to guide us, we were able to get our MVP launched and haven't looked back since.
Where do you see your company headed next?
Our next goal is to launch, penetrate and monetize the Tampa Bay market and bring value to local supplier brands, establishment operators, and our growing userbase. We want to become Tampa Bay's go-to source for local food, drink, and event happenings around the city.
My long-term goal is to have AppyHour work whether you're in Tampa Bay, St. Pete, LA, or New York.  There still exists no ubiquitous, nationwide solution, and I think we have an opportunity to be the first.
Give us a tactical piece of advice that you'd share with another founder just starting out.
There is no easy route
Listen to your users and customers
Be creative and don't give up
This is a game of ambition, persistence, and resilience. Everything takes longer than you'd like, and it's certain that you will fail along the way. Learn from failure and keep trucking forward!
Why Tampa Bay?
First, for our business, being in a location with year-round sunshine, a robust hospitality industry, and consistent tourism is important, especially for our early markets.
Second, the startup scene here has significant momentum that I wanted to be a part of.
Third, the pro-business environment of Florida, the lifestyle it offers and the reasonable cost-of-living make it a great place to launch and grow a business and attract talent.
***