12.13.2022
Featured Founder: Patrick Johnson of Vantage Sports
Welcome to our Featured Founder series, where you'll meet startup founders from Tampa-St. Petersburg who are building and scaling their ventures to solve some of the world's greatest challenges. We interviewed Patrick Johnson of Vantage Sports, a marketplace connecting college athletes to paid coaching and mentoring opportunities in a manner that is compliant under the NCAA's new NIL policy.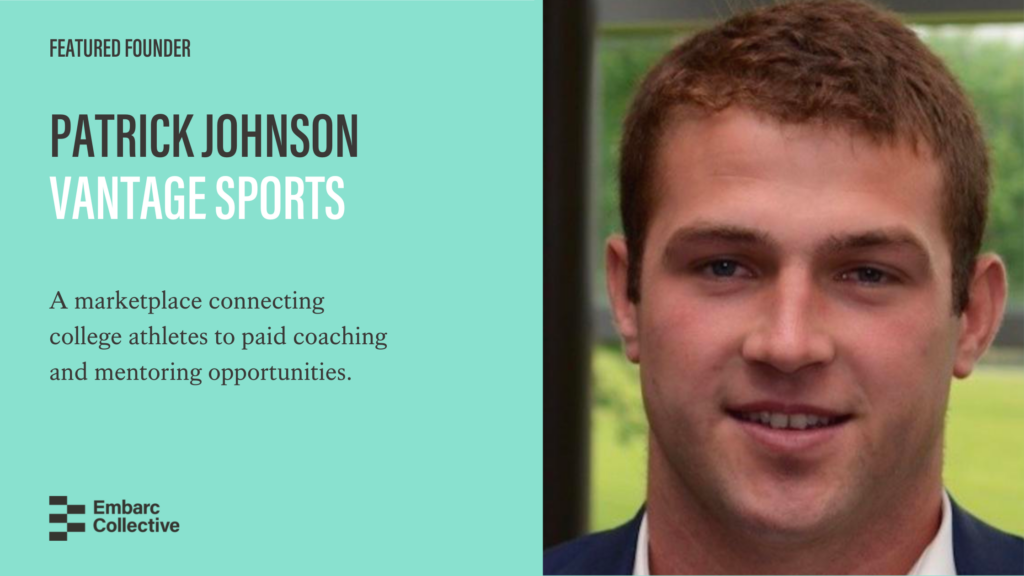 What were you doing previously and what inspired you to launch your company?
Prior to launching Vantage Sports, I was working at an HR tech company in a finance and strategy role in NYC.
What pain point is your company solving? What gets you excited to go to work every day?
Youth athletes lack access to affordable and relatable, specialized private coaches and mentors to help them boost their confidence and take their game to the next level, while college athletes lack a way to earn meaningful income while in school.
Name the biggest challenge you faced in the process of launching the company. How did you overcome it?
Getting started with initial traction and overcoming the cold start problem seemed to be the hardest part for me. We overcame it by convincing a few great college athletes to join the platform before we had customers lined up.
Where do you see your company headed next?
We'd really like to expand our offering and move further into women's sports and more individualized sports like track and field and tennis.
Give us a tactical piece of advice that you'd share with another founder just starting out.
Just focus on making your first 10 users happy – and do lots of things that don't scale.
Why Tampa Bay?
I was attracted to Tampa Bay for the blossoming startup scene, great weather, and affordable cost of living.