10.11.2022
Featured Founder: Stephen Newman of Krezzo
Welcome to our Featured Founder series, where you'll meet startup founders from Tampa-St. Petersburg who are building and scaling their ventures to solve some of the world's greatest challenges. We interviewed Stephen Newman of Krezzo, which provides purpose-built OKR (Objectives & Key Results) training and technology to empower leaders to operationalize and scale with OKRs.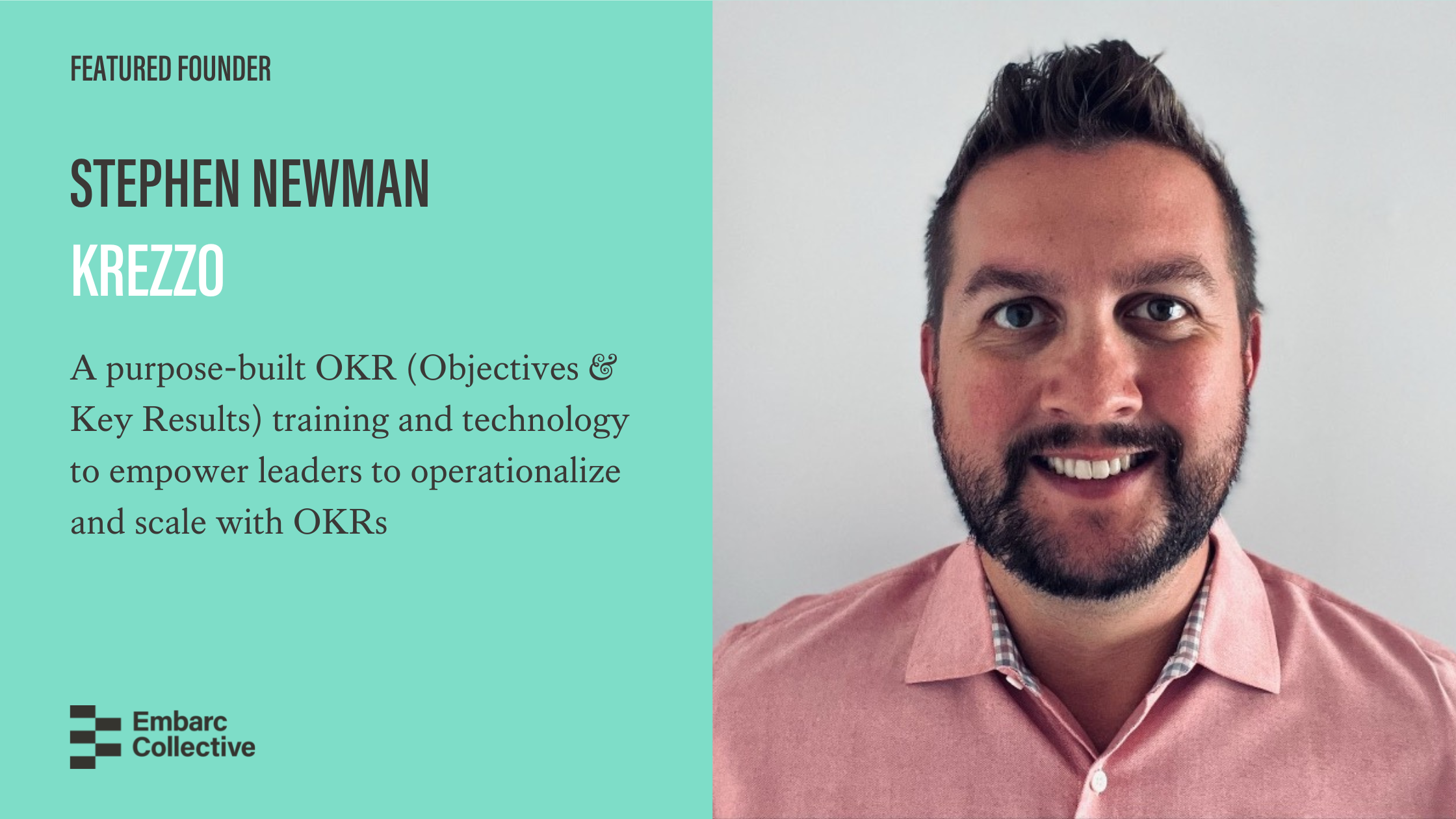 What were you doing previously and what inspired you to launch your company?
For the last 10+ years, I've been working for B2B technology companies such as Thought Industries, Aras, and Eloqua. My previous role was VP of Marketing and Business Development at Form.com.
When I was introduced to the concept of OKRs (Objectives & Key Results) the methodology resonated with me, especially having seen a lot of the common challenges teams face when they begin to scale.  After seeing how impactful they could be when successfully implemented, I knew there was an opportunity here to enhance that experience - not only with the technology used to track OKRs but how people were trained on the methodology. Fast forward a bit and long story short, KJ McGowan and I started Krezzo to deliver that unified experience to the market and it's been very exciting.
What pain point is your company solving? What gets you excited to go to work every day?
Operational misalignment. It's really hard to keep a group of people rowing in the same direction, especially when a company begins to grow fast. OKRs are a great way to establish a consistent language and operational playbook for your business. They can help keep everyone prioritized and focused, especially when trying to do more with less. When OKRs get engrained into the culture early on, they can pay huge dividends down the road. This is why the Google example is so popular, but people forget they started using OKRs back in 2000 when they were much smaller. They require commitment, consistency, and a willingness to fail and learn. The sooner you can start, the better.
I get excited to go to work every day because I enjoy empowering others to maximize their potential. I'm a big believer that if you help enough people get what they want out of life, you can get what you want out of life, and I think OKRs are a great mechanism to make that happen.
Name the biggest challenge you faced in the process of launching the company. How did you overcome it?
The biggest challenge was just being patient. Sometimes you need to go through certain experiences to acquire the skills or knowledge necessary for the next phase of the journey. Every time we would find ourselves stuck or in a bad spot, it was typically for a reason or there was a lesson that needed to be learned. Sometimes it's just a matter of timing or meeting the right people, but ultimately just being patient and having faith.
We were able to overcome so many challenges thanks to so many great people around us though. Family, friends, and former colleagues have given us incredible support which we are thankful for. Without them, we would not have been able to make it very far.
Where do you see your company headed next?
We are launching the newest version of our product in October, which is a big milestone for us. Our new Lead Engineer Nick has been a Godsend and has completely transformed our business. We've now signed a few customers and look forward to working with many more!
Give us a tactical piece of advice that you'd share with another founder just starting out.
Trust your instincts. Those little voices in your head or feelings in your gut are there for a reason. Listen to them, they typically won't steer you wrong.
Why Tampa Bay?
I lived in Boston for 15 years, and in 2019 I decided I had shoveled my last pile of snow. My family had already been down here for years basking in the sun, so my now wife and I decided we wanted to set up shop here too, and it's been great. The Tampa Bay area is primed to be the next big innovative hub in technology thanks to its great location and vibrant culture. We've enjoyed living here and look forward to contributing even more to the local community.
***