03.21.2019
Featured Founder: Theo Harvey of SynsorMed
Welcome to our Featured Founder series, where you'll meet startup founders from Tampa-St. Petersburg who are building and scaling their ventures to solve some of the world's greatest challenges. We interviewed Theo Harvey, Founder & CEO of SynsorMed, a fully reimbursable remote patient monitoring (RPM) and chronic care management (CCM) solution for healthcare care organizations.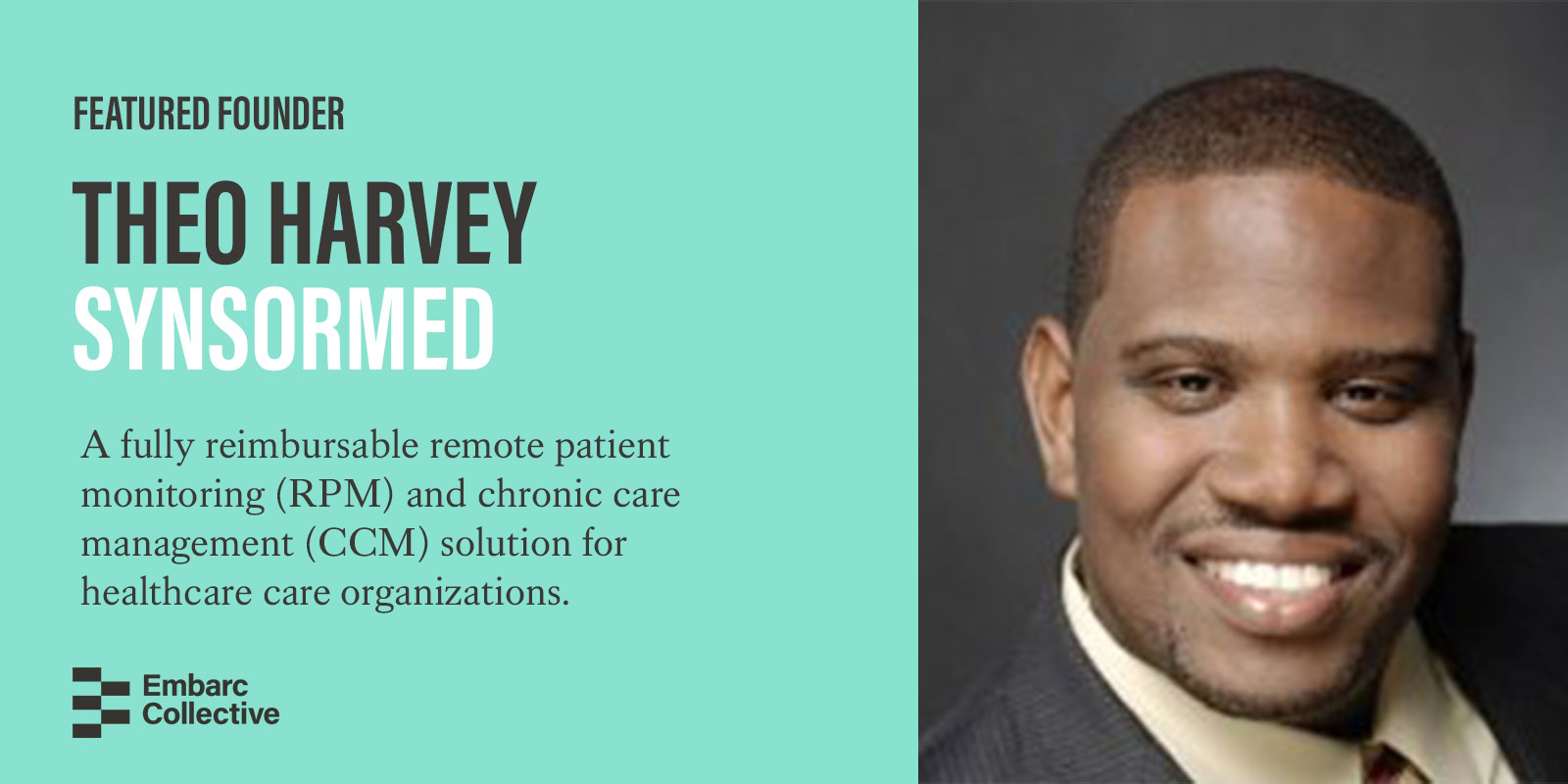 What were you doing previously and what inspired you to launch your company?
Before starting SynsorMed, I worked in sales at a large technology company selling products to hospital clients. What inspired SynsorMed was a realization I had after noticing a  family member, who has Chronic Obstructive Pulmonary Disease (COPD), had issues getting assistance from a clinician at home. I thought there had to be a better way. My co-founder's mother suffered from the same chronic disease as well, COPD, and the disease admitted her to the hospital because it was difficult for her to breathe. After being seen by medical professionals she was sent home with a list of aftercare suggestions. When she was at home, she struggled with taking care of herself and understanding what to do to be healthy. As a result, she was back in the hospital within a 30-day period.
It was stressful for my co-founder and his mother because the clinicians and the hospital couldn't help with aftercare outside of the facility. Hospitals lose revenue once a patient comes back within a 30-day period after being discharged. This is costly and mostly effects those with chronic disease patients, who are often seen and sent back home quickly. Our goal with SynsorMed is to save hospitals money from preventable, return visits from patients with chronic health conditions and in turn keep the patients healthy and prevent them from returning with worsened conditions.
What pain point is your company solving? What gets you excited to go to work every day?
Patients who come back to the hospital after discharge for the same condition is costly for healthcare systems. Our platform not only saves hospitals with the cost of preventable, return visits but helps to encourage healthier choices by the patient over time. I'm excited to see the positive change we have on the lives of patients. We're at the forefront of innovative change in healthcare. Healthcare is a trillion dollar industry and it's so behind when it comes to technology. There's a lot we take for granted in other industries when it comes to the use of technology and we're excited to be on the front of the emerging tech in telehealth to help patients take care of themselves. Four years ago there weren't many technology solutions available or paid for by insurers. Insurers are starting to take notice of the technological advancements in healthcare and we're excited that some are interested in our platform.
Name the biggest challenge you faced in the process of launching the company. How did you overcome it?
Our biggest challenge is determining how our solution will be paid for by healthcare systems and insurers. We worked with our customers to design our platform to meet insurance reimbursement guidelines whenever they use SynsorMed. The second challenge is the adoption curve of using a technology like this in the industry. It's new to the facilities, insurers and the patients. The patients and users are older so we've designed a platform that they can use and are comfortable with. Making sure the healthcare providers and patients are comfortable is really important to us.
Where do you see your company headed next?
We believe we will be used by every patient diagnosed with a chronic disease. To get there we hope to partner with more health insurers. 70% of patients are coming back because of non-medical needs. We're focusing on underserved communities to provide non-medical needs, like transportation, food, and assistance to help them get better and stay healthy.  We're also looking into partnerships with non-profit organizations to help provide the non-medical needs for patient aftercare.
Give us a tactical piece of advice that you'd share with another founder just starting out.
Focus on the key things that will get you traction in the marketplace. Everything else, outsource.
Learn more about SynsorMed on Facebook, Twitter, and LinkedIn.