02.04.2020
Top Business Leaders Join Jeff Vinik To Form Embarc Collective Founders Circle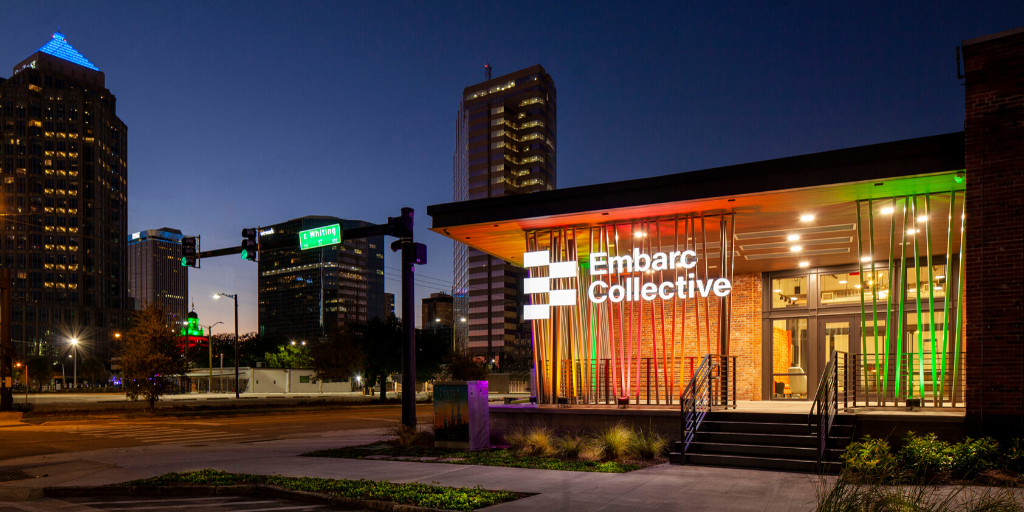 Tampa Bay startup hub Board of Directors expands with the addition of top local business leaders
Tampa, Florida — Six key business leaders in Tampa Bay will join Jeff Vinik, Board Chairman of Embarc Collective, Owner of Tampa Bay Lightning, Co-Owner of Strategic Property Partners, to form the Embarc Collective Founders Circle. Embarc Collective is the innovation hub that helps Tampa Bay's startup talent build bold, scalable, thriving companies. Located in downtown Tampa, Embarc Collective opened in early January.
"I could not be more excited to welcome such incredible entrepreneurs to the Embarc Collective Founders Circle," Vinik said, "This has been a team effort from day one, and we are very fortunate to have expanded our ranks with some of the top business leaders in our region. Under Lakshmi Shenoy's outstanding leadership, there's virtually no limit to what Embarc Collective can accomplish over the next 5-10 years."
The Founders Circle includes:
Steve Jenkins, Beach Park Capital LLC, and Carole Jenkins, President, Jenkins Charitable Foundation

Jason Kuhn, Owner, Kuhn Automotive Group and Courtney Kuhn, Entrepreneur

Steve MacDonald, Partner, Florida Funders

Brian Murphy, Founder and CEO of Reliaquest
Founders Circle members will be recognized at Embarc Collective's Official Ribbon Cutting on February 4 and receive permanent recognition at the entrance to Embarc Collective. 
The Founders Circle will be focused on tracking Embarc Collective's success on three core fronts: attracting, retaining and developing entrepreneurial talent in the Tampa Bay region. In the next quarter, this group is expected to grow to 8 Founders Circle members.
"I am honored to be a part of the Embarc Collective Founders Circle and am excited to continue to work to support the growth of high performing technology companies in the Tampa Bay Area," said Brian Murphy, Founder and CEO of ReliaQuest, "Understanding the resilience and drive needed to build a business, I look forward to supporting this community of entrepreneurs as they build impactful companies."
This group will join the current Board of Directors, which includes Vinik, Dr. Rebecca White, James W. Walter Distinguished Chair of Entrepreneurship and Director of the Lowth Entrepreneurship Center at the University of Tampa, Dave Felman, Shareholder at Hill Ward & Henderson, and Lakshmi Shenoy, CEO of Embarc Collective. The board provides strategic support and organizational sustainability. 
"I am grateful to have the experience and guidance from this braintrust to ensure this organization and the startups we support can achieve ambitious growth goals," said Embarc Collective CEO Lakshmi Shenoy, "With their help, we can achieve the mission of Embarc Collective to help Tampa Bay's startup talent build bold, scalable, thriving companies."
Embarc Collective is currently open to its startup member population and will host a public Open House on February 12 following the Synapse Summit, register here. Other upcoming Embarc Collective events are listed here.
---
About Embarc Collective:
Embarc Collective is a 501c3 nonprofit that helps Tampa Bay's startup talent build bold, scalable, thriving companies and current supports almost 40 early-stage technology startups. The support from Embarc Collective is hands-on and driven by the specific goals and needs of each startup being supported. Later in 2019, Embarc Collective will open its 32,000 square foot innovation hub in downtown Tampa.
—
CONTACT
For press inquiries, contact: media@embarccollective.com
Keep up with the latest in Tampa Bay startup news, local talent interviews and founder resources.
Delivered to your inbox every Thursday.