01.16.2020
Growth Story: Dillon Culp of Grifin
Welcome to our Growth Story series, where you'll meet startup team members—either natives, boomerangs or transplants—in Tampa-St. Petersburg who are building and scaling their ventures to solve some of the world's greatest challenges. We interviewed Dillon Culp, Full Stack Developer at Grifin, a patent-pending technology that lets you automatically buy stock where you shop.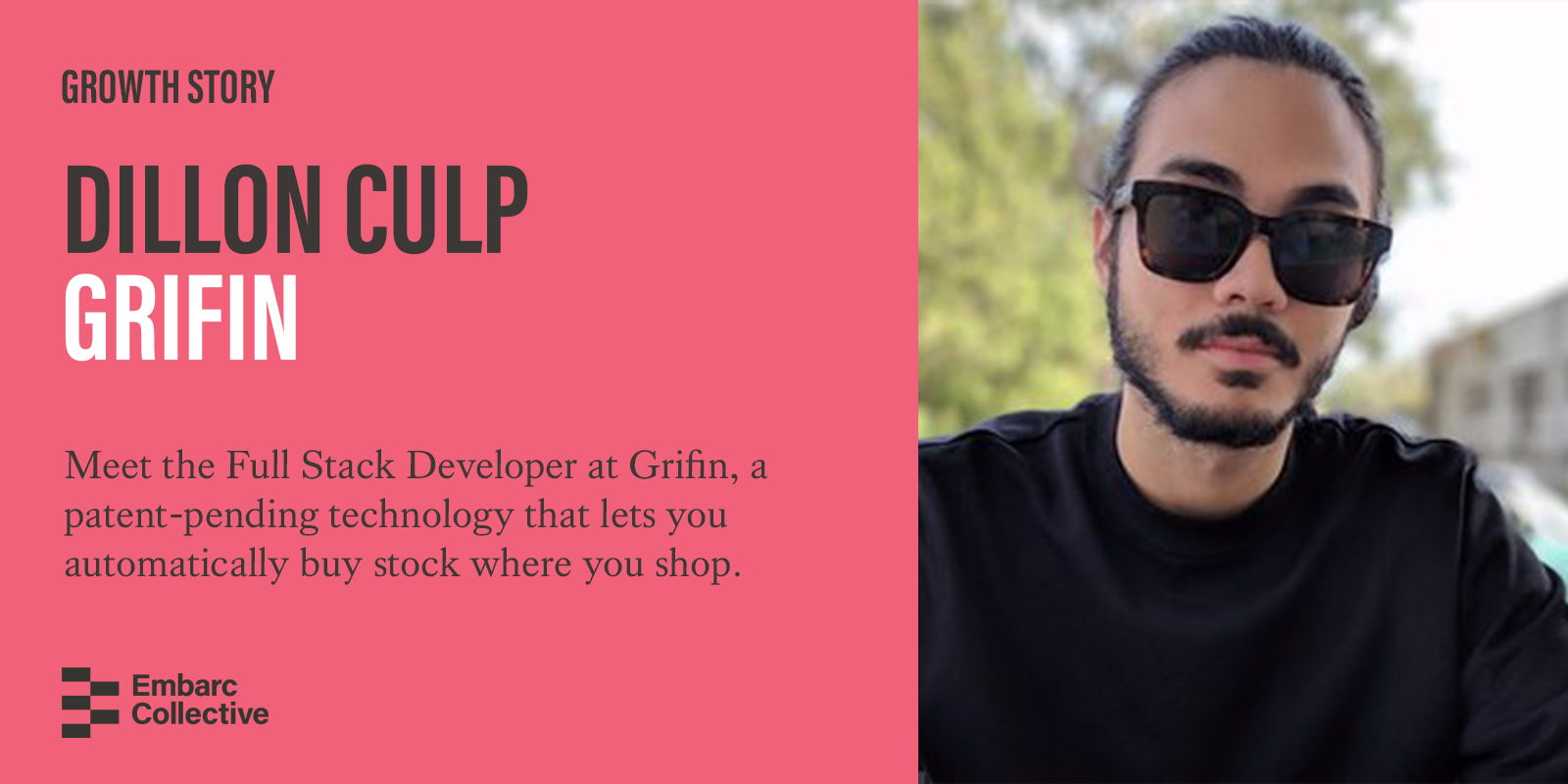 Where are you from?
I grew up in Clearwater/St. Petersburg, went to school in Gainesville and came back to the Tampa Bay Area to work with Grifin.
Tell us more about your role at Grifin. What does a day in the life look like?
As a full-stack developer at Grifin I am responsible for building our product's app, API, databases, and administrative client. I also work to establish and maintain workflow methods for the development process, and coordinate our out-of-office developers. Most of my day is spent writing code, while a good chunk of it is dedicated to managing our workflow boards, and the deployment of new features and changes.
How did you get your career started and what challenges did you face along the way?
My first experience with full-stack development came from attending Hackathons across Florida, where teams of 3 to 6 would develop and pitch a product over the course of 48 to 72 hours, often without stopping to sleep. These events sharpened my development skills as I quickly had to get familiar with every part of the stack from the web server to the app design, and I got to play around with new and interesting technologies to integrate into our products like IBM Watson.
Attracted to the fast-paced and tortuous world of startups, I dove in by showing Gainesville startup leaders how to involve themselves in the technical side of their product by teaching practical web development from the ground up, leaving them more prepared to hire, manage and communicate with developers. I went on to join the development agency side of Collective & Co, a local accelerator that provided mentorship, business services, and talent to local startups and businesses. While there I was responsible for taking the lead on multiple fledgling products that entered the accelerator by consulting them on technologies to use, building a Minimum Viable Product and helping them build a team of their own to take the product to the market. I dealt with many of the challenges of having a minimal team working on multiple products. Often times it was difficult to collaborate and establish an efficient workflow with the pace and development workload of nascent startups, that often pivoted their concept, and were eager to reach the market. Once I joined on with Grifin I was eager to focus on a singular product at Embarc Collective, and use my experience and the knowledgebase of the Embarc Collective team to build Grifin effectively.
How has this region shaped your career or startup journey?
Growing up in the Tampa Bay area has given me a significant leg up on my education and career. Early on I was able to get my Associates degree at 18 from St. Petersburg College through the St. Petersburg Collegiate High School which gave me more time to identify and work towards my goals for a career. Since my return to the area, Embarc Collective has been an excellent environment for Grifin to take shape and achieve our goals.
What tactical advice can you share from building your startup or career?
Remain present in everything you do, hone your skills deliberately, build your connections sincerely, and know your value and ability. Things will not always go to plan, but knowing yourself, your skills, and your connections will allow you to plan more precisely and adapt to new environments.
Where do you see Tampa Bay next? How do you play a role in this future?
I am thrilled to be back in the Tampa Bay area, and to be focusing my efforts on the Grifin product. We hope to build Grifin to be the financial revolution that we aspire it to be right here with the help of Embarc Collective's resources and guidance. Hopefully some of the code I am writing now will still be around when we make it to the top floors of downtown Tampa, but I'm up for any challenge to get there.
Learn more about Grifin on Facebook, Instagram, LinkedIn, and Pinterest.
Keep up with the latest in Tampa Bay startup news, local talent interviews and founder resources.
Delivered to your inbox every Thursday.