01.23.2020
Growth Story: Jason Sallman of BlockSpaces
Welcome to our Growth Story series, where you'll meet startup team members—either natives, boomerangs or transplants—in Tampa-St. Petersburg who are building and scaling their ventures to solve some of the world's greatest challenges. We interviewed Jason Sallman, Director of Marketing at BlockSpaces, a blockchain development studio designed to inspire innovators to rethink business and build products for a digital world based on trust and cooperation.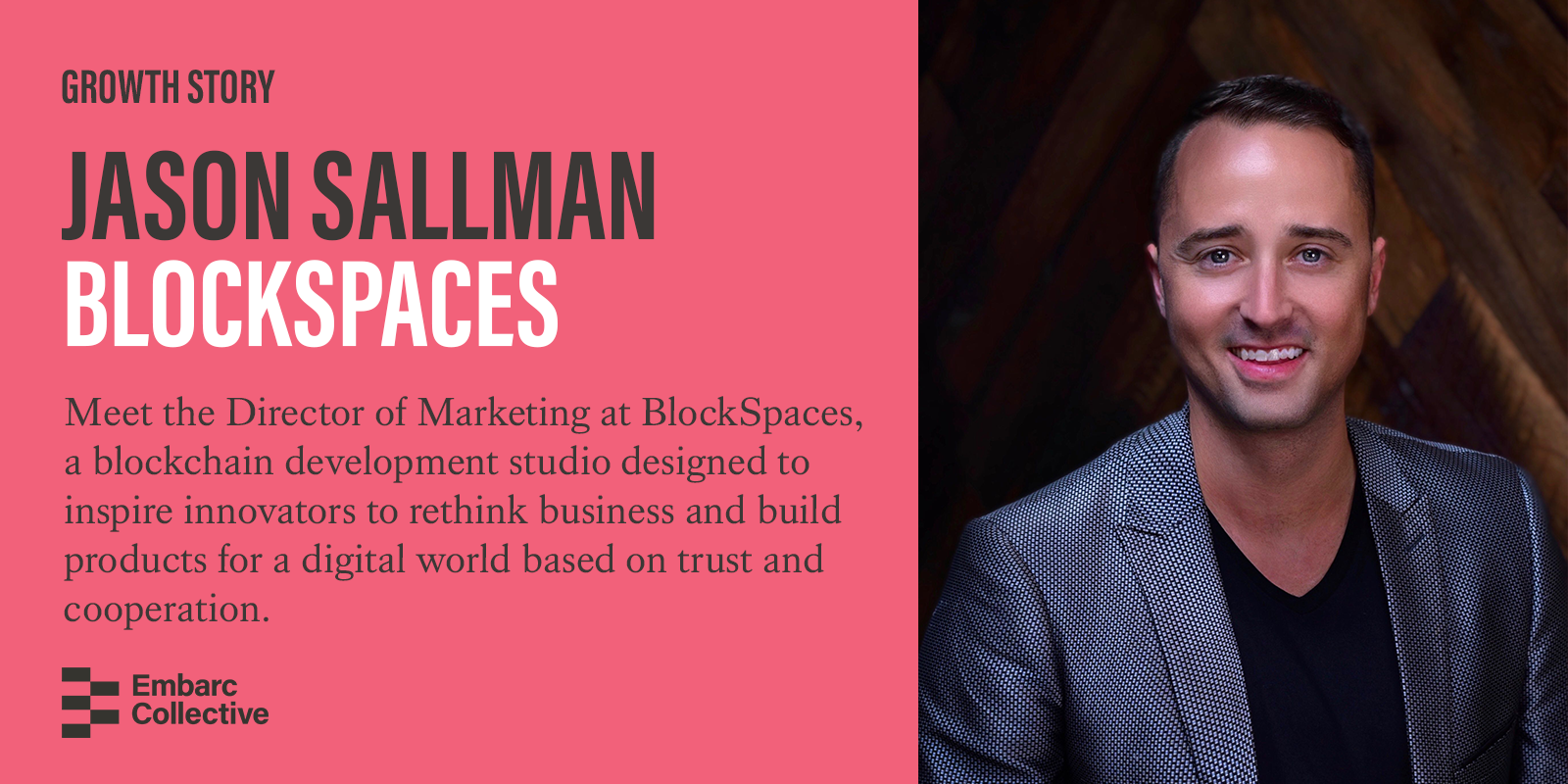 Where are you from?
Originally from the East Coast of Florida, but moved to Tampa to go to the University of South Florida and Never Left.
Tell us more about your role at BlockSpaces. What does a day in the life look like?
I collaborate with our stellar team to produce content and strategies that people/businesses will find both entertaining and valuable. Blockchain is so new in the publics' mind that making something fun allows someone to really zero in on what you are talking about. I specialize more on the video side/photo side of things which really allows me to be creative in trying to come up with concepts that will grab your attention, and also impart a little info.
How did you get your career started and what challenges did you face along the way?
So while I did receive a marketing degree school was never my priority growing up. I have always had an entrepreneurs spirit, and constantly looked to develop my ideas into businesses. I have worked in a number of industries including gaming, metals markets, real estate, and radio. I really feel like these industries help to mold me for the industry I currently work in which is Blockchain Technology. Always looking for what motivates people to take action, and how you can bring value to what someone else is doing. That is the part of marketing I enjoy is more of the psychological art of seeing what makes a group of people tick.
For me my Achilles heel has always been organization/detail. I am a dreamer constantly with my head in the clouds thinking of big ideas. That is actually why I think the having a well-rounded team (Like we have at Blockspaces) is vital to start up success as it allows me to work on my weaknesses while learning from others strengths. Having a too one sided core group will always lead to problems down the road.
How has this region shaped your career or startup journey?
The Tampa Bay Region has shaped my career due to its diversity and growth. The diversity of business/startups in the area moves me towards constantly being a student of the game as something exciting and new is popping every week. The exponential growth of the ecosystem motivates me to push the boundaries of even what I thought was possible for our company.
What tactical advice can you share from building your startup or career?
Plain and simple for me complacency is death. Sticking to the norm crushes businesses as it stifles innovation. Always look for an edge, or a way of doing something new. Think about what could flip your industry on its head. Don't be afraid to cause disruption. Be afraid for people not to know your name, True breakthroughs in industry come from the edge so evolve or go extinct.
Where do you see Tampa Bay next? How do you play a role in this future?
The sky is the limit for Tampa Bay as long as we continue to push the envelope. My role will be to elevate Blockspaces to become a major player within blockchain technology by adding values to others lives / businesses through one of the biggest innovations since the invention of the internet.
Learn more about BlockSpaces on Twitter, Facebook, and LinkedIn.
Keep up with the latest in Tampa Bay startup news, local talent interviews and founder resources.
Delivered to your inbox every Thursday.