03.05.2020
Growth Story: Monica Angel of Synapse
Welcome to our Growth Story series, where you'll meet startup team members—either natives, boomerangs or transplants—in Tampa-St. Petersburg who are building and scaling their ventures to solve some of the world's greatest challenges. We interviewed Monica Angel, Program and Challenge Director at Synapse, a platform to connect and organize Florida's innovation community.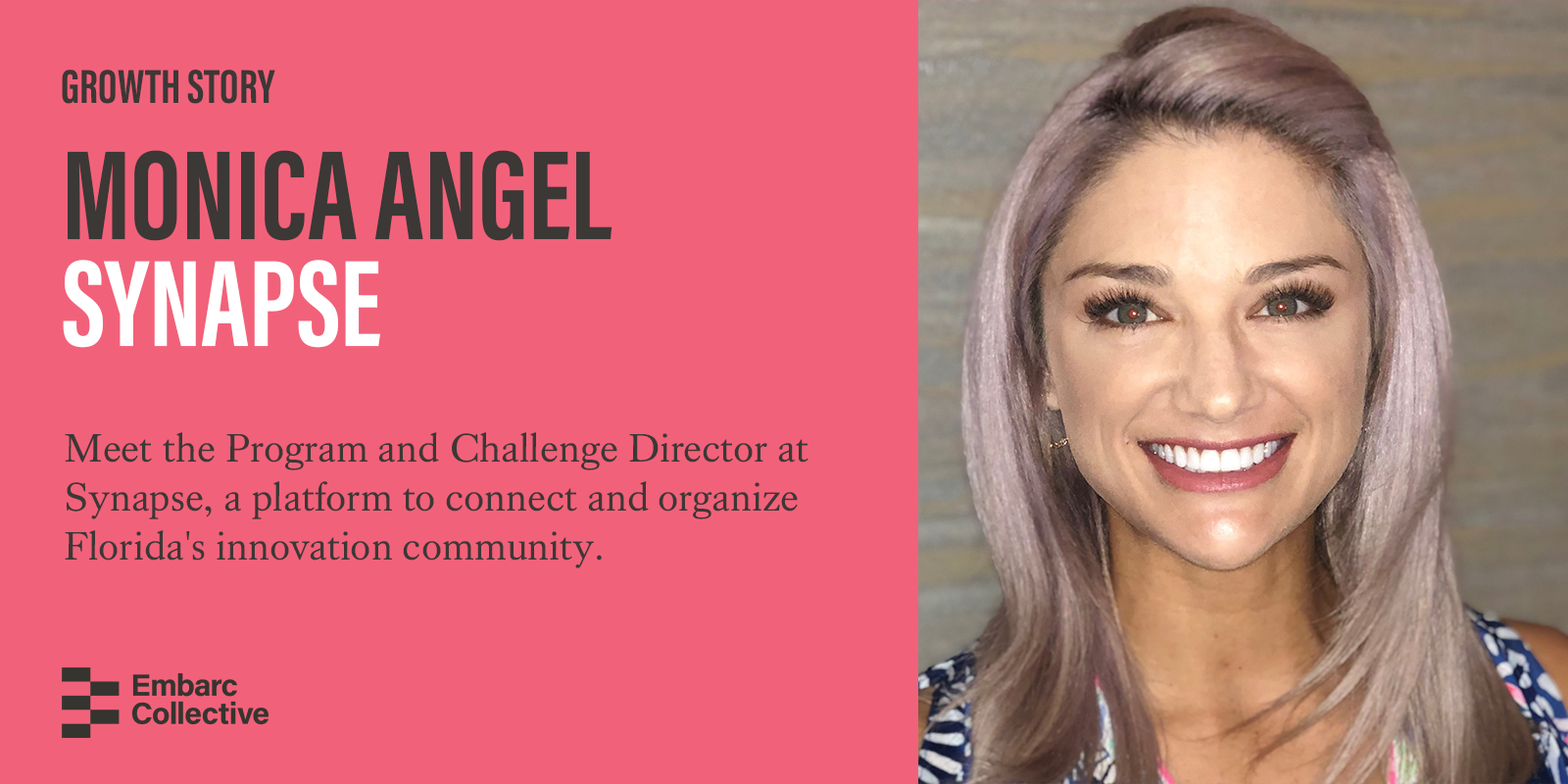 Where are you from?
I was born and raised right here in Tampa!

Tell us more about your role at Synapse. What does a day in the life look like?
Like so many growing businesses, our days can vary quite drastically from one to the next.  Leading up to the Summit, the days were quite long as our entire team worked tirelessly to ensure that the Summit was a meaningful celebration of the spirit of innovation in Florida.  It was my great pleasure to work with over 300 speakers on all of our breakout stages.  Now that the Summit has wrapped, my focus is on the Synapse Challenges which offer a great opportunity for newer entrepreneurs and startups to pitch their ideas and get "a foot in the door" where they may not have been able to do so otherwise.  Synapse empowers and provides the foundation for Florida's innovators to accomplish their goals by building meaningful connections and sharing ideas.   My job is really to help build and nurture those connections so that our community continues to benefit from partnering with Synapse as much as possible.
How did you get your career started and what challenges did you face along the way?
I met Brian and the Synapse team while putting on a health tech conference to fund childhood cancer research in 2019.  Back in 2016, my career trajectory changed significantly when my youngest daughter died from brain cancer at only 5 months old.  At that time, I started Cure Kids' Cancer NOW! Foundation dedicated to funding innovative research designed specifically to treat children with cancer.  Of course, we have encountered many of the same obstacles as other startups- namely seeking funding.  Thankfully, we have also encountered many of the same joys and victories that come with the camaraderie of a community rallying around and helping to propel our mission.
Synapse's mission to be the guide for Florida's innovation community to easily find what need and share what they have to accelerate success and create thriving economies speaks to me.  Joining Synapse this year has been such a joy as I get to work day-to-day on making my community better and stronger.
Our largest challenge from my view is that often people think that all we do is the Summit when in truth, the Summit is just one of the great things we do to connect our community.
How has this region shaped your career or startup journey?
This region has shaped everything about me.  I am a first-generation Cuban-Sicilian-Tampanian.  This town is in my bones.  Tampa Bay is certainly growing and changing but as a community, we have maintained our kind hearts, jovial nature, and unified village.  We are interconnected and invested in each other's success.  While we may be tempted to take this for granted, we must recognize that not all areas benefit from the relationships we have here in Tampa Bay.
What tactical advice can you share from building your startup or career?
If you are going to fail, do so quickly.  It is maddening to watch someone push an idea that does not work.  We have all been there and in hindsight can often see how much time we have wasted.  Good ideas can come if we move the old ideas out of the way.  So fail, it's ok.  Just do so quickly so you can learn (maybe have a laugh about it) and move on.
Where do you see Tampa Bay next? How do you play a role in this future?
So often I hear people say that they want Tampa to be "the next Silicon Valley" or the next New York or Tel Aviv.  I cringe every time; I do not want that.  We are Tampa Bay!  We do not need to try to be anyone or anything else.  We are a strongly bonded community full of character and charm.  My role is to ensure that those who are already here and those who come to Tampa Bay feel welcome in our community and with our help can find what they need and share what they have; after all Innovation Lives Here!
Learn more about Synapse on Facebook, Twitter, Instagram and LinkedIn.
Keep up with the latest in Tampa Bay startup news, local talent interviews and founder resources.
Delivered to your inbox every Thursday.