01.30.2020
Growth Story: Tarra Koonce of Ideal Agent
Welcome to our Growth Story series, where you'll meet startup team members—either natives, boomerangs or transplants—in Tampa-St. Petersburg who are building and scaling their ventures to solve some of the world's greatest challenges. We interviewed Tarra Koonce, Client Concierge at Ideal Agent, a real estate technology platform selling homes for as little as 2% commission via a referral network of top real estate agents.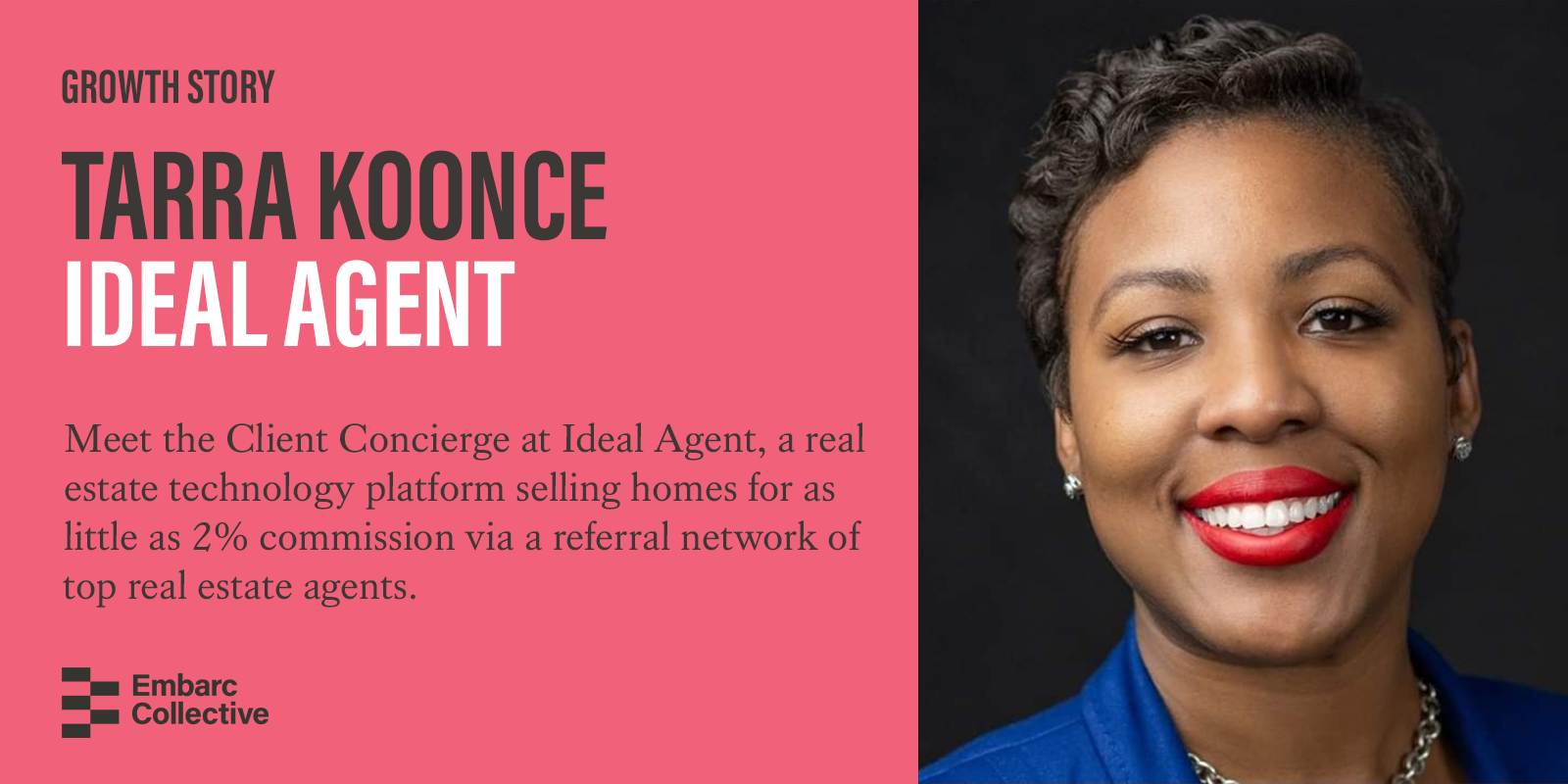 Tell us more about your role at Ideal Agent. What does a day in the life look like?
My role at Ideal Agent as a Client Concierge is to connect sellers and buyers with the best local real-estate agent in their area. I first identify their sales goals and gather what their expectations are from our program. Then I advise our client of how amazing our agents are, I go over their accomplishments, and assure them that our agents are the most efficient professionals that can sell their home with ease and at top dollar.
How did you get your career started and what challenges did you face along the way?
I started my career as a real-estate agent not too long ago. I passed my real estate exam in August of 2019 and quickly signed on with Keller Williams. I really enjoyed being part of the Keller Williams team, but I faced challenges such as not having a strong clientele base. With Ideal Agent, my only challenge is when to stop working on the clientele base. 🙂 I really enjoy helping our clients find the best agent and at a discounted commission rate. I love to hear how excited they are after speaking with our agents because its satisfying to know we are really helping sellers and buyers save money on commission while getting high quality service.
How has this region shaped your career or startup journey? 
I love downtown Tampa. There's always great networking events, amazing restaurants, and its home for me. There is always something going on downtown for us professionals who work hard and play hard! As they say in real-estate, its all about LOCATION, LOCATION, LOCATION so Embar Collective has made it easy for me to drive or walk to everywhere I need to go whether its to meet with a client, grab lunch, see a concert, or go to the library.
What tactical advice can you share from building your startup or career? 
The tactical advice I would give is always be prepared, be consistent, ask questions, double-check your work, stay focused on the bigger picture, and always believe in yourself no matter what.
Where do you see Tampa Bay next? How do you play a role in this future? 
I see Tampa Bay continuously growing and expanding with people, businesses, and of coarse with real estate. Now days there are more entrepreneurs than I have ever seen before who don't want just a 9-5, but they want to master their craft so they can teach others how to succeed. I believe everyday more people realize you need a strong team in order to build, expand, and change other peoples lives. I see this expansion every time I see a new building be built and/or a new non-profit foundation being created to help others. I play a role in this expansion because outside of Ideal Agent and real-estate, I started my own shoe line named TarraSierra Design. With that business I want to give a portion of my proceeds to Pancreatic Cancer research in hopes to save a life one day. (My website can be found at www.TarraSierraDesign.com)
Learn more about Ideal Agent on LinkedIn and Facebook.
Keep up with the latest in Tampa Bay startup news, local talent interviews and founder resources.
Delivered to your inbox every Thursday.