02.20.2019
What (Really) Matters When Hiring Your First Employees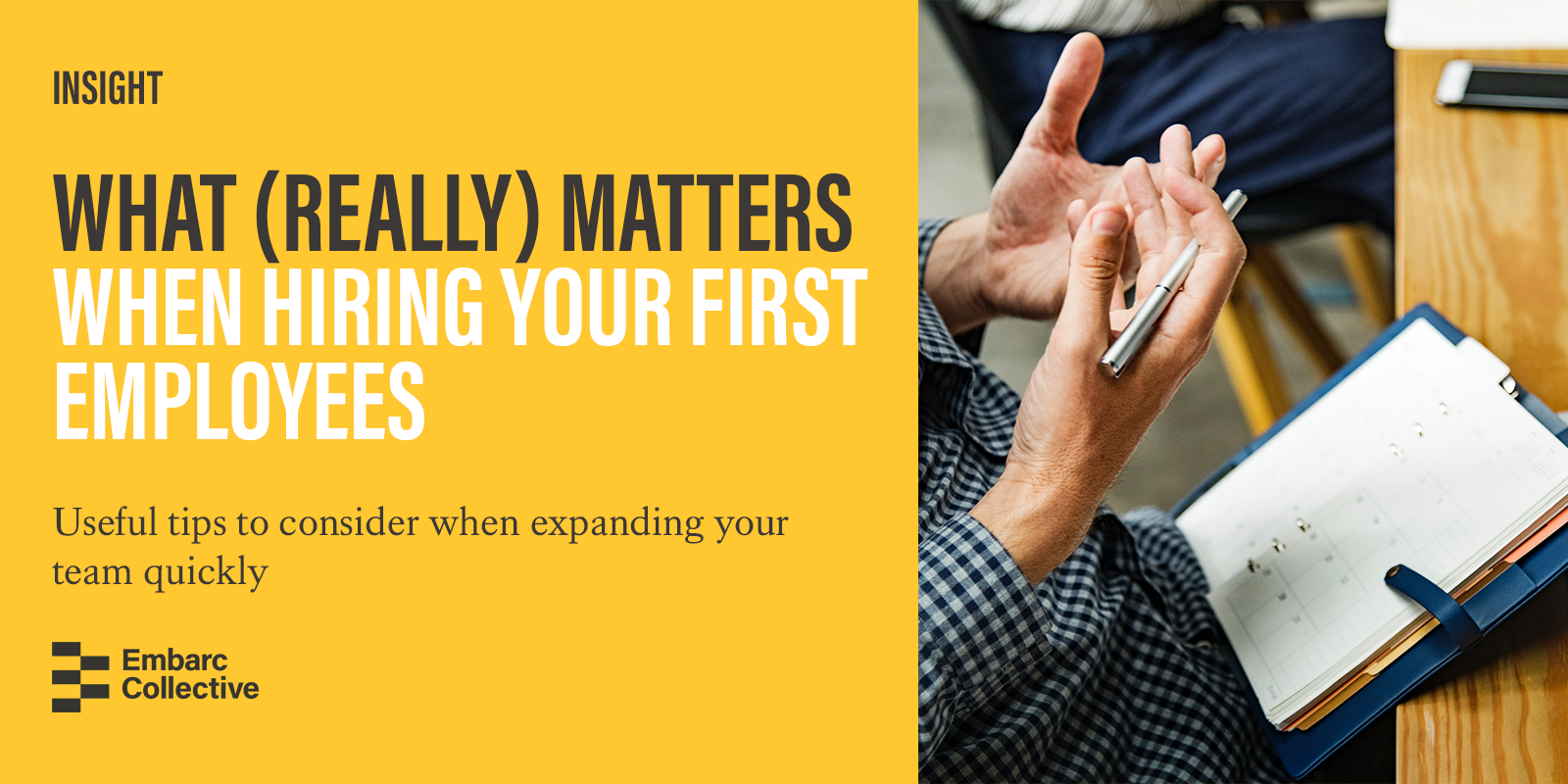 This guest post was contributed by our partner, Established.
"Coming together is a beginning. Keeping together is progress. Working together is success." — Henry Ford
As one of the greatest innovators in American history reminds us, the team you build around you — and how you develop them — will ultimately be what determines whether you and your company succeed in the end. No matter how revolutionary your idea, no matter how many thousands of hours you dedicate to it, the strength in numbers will always exceed your own. No one can do it alone.
So, as you embark on the company-building marathon, think long and hard about what kind of team you want to build around you, how you plan on turning your assemblage of new employees into that team, and how exactly you envision ensuring that team attains, and most importantly, retains success.
Decide What (Really) Matters
Especially when first starting out, when resources are scarce and everything feels like too much, it's vital to be able to differentiate between wants and needs. An office at a hip coworking space is a want. A good digital infrastructure is a need. Slack's Premium package is a want. Unlimited data is a need.
Likewise, when thinking of staffing, separate out your wants and your needs. Do you need a real live human accountant, or will a general competency with accounting software suffice? What would be most valuable to your company at the moment, a dedicated CTO or a dedicated COO? How should you allocate salaries accordingly? The answers to those questions will be different for everyone, and they may even change as you go; however, that decisive, slightly-detached mindset will be invaluable at every stage in your company's growth.
Dr. Edward Rudow, a professor of Organizational Psychology at the University of Maryland, suggests finding, and reaching out to, a mentor whom you trust and who has experience dealing with these kinds of specific issues. "You may get turned down, or even ignored, with some of those outreaches, but the wait will be worth it."
"There is no education quite like experience, even if it's not yours that you're pulling from."

And if that seems too daunting (or the rejections get too unbearable), he prescribes putting together a simple pros-and-cons list, which can help articulate your vague, racing thoughts into concrete declarations:
"Sometimes, the only thing getting in your way is your own overly-excited, hyperactive brain."
Click To Tweet
Consider Compatibility
Similarly, always keep in mind the type of people you want to work with.
A sterling resume and robust work experience will never make up for a lack of interpersonal chemistry…
As, Frank Gruber puts it in his book Startup Mixology, "Find people who have a similar tolerance for risk and work well with you."
This might mean multiple rounds of interviews before you make a final decision on an offer, maybe even a few lunches or a few beers. It might mean wading through different types of job pools for different positions. It might mean reaching out to former colleagues and friends to see if there's anyone they personally recommend (and can connect you with). It will likely even mean reaching beyond your network to find skill-sets, experiences, and perspectives that go beyond your own, to complement what you already bring to the table.
Beyond LinkedIn — an obvious starting point — consider finding Facebook groups, local Meetups, industry happy hours, and relevant events; all of which can be found with a simple Google search. The former can even be done from your phone during your morning and evening commutes (if you're not driving), while the latter, as Random Nerds co-founder Joe Corbett puts it, "can be incorporated, if not dominate, your social calendar."
Corbett goes so far as to compare it to dating:
"An interview will show you what they're like in a more-formal, one-off situation; a casual conversation that just so happens to involve a few pointed, expository questions will reveal what they're like when their guard is down."
Remember, these first employes will be the pillars of your company moving forward, establishing everything from the standard work ethic to the company's overall culture.
They will be the ones who decide what color the eventual company pug will be, they will be the ones coming up with the inside jokes that become unofficial company slogans.
Embrace Your Role as Leader
That being said, it's always going to be your job from the outset to define the expectations and moral compass of your team.
The best way to do that: well-defined guidelines, a lead-by-example approach, and, vitally, a specific focus on morale; in terms of both the team as a whole, but also when it comes to individual employees.
Not everyone, you'll learn, enjoys your standard "fun team get-together" equally.
For example, don't let your employee handbook simply be a haphazard collection of buzzwords like "innovative spirit," and "norm-breaking," and "a relentless focus on the bigger picture." Take the opportunity to bring up actual possible hypothetical situations (e.g. what happens when two different departments have friction, how flexible you can be if an employee has to work from home for an extended time, how will inadequate performance be handled).

If you need a starting point, consider this list of "12 Amazing Employee Handbook Examples," whose highlights include Netflix's 2009 Employee Handbook, which came in the unique format of a 129-slide presentation; Trello's Employee Manual, which was created using the project management app itself (and thus familiarizes new staff with the product); and Zappos' annual comic book employee handbook, which was consciously designed so that their employees would not only read it, but enjoy it as well:
All that being said, as a leader, make sure to also build in celebrations of various kinds into the grinding process that is getting a startup off the ground. There are going to be big wins (e.g. launching a product, getting solid press coverage in a major outlet) and tiny victories (e.g. finding a pesky bug in your code, getting through a grueling picayune project), but they both deserve their own respective due appreciation; from splurging on company-wide dinners to a simple unexpected day (or half-day) off. For example, Chicago-based Signal (formerly BrightTag) has been known to use celebrations to showcase development progress internally. After each build, the development team would bake a cake and the entire company would get together and celebrate the new code-push, giving the development team recognition from the rest of the organization with positive reinforcement of the progress they're making.
They'll also evolve as you expand, and be a treasured tool as you deal with the natural abrasion that comes from your team shifting roles and responsibilities. Though you may have to do more to intervene in particularly pulverant situations, you'd be surprised what a random surprise will do to smooth out those rough edges.
Relatedly…
Give Yourself Opportunities to Congratulate Yourself
There are going to be moments that encapsulate an amount of effort only you know of, that only matter to you because of what they represent, so savor them.
Even the worst moments, like letting someone go or having a favorite team member quit, can be opportunities to take advantage of.
Show those who leave your company how great an ex-boss you can be, with glowing recommendations and an occasional friendly check-in. You'll never know when that deposit in the bank of good karma will come back around when you need to make a withdrawal, but it also shows your current employees how great a leader you are.
So build in padded guardrails for when things inevitably go off course, always reach for your goal(s) with flexible arms, but, most importantly, find those first team members who are perfectly in sync with your mindset, work ethic, and overall personality.
Research how others have succeeded — and how they've failed — so that you can learn from their triumphs and their mistakes. Some fantastic resources include Nathan Latka's "The Top" podcast, Ben Thompson's Stratechery newsletter/archives,
To quote Mr. Ford once more:
"If everyone is moving forward together, then success takes care of itself."