05.29.2019
How To Choose a Scalable CMS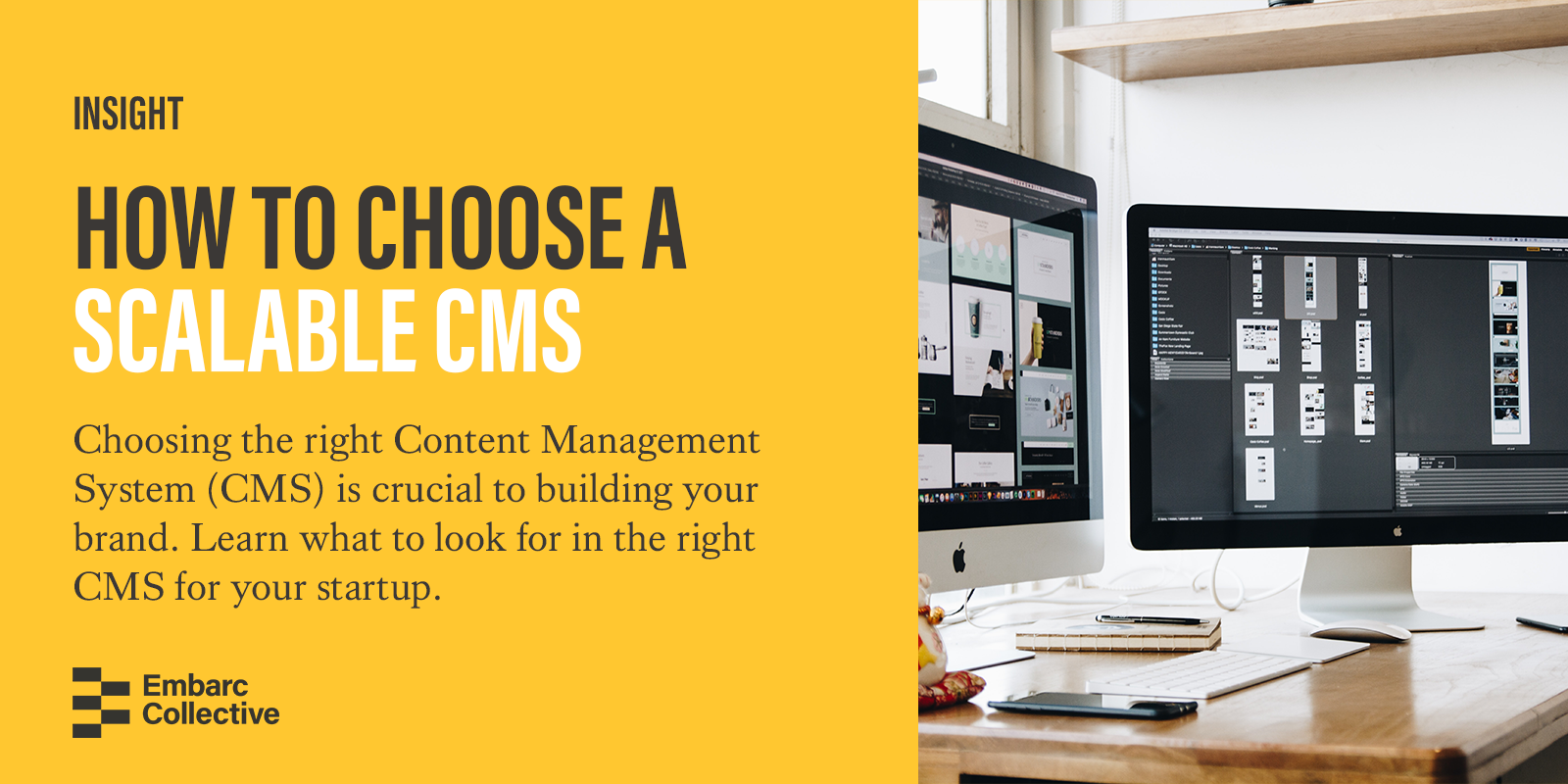 This guest post was contributed by our partner, Bayshore Solutions.
If your website is the face of your company, your content management system (CMS) is the bones and the brain. Choosing the right CMS for your website is a decision you should not make impulsively. Before you set your sights on a specific platform, pay attention to these key points.
Consider Scalability & Growth
Scalability should be kept top of mind when choosing a CMS. Make sure the CMS you select can grow with you and support the functionality you see your business using in the future. Imagine where your startup will be a year from now. Will you have products to add? Features or software to integrate? Start making a list of all the requirements your website will need to accommodate today and, in the future, then work on prioritizing them. Create a bucket for must-haves, should-haves, could-haves and would-haves. Then work with your website agency or marketing team to define what features or requirements you are comfortable launching with, and which will need to be incorporated into a phase two launch. With the right understanding of where your company is today and where it's headed, you'll be in a better position to make the right CMS choice.
Know Your Options
With so many CMSs on the market, it's hard to fully grasp all the pros and cons of each platform. Before your mind is set, research the different CMS types your familiar with. Then, do an audit to see what your competitors are using. Use tools like builtwith.com to identify the technology integrated with each site. While each business model has very specific needs, here are a few CMS platforms we commonly recommend for our clients.
WordPress
It's likely you've heard of this one before because it's the most popular CMS in the world. Due to its popularity, its likely someone on your team will already have experience with this CMS. WordPress is known for its highly customizable features and low-cost server maintenance. This platform is user-friendly, making it easy to add new content when needed. With tons of unique plugins and features, WordPress is great for blogging, e-commerce, capturing leads, and more. Just pay attention to the security enhancements, because it's also been a frequent target for hackers.
Drupal
As an open source platform, Drupal makes it easy for developers to alter functionalities and create unique designs. This platform requires more technical knowledge to use but provides APIs for easy sharing on social media. Drupal's framework provides advanced capabilities for e-commerce and quick page load times for sites with large amounts of information and pages.
Sitefinity
This CMS is known for being highly customizable, with many features for a wide range of applications. Sitefinity has a higher hosting fee, but the features are well worth it. This platform is great for those who need an ecommerce site that can handle a large volume of transactions, advanced content management, and tailored messaging for consumers. For a scalable solution, Sitefinity is a great option to consider.
HubSpot
HubSpot is an integrated, all in one platform that's great for giving your company the web presence you want, while capturing inbound leads. This platform has a long list of sales and marketing features including an easy to use blog tool, email and social media integrations, and a plethora of resources tailored specifically to startups; making it easy to scale up when the time comes.
Narrow it Down
There are hundreds of options in the market, so make sure to take the time to compare features and see which one will accomplish what you need with the most ease. If you're stuck deciding between two platforms and can't quite pull the trigger, reach out to a trusted digital agency to offer any advice or experience they have had. Elements to keep in mind are SEO functionality (the ability for search engines to find your site), payment processing capabilities, customer support, email list sign-ups, security and customizability to name a few. Work with fellow team members and find out what elements they find essential, too, for a more comprehensive list.
Choosing a CMS to launch your website should be a process conducted with great care to avoid frustrations down the road. Utilizing the right CMS will ensure that after the development team is done creating the website, your team will have the ability to easily navigate and make edits as needed. As your business evolves, your CMS should be able to keep up with your needs, preventing you from having to start over in a few short years.
Keep up with the latest in Tampa Bay startup news, local talent interviews and founder resources.
Delivered to your inbox every Thursday.