12.13.2022
Introducing Our Newest Engineering and UX Strategy Coaches at Embarc Collective
Product sits at the core of the 125+ technology startups building at Embarc Collective. That's why we're excited to welcome two new product-focused experts to the Embarc Collective coaching team—here to deliver customized, consistent, and high-quality strategic guidance to our members.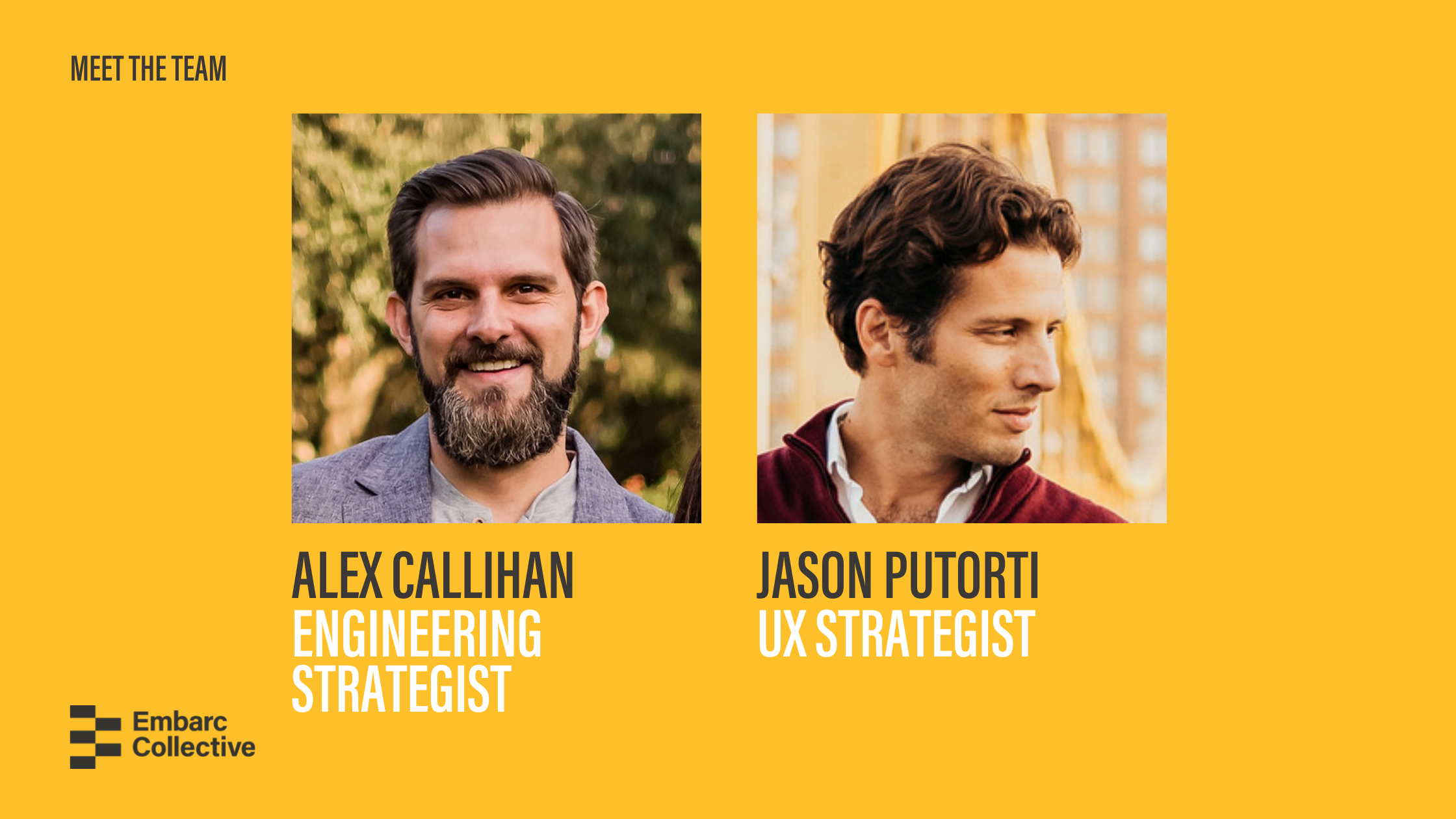 Alex Callihan is our Engineering Strategist, helping our community build ironclad cloud architecture, DevOps, continuity planning, and security. Alex is the Senior Vice President of Engineering at KnowBe4, the world's largest integrated Security Awareness Training and Simulated Phishing platform. He is a seasoned startup advisor passionate about helping early teams develop great products. For the last 15 years, Alex has worked solely on building SaaS platforms for local Tampa Bay companies, including ConnectWise, Malwarebytes, most recently KnowBe4.
Jason Putorti is our UX Strategist, helping our community build world-class user experiences through great product design. Jason is an entrepreneur, startup advisor, and angel investor with over 20 years of experience in early-stage startups. He is currently running a civic engagement non-profit behind the Resistbot chatbot. Before Resistbot, he spent a decade building products in Silicon Valley. Jason was the founding designer of Mint in 2007 (acquired by Intuit in 2009) and the first-ever Designer-in-Residence at top-tier firm Bessemer Venture Partners. He co-founded civic startup Votizen, later served as VP of Design at Sean Parker companies Causes and Brigade, and designed investment products at AngelList.
Over the next few weeks, Alex and Jason will share more about their unique perspectives and expertise in serving technology startups.
Embarc Collective's new engineering and UX strategy coaching is available to our member companies. Consider applying for membership to Embarc Collective here.