01.16.2023
Embarc Collective Welcomes Jason Putorti to Coaching Team
We're excited to welcome Jason Putorti, UX Strategist, to the Embarc Collective coaching team—here to deliver customized, consistent, and high-quality strategic guidance to our members.
Read on to learn more about Jason's unique background and perspective on startup building.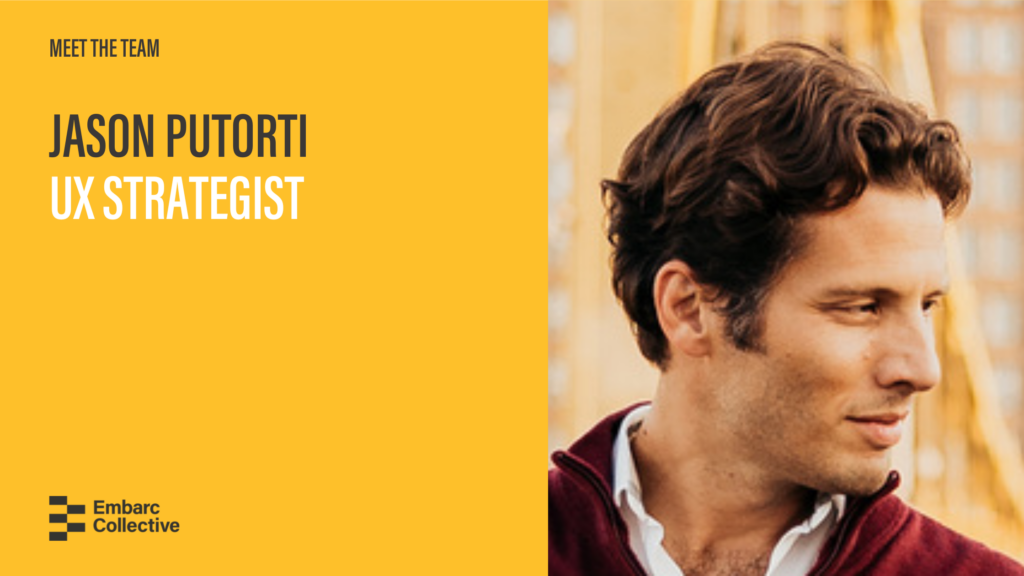 What fostered your passion for product?
I've been building software and websites since I was 8, from the code to the user interfaces. In college, I became fascinated with design applied to problems like advertising, marketing, and brand-building, where your tools are words and imagery on a page, and your goal is to create an emotional connection with the person seeing it. Applying those same principles to software became much more interesting to me than writing code. People have so many choices when it comes to most apps, and making design the differentiator that drives product choice, and solves someone's problem, is something I love—whether it was replacing a chore like money management and automating a lot of it with a delightful visual interface, or taking a painful process like filling out multiple web forms to contact your officials and making it a two-minute text conversation instead.
What guidance would you offer the startup founder that needs to know a little of everything and execute with limited resources?
I firmly believe that the best marketing is a well-designed product. Focus on deeply understanding the problem you're solving, the people you're solving it for, and building the minimum viable product to test your assumptions and lower your risks for investing further capital in development. If I had to pick a single book to read and understand, it's the Lean Startup. Any founder can start here and make real progress toward a successful product. There's a lot more to learn and many specialties in UX design, but learning and iterating is fundamental.
What area of a startup's product strategy is oftentimes overlooked?
A mental model of the problem space and behavioral segments for customers is a key part of how decisions should be made in the product design process: from knowing precisely what your product should and shouldn't do at an early stage, to how it should work. The average founder will practice an immature type of design known as "self-design," where you're solving problems for yourself and hoping the market has a lot of people just like you. UX research is a stronger foundation than luck or hope.
What's one trend you're excited about in your industry?
Over the last twenty years, the tools have gotten so much better for creating products. We've gone from using an app designed for photo-retouching to design websites, and pixel-based tools; to vector and markup-native tools like UX Pin or Figma that make it incredibly easy to bring app ideas to life. I used to even recommend paper prototyping to founders, but the digital tools have finally caught up. Full design systems like Material 3 are now out there so founders can focus on solving user problems rather than how a drop-down should work. It's also great to see bold typography and color, digestible copy, responsive design, and higher performance / lower page weight become more common.
Embarc Collective's new UX strategy coaching is available to our member companies. Consider applying for membership to Embarc Collective here.