04.06.2022
Launching Growth-Focused Strategy Coaching at Embarc Collective
Our community of nearly 120 technology startups continues to make exciting progress on their businesses every day. Founders and their teams crossing through the gates of early product/market-fit need to quickly shift their focus to growth strategies that build repeatable revenue, hit upcoming KPIs, and position their business for scale.
That's why we're excited to welcome two new growth-focused experts to the Embarc Collective coaching team—here to deliver customized, consistent, and high-quality strategic guidance to our members.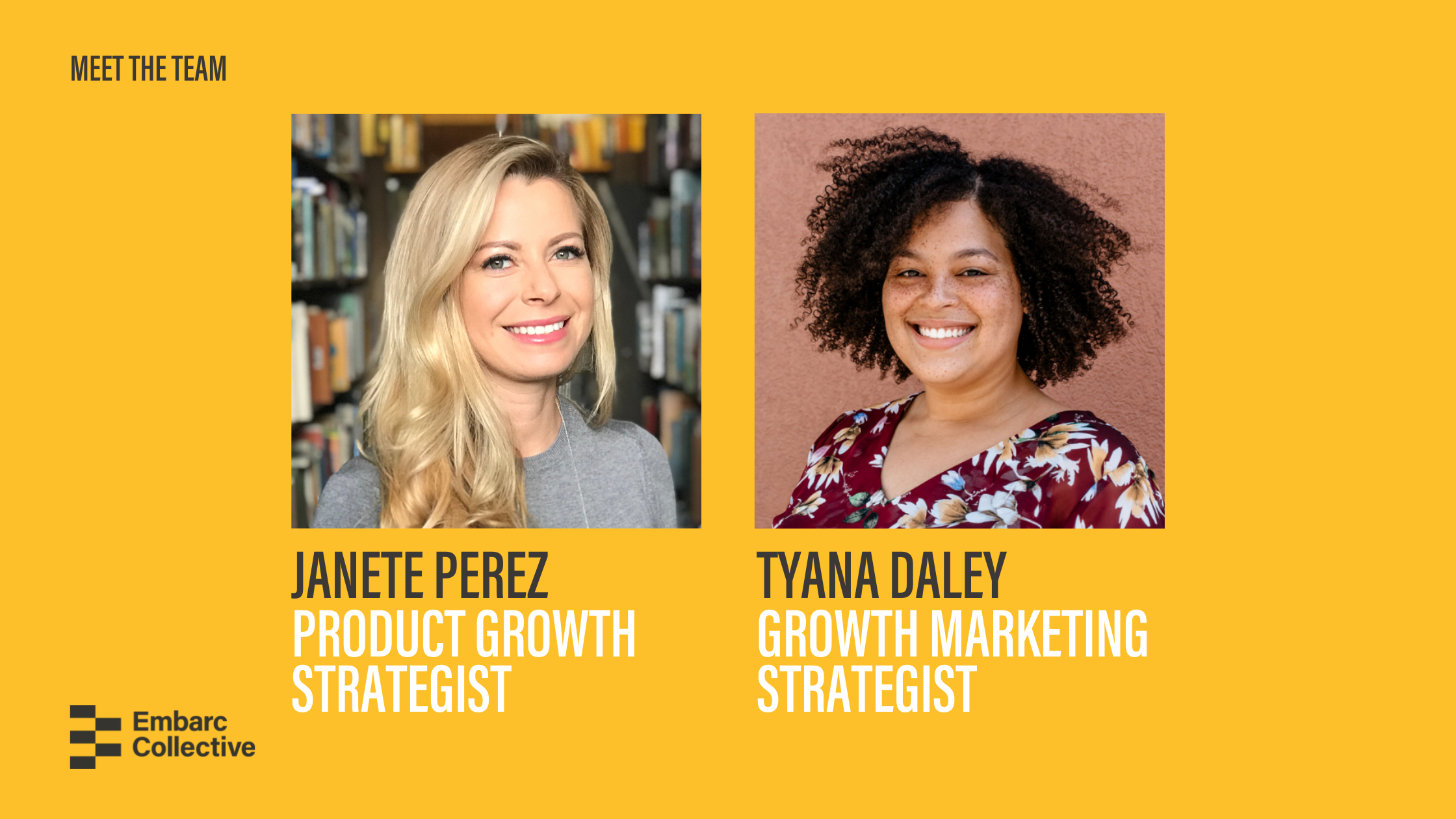 Tyana Daley is our Growth Marketing Strategist, focused on helping our community achieve measurable marketing strategies and approaches to scaling their businesses. She is a Tampa Bay native who has worked on the marketing teams of Publix, Lockheed Martin, and Disney as well as supported over 200 Tampa Bay businesses as a marketing contractor. If Tyana is a familiar face, it may be because she was also a member of Embarc Collective's founding team and recently served as the Director of Marketing for Series B virtual reality startup Immertec. She currently serves as an Account Director at BAM — a communications agency that supports VC-backed startups.
Janete Perez is our Product Growth Strategist, advising on strategies that drive products to reach the next level of scale, impact, and profitability. She is an entrepreneur, startup advisor, and angel investor with over 15 years of experience as a product management leader, working on the product teams at Facebook, Zynga, and Microsoft. Janete is experienced in data science, machine learning, and mobile platform teams. She also founded Present, a platform for connecting people with location-based communities. Janete is a recent transplant from San Francisco and New York.
Over the next few weeks, Tyana and Janete will share more about their unique perspectives and expertise in serving technology startups.
Embarc Collective's new growth marketing and product growth strategy coaching is available to our member companies. Consider applying for membership to Embarc Collective here.