08.09.2023
Launching on Product Hunt – Twos' Successful Campaign
As startup builders, we understand that marketing and public relations (PR) can help improve external social engagement, raise brand awareness, and amplify a company's product in the market.
The recent success of Twos, a member company of Embarc Collective, and their Product of the Day achievement on Product Hunt is an example of how they used a smart communications strategy to improve their company's visibility. Product Hunt is a popular online platform where entrepreneurs can showcase their new products to a community of early adopters, tech enthusiasts, and potential investors, making it an ideal hub for those looking to gain exposure and feedback for their innovations.
Embarc Collective allocates our own marketing and PR budget to help tell the stories of our member companies. Kathy Osborne, PR Strategy Coach at Embarc Collective, shares how she supported the Twos team for a successful launch on Product Hunt:
Twos' Path on Product Hunt
Twos knew they had to break through the noise to make the most of their Product Hunt opportunity. They had the following objectives for their campaign:
Overcoming Market Saturation: The market in which the company operates is oversaturated with similar products or services, making it difficult to stand out and attract attention.
Building Brand Awareness: As a newcomer in the industry, the company was facing limited brand recognition and struggles to get featured in product-driven news sites or gain widespread attention.
Delivering Effective Messaging: Creating compelling messaging is critical to effectively communicate the company's unique value proposition and capture the interest of its target audience.
How to Utilize Product Hunt For Your Launch Strategy
Here are the key elements that contributed to the Twos' successful Product Hunt launch that can help your own successful launch.
Find a Hunter: Before introducing your app on Product Hunt, identify and partner with an experienced "hunter" on the platform—or someone who will post your product. A hunter with a proven record of successful launches and a substantial following is crucial to enhance your visibility within Product Hunt communities.
Community Engagement Amplified Twos' Buzz: Proactively connect with various communities to generate excitement prior to launch, including your investors, customers, and fellow founders. Your outreach should demonstrate the app's value to these communities, encourage their support, and solicit feedback through comments and upvotes on the Product Hunt page on your launch day.
Owned Social Video Campaign: Building anticipation and curiosity before the launch by creating a series of engaging and informative social videos to highlight your app's key features and benefits. On the day of your launch, create unique video content to prompt a clear call to action that guides your users and followers to your Product Hunt page.
Press Pitching: To secure media coverage for your Product Hunt launch, tee up personalized pitch notes to friendly press contacts covering your target audience. The added press will help garner even more attention and maximize the impact of your launch. Twos targeted local tech journalists to cover their launch on Product Hunt as a progress update from their pre-seed funding round.
Measuring the Impact of a Product Hunt Launch
So, can a launch on Product Hunt really impact your market penetration and visibility? Twos experienced impressive performance post-launch, as measured by Google Analytics and Product Hunt data, demonstrating the ROI of the time spent preparing for and executing the launch.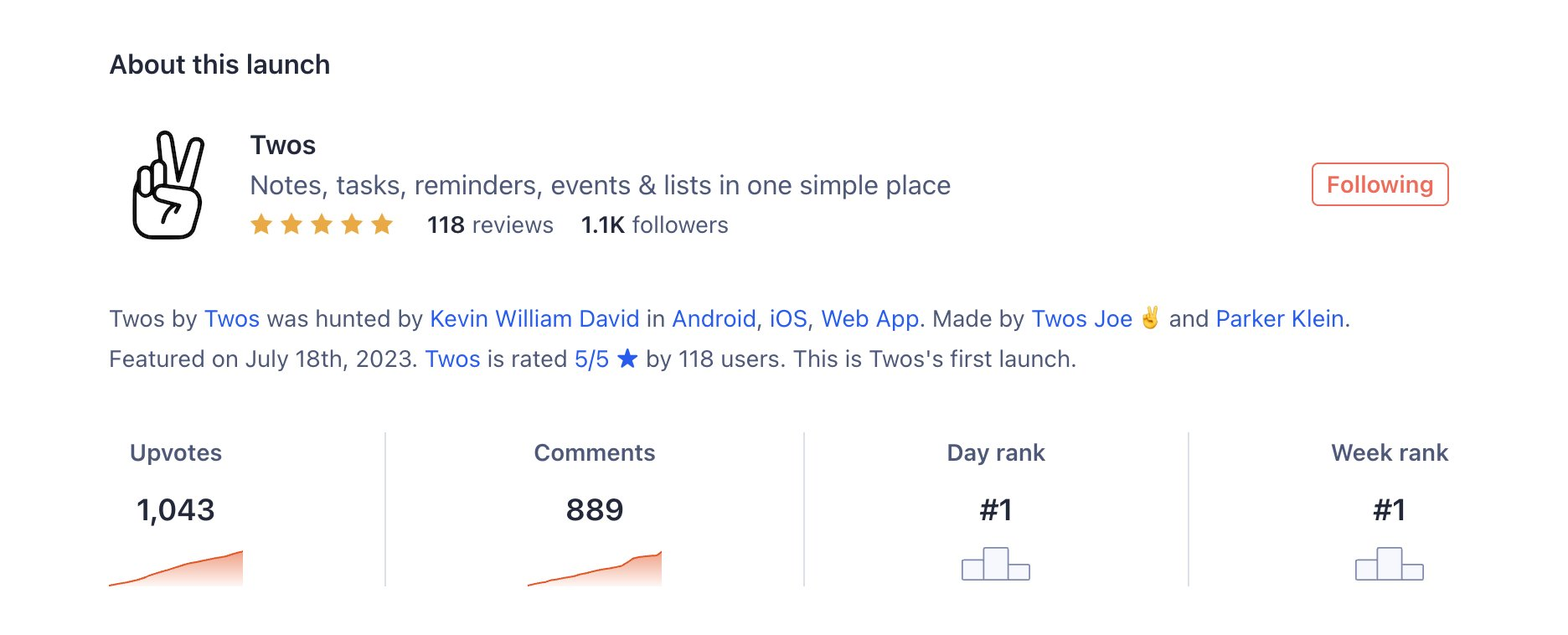 Social Media Traction: The owned social videos generated substantial engagement across different platforms, increasing Twos' social media following and streamlining interest in the app.
Media Coverage: Twos secured coverage in Tampa Bay Inno and The Startup Pill raising brand awareness and driving organic traffic to their website.
App Downloads: As a result of the successful launch, Twos experienced a surge in app downloads. More specifically, they saw 2.5k downloads between iOS and Android on the day of launch and the following two days, surpassing initial expectations and reaching thousands of installations within the first few days.
Website Traffic: Twos had about a 500% increase in web traffic on launch day and a 300% increase the following two days. Twos typically sees around 400 people visit their website and on launch day they had 2.3k visitors, 1.2k the day after, and 1.3k two days after. The screenshot below is a total of the Product Hunt launch week.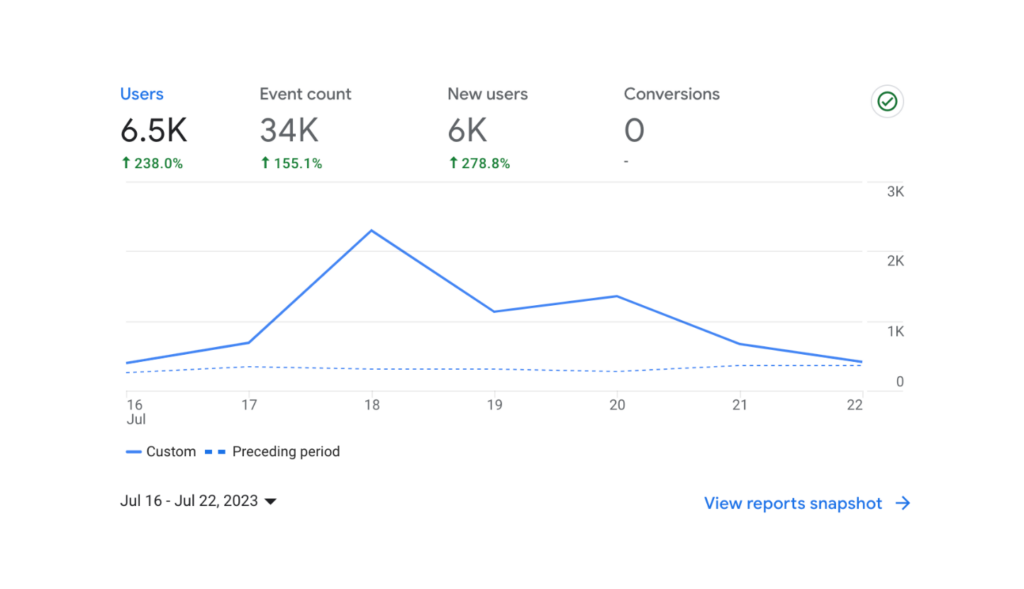 The combination of these efforts resulted in increased brand recognition, user engagement, and app downloads, establishing Twos as a noteworthy contender in the competitive note-taking and productivity app market.
Adopting these same tactical frameworks to launch on Product Hunt will help you to elevate your own campaign and position you to stand out amongst competitors. Happy hunting!