10.05.2021
Partner Spotlight: Richard Heruska, President of TiE
Welcome to our Partner Spotlight series, where you'll meet key individuals and teams who are supporting the growth of the Florida startup community. We interviewed Rich Heruska of TiE Tampa Bay, which fosters entrepreneurship through mentoring, networking, education, funding, and incubation.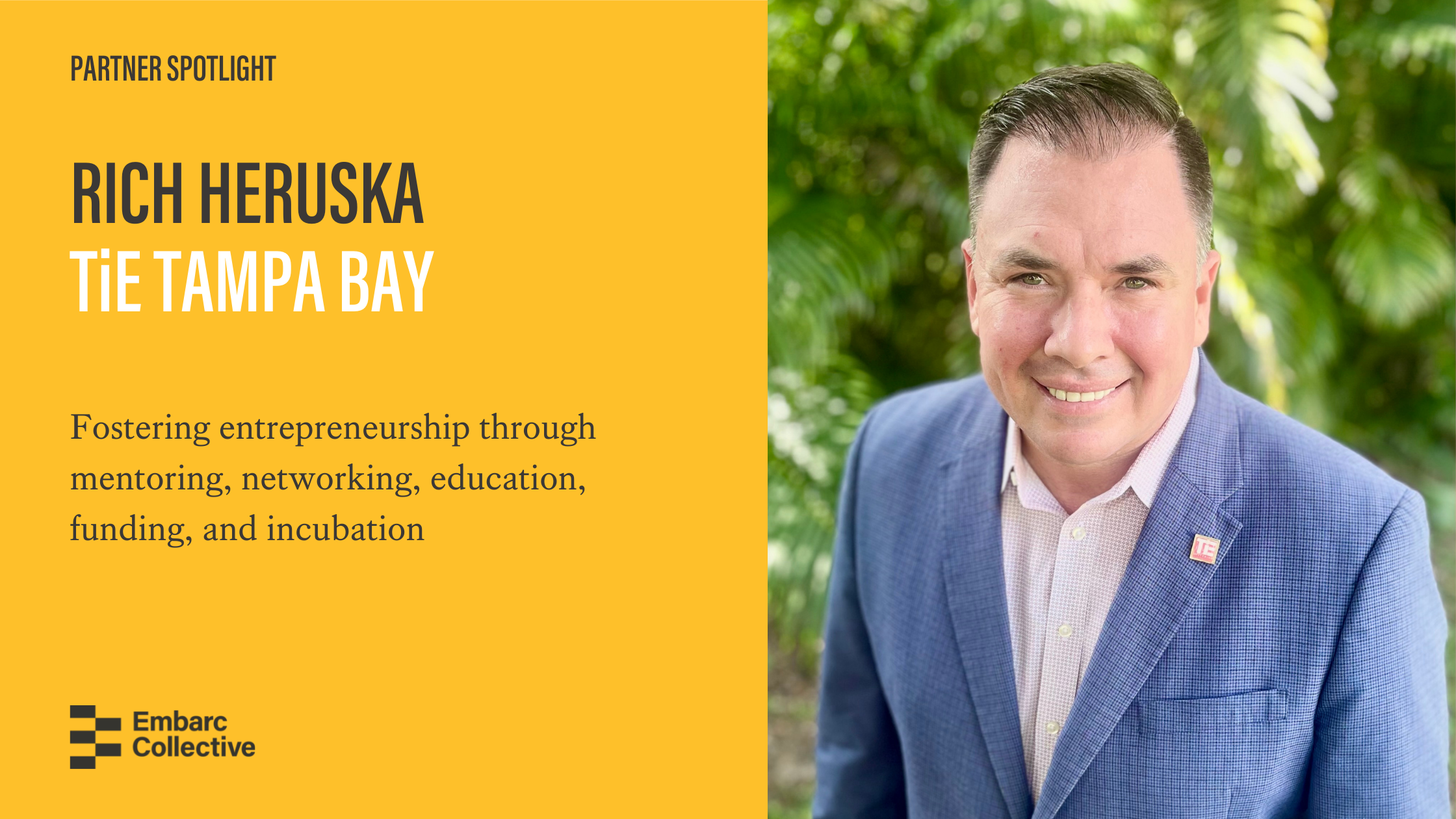 What were you doing previously and what inspired you to work with TiE?
Before being elected President of TiE Tampa Bay, I served the organization as TiEcon Chair and a Board Member. I also currently serve on the Synapse Impact Board.
Previously, my community leadership has centered around my alma mater USF as the President of the USF Alumni Association and member of the Foundation Board.  I also served as the Founding Chair of Best Buddies Tampa Bay.
I was inspired to become the President of TiE Tampa Bay because I truly love the culture of selflessness they encourage in their organization. Members give of their time, talents, and treasures to support one another and the community. I also see the unlimited potential within TiE.  TiE Tampa Bay is a part of a global network of 60 Chapters and 15,000 Members. Connecting you to endless opportunities both personally and professionally.
What pain point is your TiE solving? What gets you excited to go to work every day?
Our Tampa Bay Chapter focuses on: Funding, Mentoring, Networking, and Education.  Between our original Fund which deployed over $3M to founders and now TiEFAN (Florida Angels Network), we have funded over 25 companies. We are a spoke on the funding wheel for founders.
We offer incredible young entrepreneurship education programs for Middle School, High School, and College students. Our goal is to help start and solve the next generation of entrepreneurial businesses. It's never too early to think about business in TiE! My son has already taken two summers of our TiE middle school courses. Connecting him to Founders and other children of Charter Members.
What gets me excited to be at TiE Every Day is knowing the impact we are making and being able to leave a legacy.  I am humbled to work alongside other amazing volunteers and our talented Executive Director-Mona Patel, our Board, mentors like Past President Suhas Apte, and learning from some fascinating Charter Members like Ashok Kartham, Shilen Patel, Joe Hamilton, etc.
Our Chairman Emeritus, Dr. Kiran Patel, is also very involved and continuously provides his guidance and insights.
Name the biggest challenge you faced in the process of supporting TiE. How did you overcome it?
The Board and I have set an ambitious agenda for the remainder of 2021 and 2022. Sometimes change can be a challenge and just in the first 60 days of my term, we hired our first Full Time Executive Director, Mona Patel, and were accepted into Embarc Collective which is now our first physical home as well. We are growing rapidly and I believe we are overcoming the challenges that growth brings by constantly communicating our why, getting feedback along the way, and delivering on our mission to foster entrepreneurship.
Where do you see your TiE headed next?
We celebrate our 10 Year Anniversary in Tampa Bay next year while TiE Global celebrates its 30 year anniversary. I see TiE Tampa Bay deepening its community involvement and partnerships, growing to 100 Charter Members, continuing to fund awesome entrepreneurs, and being known as an indispensable Entrepreneur Support Organization (ESO) in the Tampa Bay area.
I also see our TiE Access program growing from $400k funded to minority and women entrepreneurs to over $1M in the next few years. I see our TiEFAN Angels Program funding more companies and becoming a part of TiE Angels America.
Give us a tactical piece of advice that you'd share with a founder or president just starting out.
Good solutions today beat perfect ones tomorrow.  Move, act, execute.  Build momentum because momentum breeds more momentum.  Paint a picture of how you see the future and be bold.  You'll make some mistakes moving quickly, but the positive movement far outweighs any missteps.  Treat your people and your customers like gold, they are always your #1 assets.
People overestimate what they can accomplish in one year, and underestimate what they can accomplish in 5 years so surround yourself with a peer network, mentors, and coaches to keep you grounded and focused.
Why Tampa Bay?
I first moved to Tampa-St Pete from New Jersey to attend USF, it was the best decision of my life at the time which lead to the truly best decision of my wife (marrying my wife of 16 years, Laura) who blessed me with 3 amazing boys.  My family is my anchor and my wife always jokes if we move I have to move her entire extended family, so we're not moving.
My Tampa Bay friends are also like family in the Technology ecosystem and I just love what we are mutually building.  It's a movement like I've never seen and I love being a small part.
***