08.15.2019
Developing an SEO-Focused Content Strategy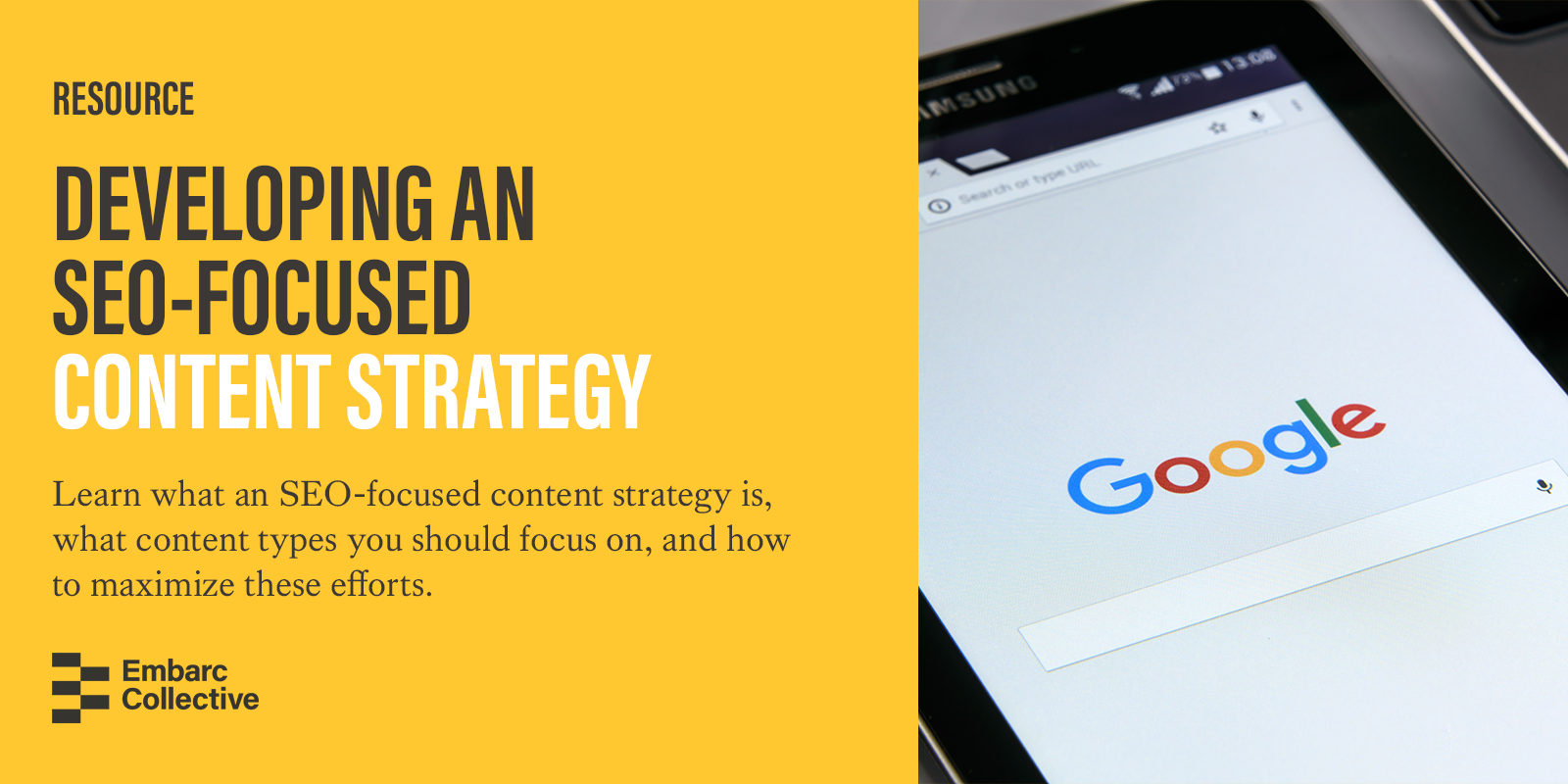 Search engine optimization (SEO) and a strong content strategy go hand-in-hand. You can't have an effective SEO strategy without stellar content that resonates with your customers.
Search engines use proprietary algorithms to analyze content (i.e., words and images on your website, social media accounts and third-party sites associated with your website) to determine if your website content is a match to their web user's search query.
For search engines, content is everything. Crawlers, bots that crawl web pages to index, tag, and sort content for search engines, continually scan new and old webpages for content. They record dated content as well as update existing records when website content updates. Meaning they always stay current. That's why it's important to think about SEO with content in mind — crawlers are taking notes!
So what does an SEO-focused content strategy look like?
It all starts with keywords. Typically 65% of web users begin their buying process by consulting search engines. Users enter search queries (keywords) to find products, solutions, information, or locations that will solve their problems.
Search engines are constantly improving their algorithms to better determine what is relevant or credible enough to share with its users. When building your content strategy, it's important to think like a search engine. Their primary goal is to provide users with helpful search results to their queries. The more accurate they are in providing results, the likelihood the user will trust the search engine and return again with their next problem.
Your startup provides a solution. To help customers find you, consider what content they would be looking for to help solve the problem you have a solution for.
When planning your strategy, try to answer this single question:
"What content could our brand or company develop that would be of value to our customers to help solve their problem?"
The answer to this question should be your North Star as you plan your content strategy and make decisions on future content ideas.
Where to Start
Kick-off your content strategy with strong keyword planning. SEO Moz, a leader in the SEO space, developed a great how-to on conducting effective keyword research. A good rule of thumb is to focus on building content around 5-10 keywords (search queries) at first. Once you've identified what those are, it will be easier to develop a list of content ideas and resources around those keywords that will pass the test of search engines (ranking for keywords that people search for) and customers (who really want content to help them solve their problem).
Below is a list (with links to examples) of quality content types that are not only helpful to the consumers but are also sharable. Use a mix of these formats to diversify your content and appeal to different customer segments. Really great content is good enough to share with others. Word of mouth and referrals are still the most powerful methods to get your brand and company exposure.
Blog Posts - this is the lowest hanging fruit when it comes to content. Blog posts can be developed by your marketing hire, other members of the team or a contract copywriter.
Infographics - complex information is best distilled in this format. Visualizing your data is a great way to get your point across in a fashion that's easy to digest.
Videos - can help boost conversion rates online. Commercials, infomercials, social videos, product tutorials are all helpful to customers when solutions-based.
White Papers - these long form documents can help establish your company's credibility in the industry. White Papers are good for case studies, research reports or specific subject matter content.
Guides/Workbooks - guides and workbooks are a great way to show thought leadership. Your content should be focused on how to use your product and also help customers accomplish "hacks" or improvements.
Content should help drive your customers to a conversion. Conversions can look different for each company depending on your sales funnel. It's important to know what that looks like going into your content strategy planning.
Below are a few examples of conversions that should happen from strong content:
Email signups
Document download with email signup
Product purchase
Complete contact form to get in touch with sales
Schedule an appointment with sales or a service provider
Follow on social media or secondary platform
Any mix of these conversions may be suitable for your startup. Essentially, you want all of your content, either posted on your website or shared with a third-party website, to have a call to action.
In Application
One of the greatest content marketing campaigns known in the industry was done in 1912 by Michelin. The Michelin Tire Company created a guide known as the Michelin Guide (still regarded today as an entity that awards the best of the best in food, travel and destinations) to help people discover the places, food and stops that you can get to with a car. The automobile industry was just taking off and Michelin wanted car owners to buy Michelin tires. Instead of bogging them down with reasons why they should buy new tires, like safety reasons or car effectiveness, they created a content resource that would encourage people to wear their tires by driving to recommended places. In turn, this would require the traveler to regularly replace their tires. Michelin built a trusted reputation through the reliability of the Michelin Guide, that it was a no-brainer for new and existing customers to have Michelin replace their tires.
Another great example of effective content marketing was done by SEO Moz. They offer SEO tools and support software to help SEO specialists and their teams improve their website search engine ranking and visibility. When they begin business, optimizing for search engines was a fairly new idea and not everyone at the time could claim to be an SEO expert. Rather than try to focus on a small group of customers, and continue marketing to a small group of users, Moz decided to focus on creating content that would develop more SEO experts who in turn would want to use their tools. They created the Ultimate Beginner's Guide to SEO to help people become better SEO experts. They essentially provided the 101 content to graduate their customers to want to use their 201 products.
Plan & Test
Once your content strategy is set, you're ready to implement and start testing. The best thing about content is it has the potential to go viral, the downside is you won't really know until you publish it. It may take some time to figure out what content best appeals to your customer. However, when you find a content piece that sticks, continue to improve on the content type, i.e., publish similar content pieces or create an updated or expanded version of existing pieces that did well. Testing different types of content will give you solid data on what works best for your market.
Don't forget to schedule. Scheduling is key to implementing your content strategy effectively. Mark the dates of when first drafts should be developed, when creative (pictures and videos that accompany the content) should be completed, final draft due dates, and when you plan to publish. A content strategy is only as strong as your accountability. It requires consistency to develop a reputation as a trusted resource.
Focus on making quality content. Good content can last for years, that's what the Michelin Guide has taught us. Provide value to your customers and build a reputation as a trusted resource — and in turn, your customers will buy into your startup.
Keep up with the latest in Tampa Bay startup news, local talent interviews and founder resources.
Delivered to your inbox every Thursday.