12.19.2019
Featured Founder: Adam Nasir of Smarter Contact
Welcome to our Featured Founder series, where you'll meet startup founders from Tampa-St. Petersburg who are building and scaling their ventures to solve some of the world's greatest challenges. We interviewed Adam Nasir, Founder of Smarter Contact, an SMS outbound prospecting tool for marketers in the real estate space.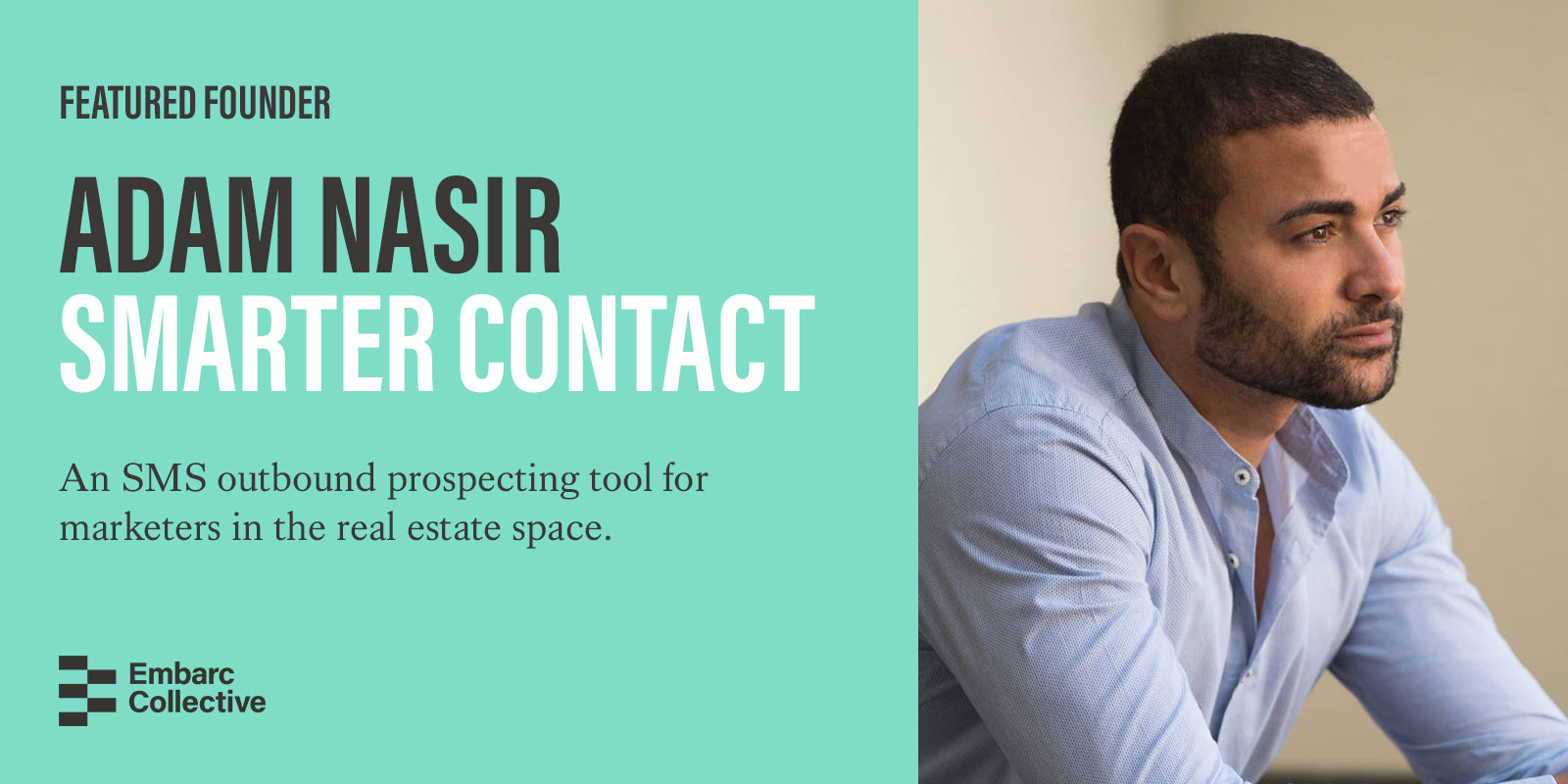 What were you doing previously and what inspired you to launch your company?
I have been a real estate investor for seven years and still actively invest. I've bought and flipped over 500 homes in the career I've had as well as purchased and sold several properties in the real estate space. In this experience, I found a need in the industry. Knowing intricately I had a deep understanding of the space, I needed an effective prospecting tool that was easy to use. I initially built a version for personal use and to increase my deals. It wasn't until a couple years later, and finding success with my initial tool, that I realized a lot of other people could find this useful too.
What pain point is your company solving? What gets you excited to go to work every day?
Smarter Contact is an outbound prospecting tool that uses SMS as an output channel. It has a CRM built into it as well to help track and organize contacts. Many people were doing direct mail and cold calling when prospecting real estate deals. This process is not only time-consuming but inefficient. Smarter Contact not only speeds up the process, but it is much more efficient than previous prospecting tactics and cheaper. What get's me excited for work every day is solving the biggest challenges and the biggest problems. I love any kind of obstacle. If there is a very difficult problem ahead of me, I know that I'll have to spend more time to solving it, but in turn that fuels my drive and determination to solve it.
Name the biggest challenge you faced in the process of launching the company. How did you overcome it?
The biggest challenge was not having any technology or software background when I decided to build Smarter Contact as a company. Outside of being a normal consumer, I've never worked for a technology company or built one. The way I overcome my challenges is by being massively resourceful. This is one of the most important skills an entrepreneur should have. By being extremely resourceful and learning quickly, I adapted and found solutions that worked. However, it wasn't easy. I spend a lot of time trying to find the answer with limited resources.
Where do you see your company headed next?
My goal within the next 12 months or 18 months is to get 250K in monthly recurring revenue. I am aiming to position the company to be able to sell within a two to three year period. Our most immediate focus is making our product an enterprise solution. By providing an enterprise option, we plan to make our solution available on more sales channels to make it accessible to more users.
Give us a tactical piece of advice that you'd share with another founder just starting out.
The two biggest ones are: 1) Be massively resourceful. Turn every stone and spend time on each problem. The key is to be very resourceful in anything you do. There's always an answer. Don't be afraid to ask for help from someone who knows more than you. 2) Work like hell. As an entrepreneur we have large goals that require hard work. Go all in.
Learn more about Smarter Contact on Facebook.
Keep up with the latest in Tampa Bay startup news, local talent interviews and founder resources.
Delivered to your inbox every Thursday.