01.24.2023
Embarc Collective Ranked as a Top Program by UBI Global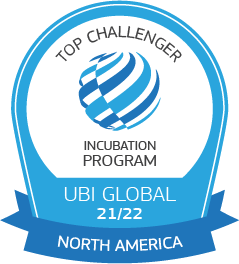 Today UBI Global recognized Embarc Collective as a top incubation program in the world. Now serving over 125 tech and tech-enabled startups across Florida, Embarc Collective launched in 2020 and quickly began delivering results. Within just three years, Embarc Collective has achieved the level of impact to merit this global recognition and now gains the distinction of being only one of two US-based programs in the top rankings overall.
The UBI Global World Benchmark Study 2021-2022 named Embarc Collective as a Top Challenger in North America. UBI defines Top Challenger as a business incubator or accelerator that stands out due to its impressive overall impact and performance achievements relative to its respective regional peers.
The performance and impact of Embarc Collective were measured across 21 KPIs against other programs from around the world. The Benchmark Study assessed 1,895 programs, received 356 applications, and ultimately benchmarked 109 programs. Just 41 organizations made the Top Performer or Challenger rankings.
In 2022, Embarc Collective delivered over 1,700 hours of individualized coaching from its staff of startup veterans. That coaching was complemented by 70 programming sessions and over 160 community events in 2022. Embarc Collective puts tremendous focus on the quality, relevancy, and impact of our support to help Florida's startup talent build bold, scalable, thriving companies.
In 2021, Embarc Collective became Florida's fastest-growing startup hub. Being benchmarked based on the quality of our offering and recognized as a top program globally means we are actualizing the vision of Embarc Collective—to help put Florida, and specifically Tampa Bay, on the map as a great place to build a technology business.
The impact of Embarc Collective is a testament to the tremendous energy, capital, and knowledge that have been put into the building of this organization and the support we offer startups. Thank you to our startup membership, community partners, sponsors and donors, Board of Directors, Corporate Advisory Council, Young Professionals Board, and the Embarc Collective team. Your tireless work has helped this region become a top place to build a company.
Having been recognized by UBI Global in my prior work, I know what credibility and visibility this award will offer our community. Let's grab hold of this momentum and continue to put this region on the map.
– Lakshmi