11.14.2019
Featured Founder: Logan Clemens of WanderSeat
Welcome to our Featured Founder series, where you'll meet startup founders from Tampa-St. Petersburg who are building and scaling their ventures to solve some of the world's greatest challenges. We interviewed Logan Clemens, Co-Founder and CEO of WanderSeat, an airline ticketing platform for flexible travelers.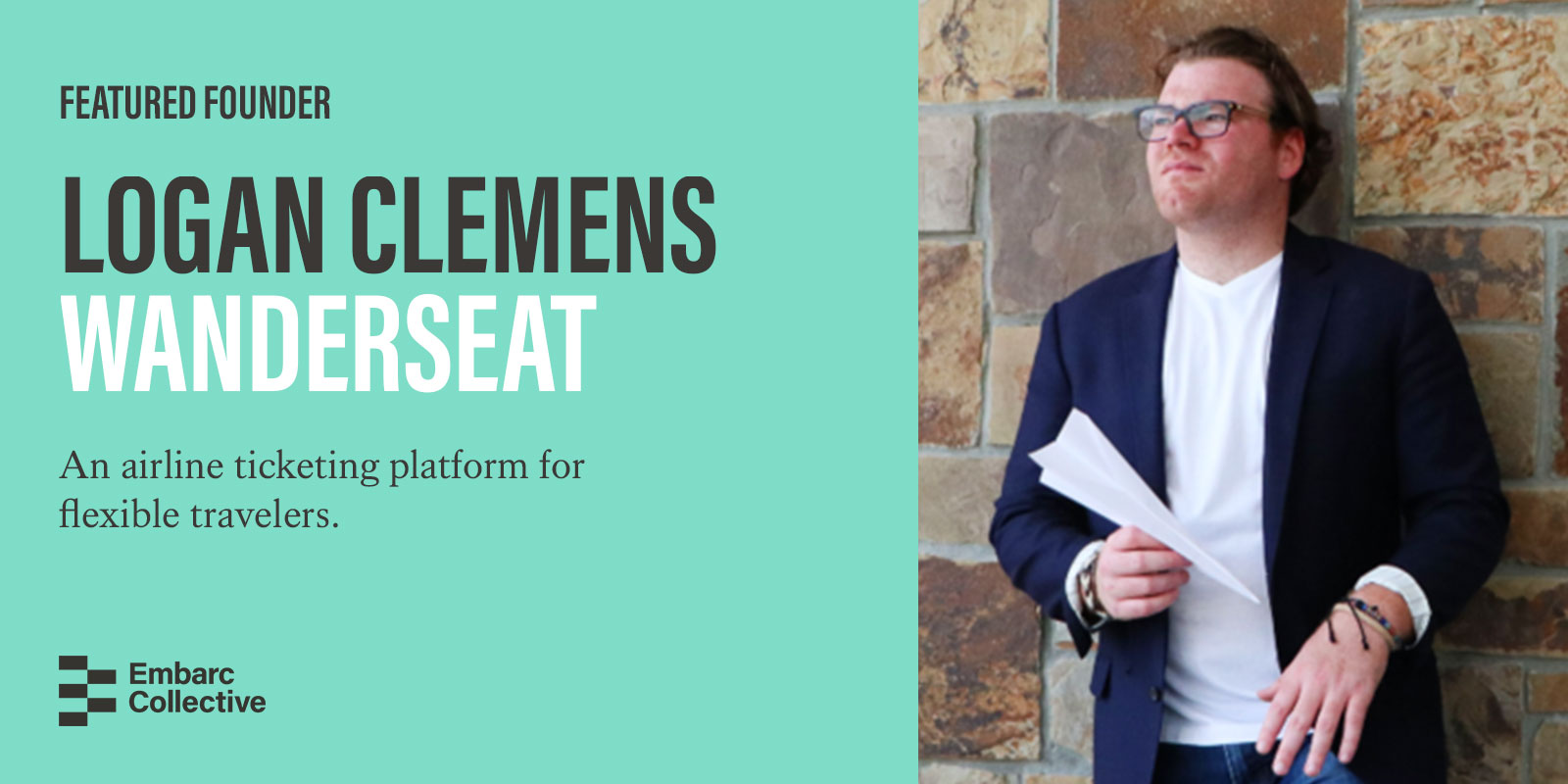 What were you doing previously and what inspired you to launch your company?
Prior to WanderSeat I was fortunate enough to work for Southwest Airlines in Dallas, TX. First as an intern with the Technology FP&A team, then full time as a Market Analyst in the Revenue Management department. I have a lot of LUV for my Southwest family and learned so much during my time there, I'm truly blessed to have had such an amazing experience with a great company.
Herb Kelleher (Southwest Airlines Founder) has always been a huge inspiration of mine.
What pain point is your company solving? What gets you excited to go to work every day?
Over 127 million seats spoil every year, and that's just domestically… This is a huge pain point for the airlines. I've always considered myself a problem solver, and this was a problem I felt needed a solution.
As someone who is passionate about travel, but is a terrible planner, we wanted to create a platform that connects spontaneous travelers on a budget to unsold seats on the verge of spoilage. Our Patent Pending process provides the airlines a cannibalization free solution to seat spoilage, while at the same time providing our community of Wanderers last minute tickets cheaper and closer to departure than any of our competitors.
I believe that what I'm doing will have a lasting impact on both the airline industry and society as a whole. This is where I find my excitement.
Name the biggest challenge you faced in the process of launching the company. How did you overcome it?
To be fair we are still pre-launch, but we've faced many challenges… Funding, Product Development, Government Approvals, you name it… We overcome, because we believe. We believe in ourselves, we believe in our ability to execute, and we believe in the future.
Where do you see your company headed next?
What a loaded question! We are wrapping up product development and have been speaking with a few different carriers with regards to piloting WanderSeat. We would love to launch from Tampa International Airport (Such an amazing airport), but everything is dependent on which carrier we feel gives WanderSeat the best chance at success.
Give us a tactical piece of advice that you'd share with another founder just starting out.
The startup journey is an absolute roller-coaster. Finding the right mentors and advisors  is an absolute must…
I alluded to this earlier, but believing in yourself and what you as a person are capable of doing is so paramount to your success.
Learn more about WanderSeat on LinkedIn.
Keep up with the latest in Tampa Bay startup news, local talent interviews and founder resources.
Delivered to your inbox every Thursday.