08.01.2023
Embarc Collective Welcomes Kathy Osborne to Coaching Team
We're excited to welcome Kathy Osborne, PR Strategist, to the Embarc Collective coaching team—here to deliver customized, consistent, and high-quality strategic guidance to our members.
Read on to learn more about Kathy's unique background and perspective on startup building.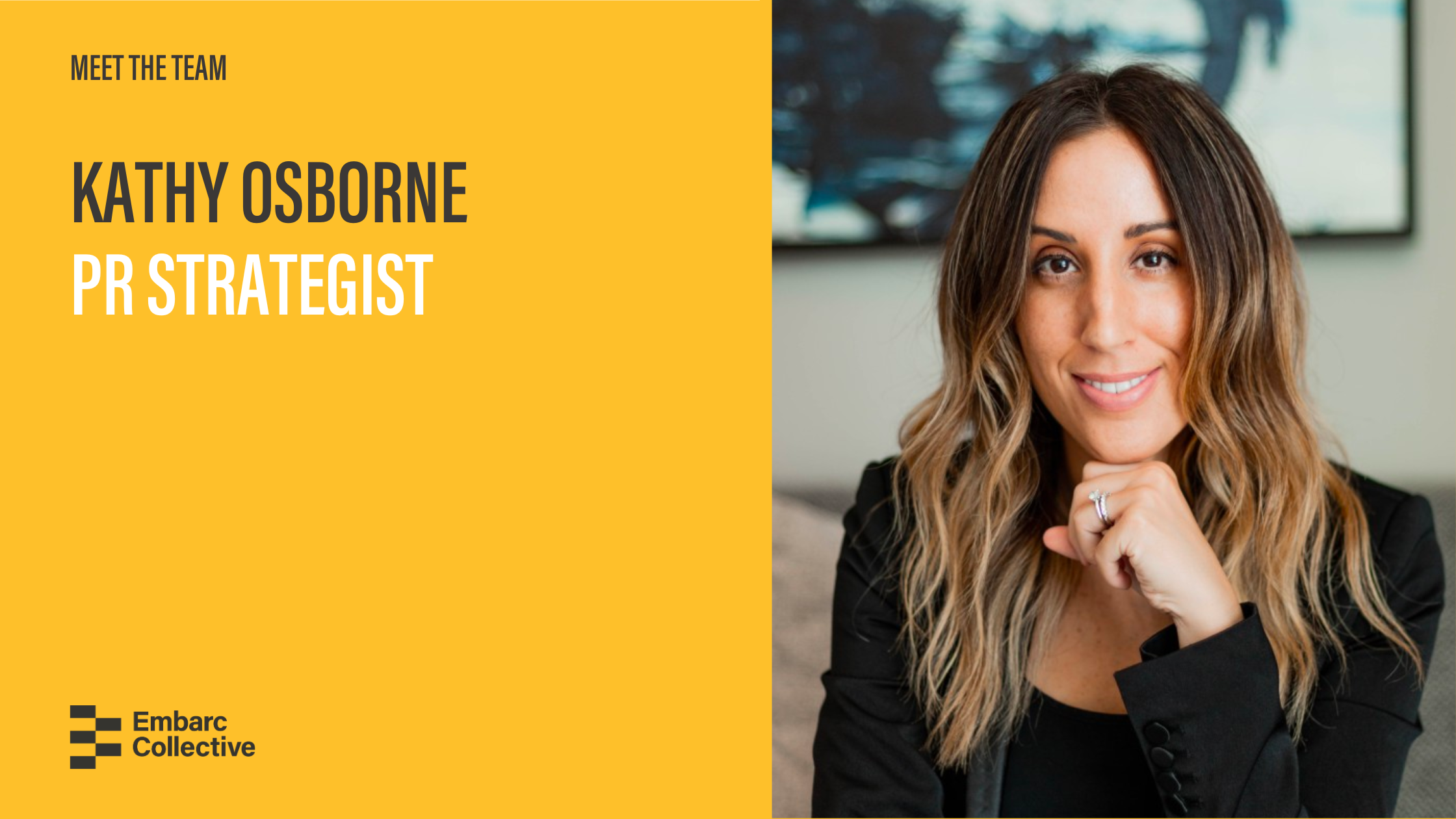 What fostered your passion for public relations?
Passion has been my guiding force throughout my non-traditional path to PR. I got a BA in Psychology and immediately after I got my Masters & License in Social Work at Fordham University. I spent my last year in residency doing end-of-life therapy for stage 4 lung cancer patients at Mount Sinai Medical Center. It was so powerful to speak with individuals who wanted to share positive memories and stories about how they wanted to leave this world. Shortly after, I got a job in what I got my Master's Degree for, Social Work, with a healthcare insurance company. I hated it. There was something inside me that said I needed to completely take the career pivot into something different.
I had a Public Relations agency take a bet on me with my healthcare experience since they were focused on healthcare insurance and it was my first exposure to storytelling. A couple of years in, the technology startup market was booming, and I developed a passion for working with early-stage founders who are using innovation to make this world a better place. Witnessing their drive, focus, and determination filled me with a dedication to empower them to tell their stories.
What guidance would you offer a startup founder that wants to build press and visibility on a DIY budget?
Startups will always have limited resources. If you're just starting your company, I recommend focusing on building brand awareness, credibility, and a positive reputation in the market through thought leadership. It's an underutilized and overlooked tactic. This means building consistent online visibility through content generation on LinkedIn, Instagram, or X (Twitter). Or, create a blog or newsletter to share updates on what you're building and seeing in the market.
I think the best type of PR is content marketing, where you can use valuable content, such as blogs, infographics, and videos, to position your startup as an authority in its domain. Content marketing attracts organic traffic, improves search engine rankings, and provides shareable assets for social media.
What PR strategies do startups oftentimes overlook?
The big one is hyperlocal or "localized PR". Startups sometimes neglect targeting local media outlets and communities because they are so focused on national news. However, some of the most powerful results come from generating traction in your own market. This means creating some buzz where you're based or in markets where your customers are operating. It's such an effective way to build a strong presence in a startup's immediate area, gain local support, and attract potential customers from nearby regions.
What's one trend you're excited about in your industry?
Data-driven PR is one trend that will have the most impact now and over the next decade. This means using data to share brand stories and narratives. Founders are analyzing data on customer preferences, behaviors, and industry trends, and then PR comes in to use that data to create more targeted and compelling stories that resonate with their target audience.
My most recent example is the Product Hunt launch of Twos (where they landed product of the day). As we were finalizing how to best position the product's impact, we used data to drive home the message: an individual has 6,200 thoughts a day, 50% of which are forgotten in 20 minutes, 70% by the end of the day, and 90% by the end of the week. Twos enables people to quickly capture the flow of thoughts and then organizes them for long-term use. By harnessing the power of data to craft captivating narratives and using compelling insights like from the Twos launch, companies are more likely to increase brand recognition, user engagement, and app downloads in the competitive markets.
Embarc Collective's new PR strategy coaching is available to our member companies. Consider applying for membership to Embarc Collective here.